Press release November 30th, 2007
Further development of Water Framework Directive necessary
European experts discuss risks for rivers
Leipzig. Experts from 20 countries have called for the guidance documents for the implementation of the European Water Framework Directive (WFD) to be updated. The consensus among the scientists and stakeholders who discussed risks for European rivers at the Helmholtz Centre for Environmental Research (UFZ) last week was that the Directive is a good start, but it needs to be taken further. The experts can already see that the target of reaching good ecological status for all natural waters by the year 2015 cannot be achieved. In their view, however, the answer is not to reduce the quality standards, but to reappraise the instruments for implementing the Water Framework Directive.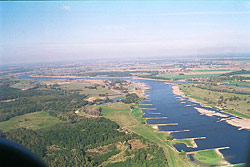 The River Elbe flows through the Czech Republic and Germany into the North Sea.
Source: UFZ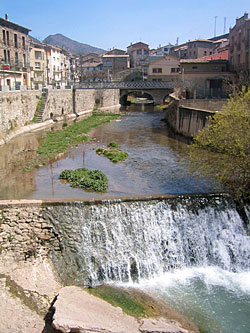 The River Llobregat in north-east Spain
Source: Dr. Peter von der Ohe, UFZ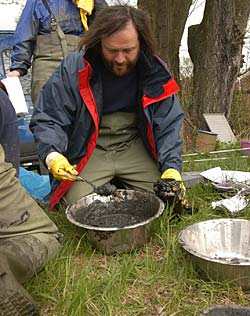 Scientists take samples from the River Elbe in the Czech Republic.
Source: Dr. Michaela Hein, UFZ
The researchers are expecting the rise in biomass production to lead to an increase in the use of crop protectants, which will cause pesticide levels to go up again as well. "Increased cultivation of energy crops will have a negative impact on rivers," fears Dr Peter von der Ohe of the UFZ. So despite all the progress of recent years, the Water Framework Directive will still be needed in future and must respond to current developments.
In the scientists' view, the choice of harmful substances to be monitored in rivers throughout Europe is a weak point of the existing Directive. "This priority list, which currently contains 41 substances, is not adequate for explaining the impacts of chemicals in rivers," says Dr Werner Brack, who is in charge of the MODELKEY EU research project, which is investigating key chemicals in three model European rivers. He feels that these 41 chemicals represent a tiny proportion of chemical pollution and are often substances that have been measured for a long time, but which, in some cases, are playing an increasingly limited role. "For instance, the insecticide DDT is on the list even though it was banned in most Western industrialised nations as far back as the 1970s and is therefore no longer used. From our point of view, it would be better for this important list to set out not just priority substances with appropriate quality standards, but also priority effects. That would enable us to monitor cytotoxic, hormonally active and mutagenic substances without knowing about them in detail in advance. This would make it easier to discover new risk substances with harmful effects and to channel the resources where they are really needed. The authorities would be able to react much more flexibly." What is decisive for the ecosystem, according to Dr Brack, is not the simple presence of a substance, but its effect.
Toxic chemicals are, however, just one part of the problem. River ecosystems are exposed to many other stress factors as well, often at the same time, such as e.g. structural changes, oxygen deficiency as a result of overfertilisation and accidentally imported species. With its focus on ecological status instead of on individual stress factors, the Water Framework Directive encourages a holistic view of these ecosystems with their multiple stresses. However, this strength can also prove to be a weakness if the concepts needed to assess and predict the importance and combined effect of the various stress factors are not available. The scientists see a great need for future research at this level. This fact was emphasised at an international conference on risk assessment in European river basins, which was organised by the Helmholtz Centre for Environmental Research (UFZ) in Leipzig. "The conference showed that there are better assessment methods available in many fields that are just waiting to be integrated into the WFD guidance documents," says Dr Michaela Hein.
Other factors that play an important role in many European river basins are negative effects on the free flow of rivers and on the structure of the riverbed and river bank area. From this point of view, the Water Framework Directive is in conflict with other European requirements. For instance, an EU Directive on the promotion of renewable energy sources aims to increase use of water power by 10 to 20 per cent. Studies from Scandinavia, where people have been generating electricity from water power for a hundred years, have shown that this type of power generation has major consequences for the ecological status of rivers. Shallow areas are particularly affected because the water level fluctuates considerably over the course of the year. Among other things, this severely restricts the growth of aquatic plants in these areas, which are then not available for fish for spawning or for foraging. In many cases then, the issue of a river's ecological status is interesting not only from the point of view of environmental protection – the many and varied goods and services that healthy ecosystems supply to humans, such as the provision of food and drinking water and maintaining nutrient cycles, are also of major economic importance.

Tilo Arnhold
Links:
EU project MODELKEY
www.modelkey.org
www.ufz.de/index.php?de=5366
EU project RISKBASE
EU project RISKBASE
More information:
Dr. Werner Brack
Helmholtz Centre for Environmental Research (UFZ)
phone +49 341 235-1531
Dr. Michaela Hein
phone +49 341 235-1529
Dr. Michaela Hein
Dr. Peter von der Ohe
phone +49 341 235-1581
Dr. Peter von der Ohe
or
Helmholtz Centre for Environmental Research
Press office
Tilo Arnhold / Doris Böhme
phone +49 341 235 2278
presse@ufz.de
The Helmholtz Centre for Environmental Research – UFZ was established in 1991 and has about 830 employees in Leipzig, Halle/S. and Magdeburg. They study the complex interactions between humans and the environment in cultivated and damaged landscapes. The scientists develop concepts and processes to help secure the natural foundations of human life for future generations.
The Helmholtz Association contributes to solving major challenges facing society, science and the economy with top scientific achievements in six research areas: Energy, Earth and Environment, Health, Key Technologies, Structure of Matter, Transport and Space. With 25,700 employees in 15 research centres and an annual budget of approximately 2.3 billion euro, the Helmholtz Association is Germany's largest scientific organisation. Its work follows in the tradition of the great natural scientist Hermann von Helmholtz (1821-1894).