Press release February 16, 2007
Risk assessment for biodiversity: ALARM project reaches global dimensions
Halle/Saale. The largest European research project in the area of terrestrial biodiversity continues to grow. Since February twelve new partner organisations have been involved in this research into the causes of species decline. The new researchers in the ALARM project come from Bolivia, Guatemala, Mexico, China, the Philippines, Russia, Belarus, the Ukraine, Serbia and South Africa. The research work of the 67 institutions now involved in the project, with over 200 scientists from 35 countries around the globe, is being coordinated by the Helmholtz Centre for Environmental Research (UFZ) in Halle/Saale. The project has a total budget of 24 million euros, half of which is being funded by the EU and half by the individual research partners.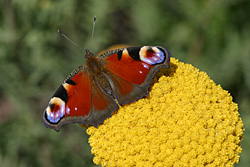 The Peacock (Nymphalis io) is a widespread butterfly and sometimes a good bioindicator.
Foto: Dr. Josef Settele/UFZ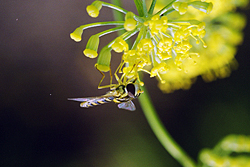 Syrphid fly on a fennel flower (Foeniculum vulgare) as an example for a pollinator.
Foto: Dr. Josef Settele/UFZ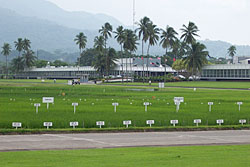 New partner in ALARM: The International Rice Research Institute IRRI in the Philippines.
Foto: Dr. Josef Settele/UFZ
The ALARM (Assessing LArge-scale environmental Risks for biodiversity with tested Methods) research project is investigating four areas that are believed to contribute to the decline in biodiversity: global climate change, loss of pollinators such as bees, bumblebees and butterflies, harmful substances in the environment and the invasion of foreign animal and plant species. ALARM began in 2004 with 40 research field sites across Europe. Preliminary results are now available, including an atlas of the effects of climate change on European biodiversity, which provides important data for the planning of protected areas. It includes forecasts for the distribution of amphibians and reptiles in the year 2050 for different climate change scenarios. The first part has already been published on the internet. A database of pollinators in Europe with entries for over 180,000 plants is set to follow. The loss of pollinators poses a threat to over 80 per cent of all agricultural crops and therefore represents a major threat to global food security. Over the next two years the researchers in the ALARM project will continue their research in order to be able to develop instruments for risk assessment.
Homepage of the EU's ALARM research project
www.alarmproject.net/alarm
Scientific database of the impacts of climate change on biodiversity
www.biochange-lab.eu/resources/data
Press release of 21 June 2006 about the threat to amphibian and reptile species
www.ufz.de/index.php?de=3748
Science, 21 June 2006(wild bees and the plants they pollinate are both disappearing)
www.ufz.de/index.php?de=7147
Further information:
PD Dr. Dr. Josef Settele (co-ordinator of ALARM)
Helmholtz Centre for Environmental Research – UFZ
phone: +49-345-558-5320
www.ufz.de/index.php?en=817
or
Doris Böhme / Tilo Arnhold,
Public Relations of Helmholtz Centre for Environmental Research – UFZ
Phone: +49-341-235-2278
E-mail: presse@ufz.de
www.ufz.de/index.php?en=640