Press release from April 2nd, 2009
Are tungsten carbide cobalt nanoparticles harmful to health?
Results from the BMBF-funded INOS project
Dresden/Leipzig. Nanoparticles of tungsten carbide and tungsten carbide cobalt can enter cultured mammalian cells. These are the findings of a study conducted by researchers from the University of Dresden, the Leipzig-based Helmholtz Centre for Environmental Research and the Fraunhofer Institute for Ceramic Technologies and Systems in Dresden. The results further show that pure tungsten carbide nanoparticles do not have cytotoxic effects. Only when the nanoparticles are mixed with a toxic substance, metallic cobalt in this case, are cytotoxic effects observed. The in vitro study, which was published in the renowned journal Environmental Health Perspectives, examined the effect of tungsten carbide and tungsten carbide cobalt nanoparticles with an aggregate size of 150 nanometres on cell lines of human lung, skin and intestinal cells and of primary cultures of rat brain cells.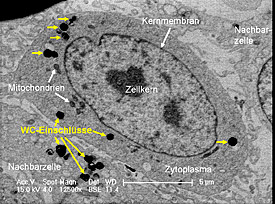 Electron-microscopical photograph of a neuroglial cell of the central nervous system with inclusions of tungsten carbide (12.500fold magnification).
Photo: Armin Springer/ Max Bergmann Center of Biomaterials, Technical University of Dresden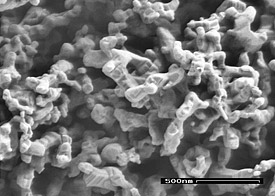 Electron-microscopical photograph of tungsten carbide as a powder.
Photo: Dr. Volkmar Richter/Fraunhofer Institute for Ceramic Technologies and Systems in Dresden
Tungsten carbide is used primarily in the heavy metal industry for the manufacture of tools. The addition of cobalt increases its toughness and strength. During the manufacture process workers may be exposured. But until now, no scientific findings on the effects of nano-sized particles of the material have been available. Before nano-grained materials are used on a large scale, the risks to humans and the environment need to be investigated and taken into account.
The chemical and physical studies confirmed that both tungsten carbide and tungsten carbide cobalt particles are stabilised by albumin or serum in nutrient solutions. Adding albumin to the nutrient solutions makes it possible to carry out research in conditions that are very close to those found in exposed organisms. Using electron microscope methods it was possible to detect uptake of the particles by the cells under investigation. Subsequent biological tests showed that tungsten carbide nanoparticles alone are not acutely toxic, whereas combinations of these particles with cobalt did have toxic effects at high particle concentrations. The toxicity of the WC-Co mixture was higher than that of similar concentrations of cobalt ions. It is not yet entirely clear why the combination of tungsten carbide and cobalt is more toxic. It is possible that nanoparticles act as a Trojan horse, i.e. they increase the cell's uptake of toxic cobalt ions. Further research is needed to clarify the effect of particle size and combination effects in order to draw conclusions about possible consequences for health risk assessments.
These and other findings were discussed on 18 and 19 March 2009 at a symposium at the Helmholtz Centre for Environmental Research in Leipzig on `Nanotechnology and Toxicity in the Environment and Health´ by around 80 scientists and representatives of government bodies and industry. The symposium also marked the end of the INOS research project. The German Federal Ministry of Education and Research (BMBF) has provided funding for three large consortia (NanoCare, INOS and TRACER) totalling EUR 7.6 million. These are the first projects in Germany to have investigated health aspects of synthetic nanoparticles on a large scale. INOS focused on developing methods for assessing the risk potential of engineered nanoparticles with the help of in vitro methods. The research concentrated on ceramic and metallic particles such as diamond, tungsten carbide, titanium dioxide, titanium nitride, cobalt, platinum, ceramic metal compounds, carbon nanotubes and carbon black.
Tilo Arnhold
Publication:
Bastian, S., Busch, W., Kühnel, D., Springer, A., Meißner, T., Holke, R., Scholz, S., Iwe, M., Pompe, W., Gelinsky, M., Potthoff, A., Richter, V., Ikonomidou, H., Schirmer, K. (2009):
Toxicity of tungsten carbide and cobalt-doped tungsten carbide nanoparticles in mammalian cells in vitro.
Environ.Health Perspect. in press
dx.doi.org/10.1289/ehp.0800121
More Information:
Susanne Bastian, Maria Iwe
Department of Neuropediatrics, Children´s Hospital of the Universitiy Hospital `Carl Gustav Carus´ of the Technical University Dresden
Phone +49 351 4586898
www.tu-dresden.de/kin
Dr. Dana Kühnel, Wibke Busch
Helmholtz Centre for Environmental Research (UFZ)
Phone +49 41 235 1515
Dr. Dana Kühnel, Wibke Busch
PD Dr. Kristin Schirmer (Projekt Coordinator UFZ)
Eawag - Swiss Federal Institute of Aquatic Science and Technology
Telefon: +41 44 823 52 66
Department Environmental Toxicology, Eawag
Information about the INOS project:
Dr. Volkmar Richter (Projekt Coordinator)
Fraunhofer IKTS Dresden
Phone +49 351- 2553614
or
Helmholtz Centre for Environmental Research (UFZ)
Press office
Tilo Arnhold
Telefon: (0341) 235 1269
presse@ufz.de
Further links:
INOS Project:
ww.nanotox.de
Nanoparticles put to the test (press release, April 11th, 2006):
www.ufz.de/index.php?de=7157
At the Helmholtz Centre for Environmental Research (UFZ) scientists research the causes and consequences of far-reaching environmental changes. They study water resources, biological diversity, the consequences of climate change and adaptation possibilities, environmental and biotechnologies, bio energy, the behaviour of chemicals in the environment and their effect on health, as well as modelling and social science issues. Their guiding research principle is supporting the sustainable use of natural resources and helping to secure these basic requirements of life over the long term under the influence of global change. The UFZ employs 930 people at its sites in Leipzig, Halle and Magdeburg. It is funded by the German government and by the states of Saxony and Saxony-Anhalt.
The Helmholtz Association helps solve major, pressing challenges facing society, science and the economy with top scientific achievements in six research areas: Energy, Earth and Environment, Health, Key Technologies, Structure of Matter, Transport and Space. With 28,000 employees in 15 research centres and an annual budget of around EUR 2.4 billion, the Helmholtz Association is Germany's largest scientific organisation. Its work follows in the tradition of the great natural scientist Hermann von Helmholtz (1821-1894).