Press release from 30 August 2012
Scientists call policy-makers to be scale-aware
Conservation is concerned with the preservation of biological diversity at all levels, from genes to species, communities and ecosystems. Yet conserving this biological richness is made difficult because it varies in complex ways at different scales of space and time. The problem of scale emerges as a critical new theme in conservation practice, as pointed out by scientists at a special symposium of the 3rd European Congress of Conservation Biology (ECCB) held in Glasgow on 28-31 August 2012.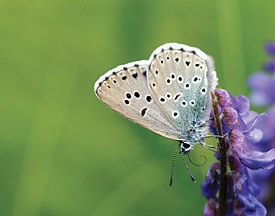 The endangered Natura 2000 butterfly Phengaris arion (listed in the Habitats Directive as Maculinea arion).
Photo: Chris van Swaay, source Nature Conservation
License: CC BY 3.0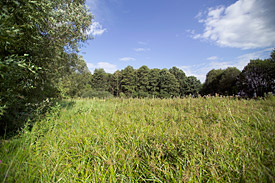 Targets and scale to focus on should differ when the aim is to protect a certain species (e.g., the butterfly Phengaris arion facing threats of habitat loss and climate change), or an endangered landscape (e.g., here a wet meadow site south of Leipzig in Germany).
Photo: André Künzelmann/UFZ
License: CC BY 3.0
To be successful, nature conservation measures must account for the complexity of the human impact and how nature responds to them, at different spatial and temporal scales. "Scale-sensitive research" emerges as a new, interdisciplinary field in nature conservation where researchers adjust concepts, analyses, and tools to the scale in which these might be used. Policy-makers, on their side, must ensure that the decisions they take resolve ecological problems at the relevant administrative and spatial scales.
Scientists involved in SCALES, a large-scale integrating project funded by the 7th Framework Program (FP7) of the European Union, have identified a series of mismatches between the scale of research at which conservation biologists study how best to protect biological diversity and the need for implementation of scale-based approaches in policy and management, especially in the design of Natura 2000, Green Infrastructure and biodiversity monitoring.
These concerns and new findings have been discussed at a dedicated SCALES symposium at the 3rd European Congress of Conservation Biology (ECCB) in Glasgow on 28th-31st of August 2012. Dr Klaus Henle from the Helmholtz Centre for Environmental Research - UFZ in Leipzig, Germany and coordinator of SCALES opened the discussion: "It has long been known that scale issues play an important role in ecological research. In recent years, however, it has become increasingly clear that scale-awareness is also crucial in designing and implementing conservation practices. Conservation in a rapidly-changing world requires systematic and dynamic approaches to shorten the time from research findings to policy implementation."
Prof. William Kunin from the University of Leeds, UK, added: "Policy-makers should consider not only or mainly the need to protect species richness (that is what scientists call "alpha-diversity"), but also changes in species' composition from one habitat to another, or what is called "beta-diversity". Focusing on beta-diversity, rather than on number of species or certain focal species in a given area or scale, will certainly enhance conservation effectiveness".
Dr. Henle showed that the problem with variation is relevant not only to space but also to time. For example, areas that may be identified as critical to protect may differ if we use data from different years. Hence, even well-researched programs to select protected areas will fail if they don't consider changes in species distribution and composition between years (that is what scientists call "temporal variation").
Dr Guy Pe'er from the UFZ suggested that "connectivity between remnants of natural habitats must be more effectively included in policy and planning, in order to allow species to survive through climate change: if natural habitats remain so fragmented, many species simply will not be able to alter their distributions with changing climate". Many scientists are aware of the problem, but nevertheless connectivity still does not attract sufficient attention of policy makers and planners, partly because of dealing with "larger scale problems", so to say, of ecosystem functioning and ecosystem services. Novel individual-based simulation models, presented by Guy Pe'er and Greta Bocedi, give some tools to bridge this gap and reduce the risks of errors when moving from local studies to tackling large-scale threats.
Dr Szabolcs Lengyel and his team from the University of Debrecen, Hungary presented a survey of the literature to investigate how specific today's conservation strategies are to certain scales. Although they found a generally increasing awareness of scale-related issues in conservation, they also identified important gaps. The results of the study call conservationists and policy-makers to develop scale-sensitive approaches, in much the same way as cell biologists may use different levels of magnifications under the microscope depending on what they wish to observe and study.
"Perhaps the biggest gap between scientists and policy makers is the gap of speed. We need to work and publish faster. The scientific work will fail to target its most important audience as long as the time until publication is slow, the language is often too technical and the outcomes are published in specialized journals of limited access. Instead, we need to communicate and share our data and findings more openly and far more rapidly", concluded Dr. Henle, the Editor-in-Chief of the new, open-access, inter-disciplinary journal Nature Conservation.
Launched at the Congress by Dr. Klaus Henle and Prof. Lyubomir Penev from the Bulgarian Academy of Science, the journal Nature Conservation aims at bridging the gap between conservation science and practice using innovative publishing and dissemination technologies. The journal strongly encourages papers not only on biological topics but also on ethical, social, socio-economic, legal and policy issues related to management and use of biodiversity and ecosystems.
Further information
PD Dr. Klaus Henle / Dr. Guy Pe'er
Helmholtz Centre for Environmental Research (UFZ)
Telephone: +49 341 235 1270, -1646
PD Dr. Klaus Henle
Dr. Guy Pe'er
or
Tilo Arnhold (UFZ press office)
Telephone: +49 341 235 1635
Links
3rd European Congress of Conservation Biology ECCB2012 (28 - 31 August 2012 in Glasgow)
www.eccb2012.org
EU Research project SCALES
www.scales-project.net
SCALES Policy-Brief 2 und 3:
www.scales-project.net/img/uplf/SCALES_Policy_Brief_2.pdf
www.scales-project.net/img/uplf/SCALES_Policy_Brief_3.pdf
Nature Conservation – a new dimension in Open Access publishing bridging science and application
www.pensoft.net/journals/natureconservation/article/3081/abstract/
At the Helmholtz Centre for Environmental Research (UFZ) scientists are researching the causes and consequences of far-reaching changes to the environment. They are concerned with water resources, biological diversity, the consequences of climate change and adaptability, environmental and biotechnologies, bioenergy, the behaviour of chemicals in the environment, their effect on health, modelling and social science issues. Their guiding theme: Our research contributes to the sustainable use of natural resources and helps to secure this basis for life over the long term under the effects of global change. The UFZ employs 1,000 people in Leipzig, Halle and Magdeburg. It is financed by the federal government and the federal states of Saxony and Saxony-Anhalt.
The Helmholtz Association contributes towards solving major and pressing social, scientific and economic issues with scientific excellence in six research areas: Energy, Earth and Environment, Health, Key Technologies, Structure of Matter, Aeronautics, Aerospace and Transport. The Helmholtz Association is Germany's largest scientific organisation with over 33,000 employees in 18 research centres and an annual budget of approximately 3.4 billion euros. Its work stands in the tradition of the naturalist Hermann von Helmholtz (1821-1894).