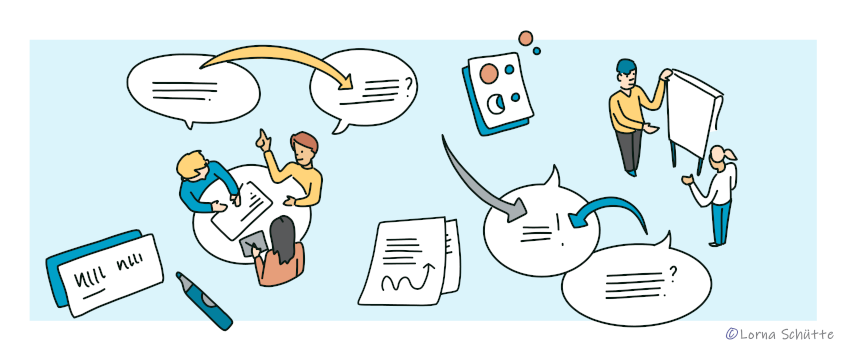 Training


We regularly offer trainings for career management and individual competence development.
The internal Further Education Portal (Intranet) provides all information on training content and registration. Employees of our cooperation partners can also register for trainings in the UFZ course catalogue .

We look forward to receiving your ideas for trainings and topics for events at Your Topic Wishlist !
November
Grant Proposal Writing

Online

November
Conversation Success: Negotiations, Meetings, Discussions

On-site & Online


27 & 28 June
Power games and micropolitical competence in academia

Online

April
Creativity for Scientists

Online

19 & 20 February

Tools & Strategies for Decision-Making in Academia
(Dr Desiree Dickerson & Dr Vicent Botella-Soler )

Online

Please find more information and the registration for interns and cooperation partners here.
Programme 2023
15 November &
7 December (follow-up)
Done is Better than Perfect. Breaking Free from Perfectionism.
(Dimitra Lountzi, Twenty One Skills)

UFZ, KUBUS, hall 1CD/Online

Please find more information and the registration for interns and cooperation partners here.

from October
Success Strategies for Women in Academia (Peer Coaching Group)
(Dr. Neela Enke)

Download the information sheet here .



Dates:


23 October (on-site: KUBUS, hall 1CD)

7 November (online)
21 November (online)

5 December (online)

In small groups of 4 to 10 participants in 4 sessions

Target Group:


Female Postdocs and PhD students who aim to pursue an academic career

Aims:


The participants will...


analyse their individual skills for a career in academia and receive feedback on their goals and, if necessary, identify individual qualification requirements.

learn about the conditions for success, risks and limits of a career in academia in the context of their individual situation.

receive information on relevant topics for a career in academia (e.g. appointment procedures, career paths at different academic institutes, work-life balance)

learn to use their networks and exchange information and experiences with their colleagues.







from October
Explore your career options (Peer Coaching Group)
(Dr. Matthias Zach)

Download the information sheet here .



Dates:


25 October (on-site: building 7.1/7.2, room 301)
17 November (online)
12 December (online)
9 January (online)


In small groups of 4 to 10 participants in 4 sessions

Target Group:


PhDs in their third year and Postdocs who aim a career outside academia.

Aims:


The participants will...


gain clarity and receive feedback about their further goals; identify individual qualification requirements, if necessary.

get to know different career options outside academia and to evaluate their conditions for success, risks and limits in the context of their individual situation.

receive information on relevant topics for a career outside academia (e.g. non-academic job markets and their requirements profiles, application strategies)

learn to use and expand their (especially non-academic) networks and exchange information and experiences with their colleagues.







7 March
Successful Negotiation According to the Harvard Strategy
(Dr. Angelina Topan)

UFZ, KUBUS, hall 2


23 March
Career Day 2023

UFZ, KUBUS
14, 21 & 2 February

Finding a Job in Germany's Industry
(Heidi Störr)

Online


24/25 October
Bringing Research to the Public: Science Communication
(Sina Löschke)

from 29 September
Success Strategies for Women in Academia (Peer Coaching Group)
(Dr. Neela Enke)

Download the information sheet .



Dates:


29 September, 11:00 am - 4:00 pm (building 4.0, room 101)
27 October (online)
17 November (online)
1 December (online)

In small groups of 4 to 10 participants in 4 sessions

Target Group:


Female Postdocs and PhD students who aim to persue an academic career

Aims:


The participants will...


analyse their individual skills for a career in academia and receive feedback on their goals and, if necessary, identify individual qualification requirements.

learn about the conditions for success, risks and limits of a career in academia in the context of their individual situation.

receive information on relevant topics for a career in academia (e.g. appointment procedures, career paths at different academic institutes, work-life balance)

learn to use their networks and exchange information and experiences with their colleagues.







from 8 September
Career Planning for Experienced Postdocs (Peer Coaching Group)
(Dr. Matthias Zach)

Download the information sheet .



Dates:


8 September (online)
12 October (online)
7 November (online)
12 December (online)

In small groups of 4 to 10 participants in 4 sessions

Target Group:


Postdocs who completed their PhD 3 years ago or longer

Aims:


The participants will...


gain clarity and receive feedback about their further goals; identify individual qualification requirements, if necessary.

get to know different career options outside academia and to evaluate their conditions for success, risks and limits in the context of their individual situation.

receive information on relevant topics for a career outside academia (e.g. non-academic job markets and their requirements profiles, application strategies)

learn to use and expand their (especially non-academic) networks and exchange information and experiences with their colleagues.







17 June
Career Talks - How to enable your Early Career Scientists to Proactively Manage their Next Career Move
(Julie Servoss and Tobias Maier)



Date & Time: 17 June, 1:00 – 4:30 pm
Location: Online
Language: English
Target Group: Supervisors, PIs, everyone operating Career Talks

Aim of the workshop
Supervisors in academia have diverse professional roles. Supporting and guiding early career researchers towards their next career move is one of them. Often, supervisors have not been trained for this role, which can lead to pressure and stress on both sides. This interactive workshop will help you to raise awareness of your role as (career) coach and will provide a frame how to effectively approach and fulfil it.


Participants of the workshop will


Increase their awareness of and acquire tools for their role as (career) coach
Learn how to enable and empower others to proactively manage their career
Strengthen their network among Helmholtz Centers

Topics covered in the workshop include


Role awareness: (career) coach, mentor
GROW method: supporting early career researcher towards their next career step
Career options for researchers: "What's out there?"
How to make decisions: competencies, motivation & interests

Working style


Interactive learning environment: participants will actively engage in discussions and exercises
Balanced ratio of teaching and practical exercises in pairs or small groups
It will be worked with real life cases of participants
Materials produced during the workshop will be made available to participants



18 & 19 May
Teamwork and Leadership in Academia: Multiple Perspectives for Greater Awareness
(Dr. Matteo Garavoglia)

22 April,
20 May &
17 June

Career Development for Early-Career Researchers (Group coaching)
(Anne Mazuga)
4 April
Visualizing Science Projects
(Elisabeth Werner)


22 March
Career Day 2022
31 January &
7 February

Goodbye Academia? - It has been a Pleasure
(Katrin Bodewits)
13 April
Karriere im Wissenschaftsmanagement
(Dr. Helene Schruff)

28 May
Power and Communication
(Julia Lehnhof)
1 June
Postdoc Q&A Session: Gaining teaching experience during your postdoc
(Prof. Anja Widdig, Dr. Lotte Korell, Dr. Alexander Zizka, Dr. Sara König)

In cooperation with the German Center for Integrative Biodiversity Research (iDiv)

30 June,
1 July
Finding a Job in Germany´s Industry
(Heidi Störr)

13 July &
14 July
ENGAGING the audience - presentation techniques for compelling presentations
(Julia Lehnhof)

30 September
Balancing cooperation and competition in science
(Nina Bessing)