inSTREAM - Linking catchment scale nutrient export to pelagic, benthic and hyporheic ecosystem functioning across stressor gradients
The PhD college of the Thematic Area Water Resources and Environment

Nutrient emissions from river catchments are still high, despite ongoing efforts to reduce loads from point-, and non-point sources. Elevated nutrient emissions impact water quality not only in the recipient streams but also pose a serious threat to downstream rivers and marine ecosystems. Reactions and biological uptake along river networks can contribute significantly to the reduction of nutrient loads. Increasing intensity of hydromorphological degradation, fine sediment inputs and nutrient inputs decrease biogeochemical reactions and biological uptake in the river network.
We hypothesize that there is a single prime stressor determining nutrient processing and that any impacts beyond that stressor will not change whole-stream nutrient uptake but will shift the relative contributions of the three main ecosystem compartments (the pelagic, benthic and the hyporheic zone).
The overarching knowledge gaps which we will tackle with this PhD college are centered around the uptake and retention of C, N and P in river networks under multiple stress. It is unknown how much each ecological compartment contributes to whole stream uptake and how multiple stress effects these contributions. We need a thorough understanding of the link between compartmental- and whole-stream nutrient uptake as well as the interplay between biological and hydrological control to predict and manage nutrient exports from catchments.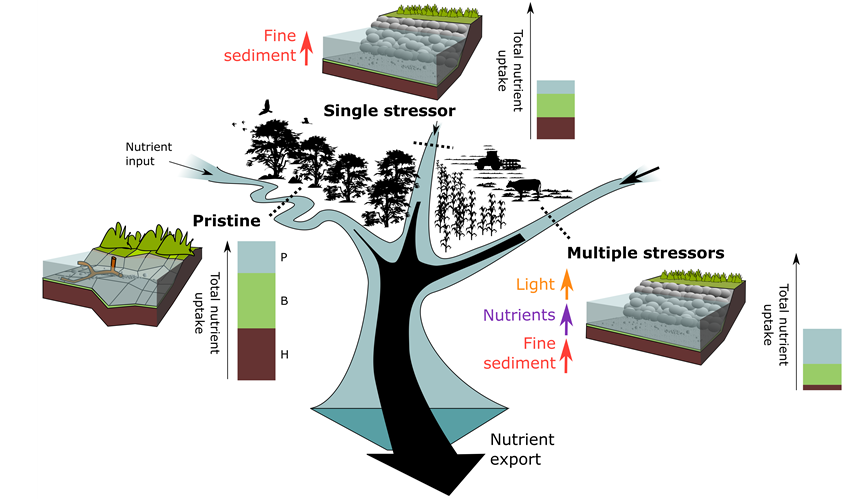 Research context and knowledge gaps
Processing in streams is thought to be a major control of the nutrient loads exported to the sea. However, while experimental quantification of these retention processes is bound to smaller scales, larger scale estimations mostly lack a mechanistic basis. There is a lack of hybrid approaches that use observational data to show the relevance of instream processes across stressor gradients on the one hand and that integrate this knowledge as well as knowledge gained in experiments into larger scale water quality models on the other hand.
This PhD will therefore evaluate the role and the dominant controls of in-stream processing at catchment scale across Germany utilizing data-driven methods and the UFZ water quality and quantity data set. In a second step, explorative modeling tools are used to evaluate the expected magnitude and direction of in-stream processing influence on nutrient export regimes. Finally, knowledge gained from these analyses and the analyses of the other PhDs is synthesized into a mechanistic but parsimonious model at catchment/ river network scale.

Key questions / hypothesis to be tested
What is the role of instream processing in exported nutrient loads and concentration dynamics at catchment scale?
What are the major controls of nutrient instream processing across catchments in Germany?
How can we apply the gained knowledge within integrated water quality models?

PhD student
Advisory team
Research context and knowledge gaps
Streams process large amounts of nitrogen and phosphorus by uptake and for nitrogen additionally by denitrification. However, it is not clear which ecosystem compartments (pelagial, benthal and hyporheal) contribute how much to the whole stream uptake and how the proportions of contributions change between impacted and pristine streams.

Key questions / hypothesis to be tested
1. How do the stream ecosystem compartments contribute to the total in-stream uptake of nitrogen and phosphorus?
2. How is the compartmental nutrient uptake affected by the multiple-stress situation of the stream?

PhD student
Advisory team
Research context and knowledge gaps
Invertebrate consumers can affect the fate of nutrients in lotic ecosystems through indirect (e.g. ingestion) and direct (e.g. excretion) pathways (Atkinson et al. 2016). Consumer-driven nutrient cycling via excretion has received considerable attention, whereas the significance of indirect pathways is poorly known. Few studies focused on the benthic zone and the regulation of biofilms by grazer, but the role of benthic shredders as well as hyporheic consumer in controlling whole-stream- and compartmental nutrient uptake remains unclear. This PhD will elucidate how benthic and hyporheic consumer control compartmental nutrient uptake via ingestion and how whole-stream nutrient cycling is affected by nutrient excretion.

Key questions / hypothesis to be tested
How much does secondary production contribute to whole stream nutrient cycling?
How does multiple stress influence the functioning of consumers and how does its effect whole stream uptake?

PhD student
Advisory team
Research context and knowledge gaps
Experiments help to reduce the inherent complexities of field observations. This PhD project aims on experimentally disentangling synergistic and antagonistic effects of the most relevant stressors light, nutrients and fine sediment on nutrient uptake in the three ecosystem compartments pelagial, benthal and hyporheal.

Key questions / hypothesis to be tested
1. Do the stressors interact differently on the nutrient uptake and fate in the different stream ecosystem compartments?
2. How do ecosystem structure (microbial community) and ecosystem function (nutrient uptake) respond to different stressor combinations?
3. How does interstitial nutrient uptake react to different levels of fine sedimentation?

PhD student
Advisory team