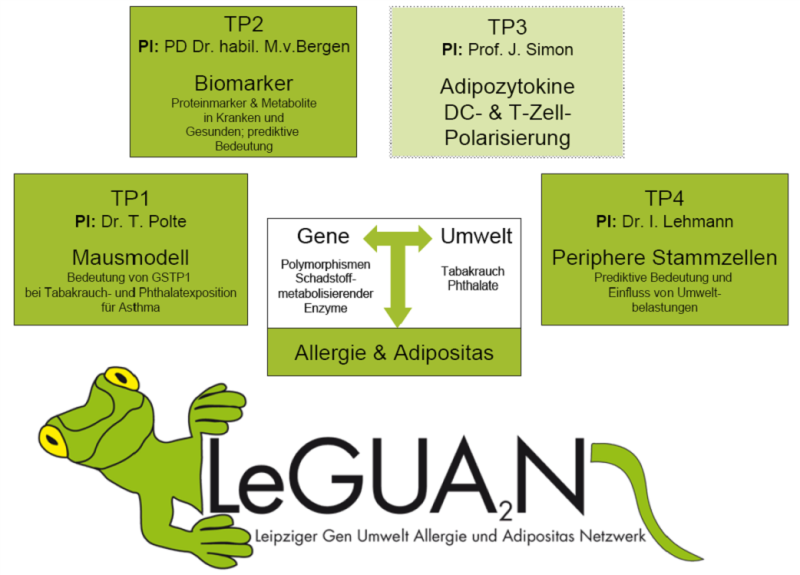 The LIFE-Collaborative Project LeGUA2N (EFRE)

LeGUA2N: Leipziger Gen Umwelt Allergie und Adipositas Netzwerk

Within LIFE (Leipzig Research Center for Civilization Diseases) the role of genomic and molecular factors and their interplay with influences from the environment and lifestyle will be studied in relation to the development of widespread common diseases.
From 2009 on LIFE was financed over 5 years with resources of Saxony and the European government bond for regional development.
Life Website

Within LIFE the collaborative project LeGUA₂N has investigated in 4 different subprojects the interaction of obesity and allergy according to various environmental factors.

Background
The prevalence of allergic diseases has almost doubled in the last twenty years. More than 1/3 of the German population suffers from an allergic episode in their life. Similarly, the number of overweight and obese people has increased in the last decades. Recent studies have shown a link between obesity and the severity of disease progression of certain allergies. These studies describe that overweight and obesity might correlate with an increased asthma risk and that high serum levels of specific adipokines are associated with the severity of allergic asthma. Previous prospective studies have indicated that the interaction of obesity and asthma depends on different supplemental factors like influences from the environment. Some of these complex interactions were addressed in the present collaborative project LeGUA₂N.

In subproject 1 (SP1), the role of phthalates, chemicals commonly used as plasticizer in large quantities worldwide, was investigated in a murine trans-generational asthma model. Our results demonstrate that maternal exposure to certain phthalates not only increased the asthma severity in the offspring but also influenced the weight development in the next generation. Subprojects 2 (SP2) and 3 (SP3) both aimed adipokines, which are secreted by adipose tissue. In SP2 several new methods were established to identify and to quantify adipokines and other inflammatory mediators. SP3 addressed the influence of different adipokines on the origin of allergic inflammatory responses like dendritic cells. The fourth subproject focused on eosinophilc granulocytes, which are correlating positively with allergic diseases and have been shown to be influenced by adipokines. Their immature eosinophilic precursors are also increased in allergic diseases. In Subproject 4 (SP4) the frequency and function of eosinophilic progenitor cells in the blood were analyzed and correlated with environmental influences and allergic outcomes in one-year old children. The data show that environmental exposures are positively associated with levels of circulating eosinophilic progenitors which may play a role in the development of skin manifestations during the first year of life.