Press release, 19 February 2015
Fighting Decline of Pollinators in Europe
Pollination is crucial to providing food security and wider ecosystem stability. An outstanding challenge is how do we mitigate pollinator declines and ensure a sustainable future? The EU-funded FP7 project Status and Trends of European Pollinators (STEP) has brought together 120 researchers over 5 years in an attempt to answer this question – with considerable contribution from the Helmholtz-Centre for Environmental Research – UFZ.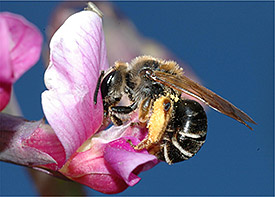 Andrena lathyri (bee) visiting the plant Lathyrus linifolius.
Photo: Markus Franzén
Climatic Risk Atlas and Distribution of European Bumblebees.
Credit: BioRisk
Pollinators are highly important but declining
Pollination is crucial to providing food security with 84% of European crops benefitting, at least in part, from insect pollination and 78% of temperate wildflowers needing biotic pollination. An estimated ~10% of the total economic value of European agricultural output for human food amounted to €22 billion in 2005 (€14.2 for the EU) was dependent upon insect pollination.
However, due to a cocktail of environmental stressors some pollinator species are declining and the pollination services they provide may be under threat.
What can we do to mitigate pollinator declines and ensure sustainable future?
The EU-funded FP7 project Status and Trends of European Pollinators (STEP) has attempted to answer this question, contributing significantly to the knowledge of the status and drivers behind trends in European pollinators and developing nature-based solutions to safeguard the benefits they bring.
At the end of the project's 5 year research programme STEP is publishing the "Climatic Risk and Distribution Atlas of European Bumblebees". The atlas, published as a special issue of the open access journal BioRisk, breaks new ground in assessing the risks of climate change for European bumblebees. Climate change has been identified as one of the main threats to this group and the atlas provides the most comprehensive evaluation of the likely consequences this will have.
Drivers of change
The analysis of the drivers responsible for observed status and declines in pollinators was coordinated by Dr. Oliver Schweiger from the Helmholtz-Centre for Environmental Research – UFZ in Halle. The results indicate that although land-use change is currently considered as the major driver of pollinator declines in Europe, climate is the most important factor limiting the distribution of pollinators at large spatial scales. This gives rise to concern, especially in the light of ongoing climate change which is likely to affect not only the distribution of important pollinator species but also the entire functional structure of pollinator assemblages. Interestingly, also negative effects of agricultural chemicals such as fertilisers and pesticides can be seen even at the coarse European scale and even more worrying is the fact that these negative effects are likely to be amplified with increasing temperatures as they can be expected from climate change. One key message of the STEP project is that there is no single driver responsible for pollinator declines but there are multiple drivers and they do not act in isolation but interact in many ways. Yet, knowledge about these interactions can also be used to mitigate effects of global change and especially agri-environmental schemes and green infrastructure initiatives can help to buffer the effects of habitat loss, agricultural intensification and even climate change.
Climatic risks of bumblebees in Europe
The authors gathered over one million bumblebee records from all over Europe. Based on these data, they modelled the current climatic niche for almost all European species (56 species) and projected future climatically suitable conditions using three climate change scenarios for the years 2050 and 2100. While under a moderate change scenario only two species are projected to be at the verge of extinction by 2100, 14 species are at particularly high risk under an intermediate change scenario. Under a more severe change scenario as many as 25 species are projected to lose almost all of their climatically suitable area. Strong mitigation strategies are therefore needed to preserve this important species group and to ensure the sustainable provision of pollination services, to which they considerably contribute.
Dr. Oliver Schweiger, UFZ and deputy coordinator of STEP, says that "strong mitigation strategies are needed to preserve this important group of pollinators if they are to continue to support food production and maintain the flower diversity of our landscapes." Prof. Simon Potts, Coordinator of STEP adds: "The STEP project has generated a substantial body of knowledge on how to conserve pollinators, safeguard the pollination of crops and better understand how to mitigate against threats."
Publication:
Atlas
Rasmont P, Franzén M, Lecocq T, Harpke A, Roberts S, Biesmeijer K, Castro L, Cederberg B, Dvorak L, Fitzpatrick Ú, Gonseth Y, Haubruge E, Mahé G, Manino A, Michez D, Neumayer J, Ødegaard F, Paukkunen J, Pawlikowski T, Potts S, Reemer M, Settele J, Straka J, Schweiger O (2015)
Climatic Risk and Distribution Atlas of European Bumblebees. BioRisk 10: 1-236.doi: http://dx.doi.org/10.3897/biorisk.10.4749
Further information
Dr. Oliver Schweiger
Helmholtz-Centre for Environmental Research – UFZ
Dept. Community Ecology
Phone: +49 345 558 5306
oliver.schweiger@ufz.de
Prof Simon G. Potts
University of Reading
School of Agriculture, Policy and Development,
Phone: +44 118 378 6154
s.g.potts@reading.ac.uk
In the Helmholtz Centre for Environmental Research (UFZ), scientists conduct research into the causes and consequences of far-reaching environmental changes. Their areas of study cover water resources, biodiversity, the consequences of climate change and possible adaptation strategies, environmental technologies and biotechnologies, bio-energy, the effects of chemicals in the environment and the way they influence health, modelling and social-scientific issues. Its guiding principle: Our research contributes to the sustainable use of natural resources and helps to provide long-term protection for these vital assets in the face of global change. The UFZ employs more than 1,100 staff at its sites in Leipzig, Halle and Magdeburg. It is funded by the federal government, Saxony and Saxony-Anhalt.
The Helmholtz Association contributes to solving major and urgent issues in society, science and industry through scientific excellence in six research areas: Energy, earth and environment, health, key technologies, structure of matter as well as aviation, aerospace and transportation. The Helmholtz Association is the largest scientific organisation in Germany, with 35,000 employees in 18 research centres and an annual budget of around €3.8 billion. Its work is carried out in the tradition of the great natural scientist Hermann von Helmholtz (1821-1894).