Press release February 10th, 2006
Viewing waste water as valuable resources
Science for schools
Leipzig. Two schools in Leipzig are taking part in a new EU project called "Play with Water – From Waste to Resource". Scientists from the Centre for Environmental Research Leipzig-Halle (UFZ) are involved, along with partners from a wide range of research establishments in Switzerland, Denmark, Norway, Sweden and Slovenia. The concept was developed as part of the EU's Science and Society Action Plan.
Wastewater treatment devices help to prevent diseases, e.g. through constructed wetlands.
Foto: Norma Neuheiser/UFZ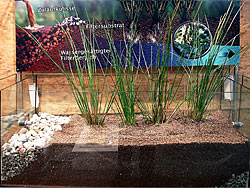 Constructed wetlands in a model
Foto: Norma Neuheiser/UFZ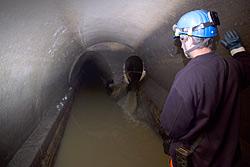 Sewer below Leipzig - Often developing countries lack the infrastructure to clean wastewater.
Foto: André Künzelmann/UFZ
The target group for this project from the Training and Demonstration Centre for Decentralised Sewage Treatment (BDZ) consists of primary school children aged between ten and thirteen. The project will enable them to discover basic concepts of ecology through fun experiments. The concepts covered will include water and nutrient cycles in nature and the potential of waste water as a valuable resource. The focus is on developing an interactive demonstration system that will be set up and tested on-site at the Training and Demonstration Centre for Decentralised Sewage Treatment (BDZ) in Leipzig-Leutzsch. The project is being supported by BDZ members Kommunale Wasserwerke Leipzig GmbH (KWL) and UFZ. Teachers, and of course pupils, at the Leipzig International School (LIS) and the Adam-Friedrich-Oeser primary school in Leipzig are also playing an important part.
The demonstration in Leipzig-Leutzsch is designed to raise awareness of the water situation in newly industrialised and developing countries. Around the world, four million people – including children in particular – still die per year of diseases like diarrhoea, cholera and typhoid each year because of dirty drinking water, making the development and realisation of low-cost, simple solutions for sewage treatment a high priority. Natural plant sewage treatment systems can play a role here, since they are capable of turning sewage into safe irrigation water. This method has been refined and optimised at UFZ within the Helmholtz Association of National Research Centres. "Natural plant sewage treatment systems can meet much of the high demand for water for irrigation farming in arid regions", says Dr. Roland A. Müller of UFZ, explaining the benefits of the technology. "The nutrients contained in the sewage are retained and can be reused by the crop plants, thereby completing the natural cycle."
As well as the demonstration at BDZ's demonstration site in Leipzig, the project partners are developing classroom experiments which will be low cost and easy to assemble and can be maintained by the pupils themselves. The idea is for the teaching materials to motivate the children to ask questions about nature and for them to learn to understand natural processes by experimenting with ecosystems and interpreting their own observations and data. Since the demonstration and classroom experiments stem from ongoing research into near-natural systems, the children are assured of being exposed to today's best available technology. A first test phase of the new teaching material and demonstration concept is planned for August 2006.
More information about the BDZ:
More information about the sewage treatment:
More informationen are available from:
Dr. Roland A. Müller
Centre for Environmental Biotechnology (UBZ)
phone ++49 341 235-3000
or
Doris Böhme / Tilo Arnhold,
Public Relations of Helmholtz Centre for Environmental Research – UFZ
Phone: +49-341-235-2278
E-mail: presse@ufz.de