Press relase, January 25th 2006
What to do when nature conservation is successful and humans face competition again?
International conference looks at management of conflicts between wildlife and human resource use
Leipzig. In many parts of Europe, improving environmental conditions and strict nature protection laws have resulted in rare or locally extinct animal species returning, increasing in numbers or even taking over new habitats. This is reigniting old conflicts between humans and wildlife. Over a period of three years, scientists in seven European model regions investigated how different countries are dealing with these conflicts and what ways there are of reconciling nature conservation and fisheries, taking three fish-eating species as models – otters, cormorants and grey seals.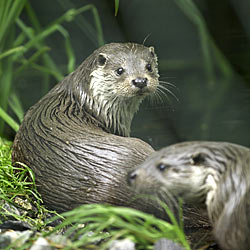 Eurasian otter (Lutra lutra L.)
Foto: André Künzelmann/UFZ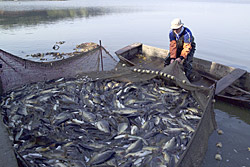 Fishery at the Wermsdorfer fishing ponds near Leipzig, Germany / in the surrounding of the fishing ponds lives a big population of cormorants
Foto: André Künzelmann/UFZ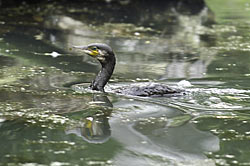 Cormorant
Foto: André Künzelmann/UFZ
Final conference of the EU project FRAP at the Leipziger KUBUS, 25 - 27, 2006
Foto: Norma Neuheiser/UFZ
To mark the conclusion of the EU-funded project FRAP, around 100 experts from 20 countries were invited to a conference at the Centre for Environmental Research Leipzig-Halle (UFZ). Next to the presentation of project results, there were intense exchanges on comparable conflicts from all over the world. The variety of possible approaches shows that successful conflict management takes into account ecological and social relationships, but also involves relevant stakeholder groups in the decision-making processes.
The otter - an accepted returnee
The history of man and otter is one full of misunderstandings. Although otters do mainly eat fish, if there is an adequate supply of food, they prefer small manageable snacks – fish between ten and twenty centimetres – rather than large carp. Their preferred meals would include e.g. perch and other fish species of little commercial interest. Carp ponds become the otter's favourite stomping ground only when the surrounding landscape has been cleared out and does not offer much in the way of food. Harsh winters also play a role, as shown by e.g. food studies carried out as part of the species conservation programme for the otter in Saxony, Germany. If, in addition, market conditions for local fish worsen, the fishermen can start to feel the pinch. But is that the otter's fault?
Certainly, the otter population in Upper Lusatia, a Saxon region rich in natural water bodies and artificial fish ponds, has increased. Nevertheless, the population is by no means secure, as UFZ models have shown: increased losses through road kill, and the continuing loss of habitat continue to take their toll. The population growth would therefore already appear to have passed its peak and in about one hundred years this trend could lead to an unexpected collapse of the otter population in Saxony.
Compared with the model regions of the Czech Republic and Austria, the relationship between Saxon fish farmers and the otters is relatively relaxed. This is thanks to a number of EU co-financed measures introduced by the Free State of Saxony, which support e.g. technical defensive measures like otter fences, and offer fish farmers compensation payments for ecological services. Payments are made for environmentally sound aquaculture or for stocking the ponds with additional carp, which can then serve as food for the otters. In this way, the fish farmer's active contribution to nature conservation is rewarded by society.
The cormorant – conqueror of old and new shores
The situation for the cormorant is very different: Unlike the otter, these black birds are often seen as invaders. The cormorant illustrates clearly the fact that birds do not stop at national boundaries. Encouraged not least by environmental and climate changes, a few colonies in the middle of the last century have produced many more colonies both large and small. The birds generally breed along the coasts of Europe and then migrate to the Mediterranean for the winter, passing through Germany among other countries on the way. Scientists estimate that there are up to 500 000 cormorants in Europe at the moment. Uncoordinated local measures are not very effective with such mobile species. Since there are currently more cormorants than breeding places, when mass shootings are carried out, as in North Germany last summer, more birds simply take their place. The cormorant problem shows that there are coordination problems between individual countries, but also at European level. There is a need for an international observation system and better coordination of management measures.
The grey seal – home-comer from the northern Baltic
The third animal studied in the FRAP research project was the Baltic grey seal and the conflicts surrounding it in Finland and Sweden. Grey seals are spreading further and further southwards with an annual growth rate of just under 9 per cent – to the joy of nature conservationists and the annoyance of coastal fishermen. In Sweden they have had a national grey seal management plan for several years now, and in Finland such a plan is about to be introduced to improve coordination of management measures. Resettlement attempts on the German Baltic coast may have been postponed indefinitely, but it is still only a matter of time before German fishermen too are confronted with the seals.
Three conflicts – one magic formula?
There will always be conflicts between wildlife and human resource use. Species like the otter, wolf, lynx and seal in Europe, the elephant in Africa and India and the snow leopard in the Himalayas will continue to compete with humans for food. So on the one hand, it is a matter of finding solutions that safeguard viable populations of the endangered species – a task to which Germany and numerous other countries at European and international level have committed themselves. On the other hand, compensation must be provided for the legitimate interests of the injured parties, since the cost of nature conservation should be borne by society as a whole, and not only by individual sectors of the economy like fisheries or agriculture. More needs to be done at the European level to ensure that national compensation solutions no longer fall victim to European state aid regulation, as they have in Finland for instance. Yet conflict solutions need not always be costly. Sometimes small changes to farming methods can prevent serious losses; or comprehensive information and the timely involvement of stakeholders can lead to a consensus between nature conservationists and users of nature. There is no magic formula, but one of the main aims of the EU's FRAP project was to develop a general approach for analysing such conflicts and for developing and assessing suitable management strategies. To what extent this has been achieved was discussed in Leipzig with scientists and practitioners from all over the world.
More information are available from:
Dr. Irene Ring
UFZ Department Economy
www.ufz.de/index.php?de=1661
phone ++49 341 235-2480
e-mail: irene.ring@ufz.de
Dr. Klaus Henle
UFZ Department Conservation Research
www.ufz.de/index.php?de=1868
phone ++49 341 235-2519
e-mail: klaus.henle@ufz.de
Dr. Reinhard Klenke
UFZ Department Conservation Research
www.ufz.de/index.php?de=1923
phone 0341-235-2869
e-mail: reinhard.klenke@ufz.de
or
Doris Böhme / Tilo Arnhold,
Public Relations of Helmholtz Centre for Environmental Research – UFZ
Phone: +49-341-235-2278
e-mail: presse@ufz.de