Press release December 20th, 2007
Fisheries should be regarded as a part of the maritime environment
Helsinki/Leipzig. Professional fishery is in many sea areas a serious ecological threat to the maritime environment. On the other hand, changes in the environment, e.g. the increase of fish-eating animals like seals and cormorants, may impact the fisheries. One of the new guiding principles of political decision-making in fishery issues is that a holistic "ecosystems approach" should be used instead of traditional protection of fish populations. The international research project IBEFish, which was led by the Finnish Environment Institute, surveyed the role of participation and interaction in decision-making in new circumstances.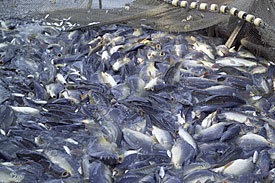 To have an sustainable fishery, there has to be a balance between ecological and economic interests.
Foto: André Künzelmann/UFZ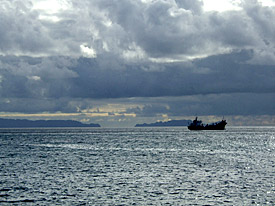 Trawler before Madeira.
Foto: Tilo Arnhold/UFZ
The environmental perspective has already been established in legislation and international conventions on fisheries. However, on the implementation level the ecosystems approach is still in an elementary phase. If fisheries are to be sustainable in the future, new decision-making approaches and structures are needed for ecosystems threatened by fisheries and for regions in which environmental changes threaten the profitability of fisheries. By such measures it is possible to support interaction between various interests and perspectives and to promote versatile use of new information about the maritime environment.
Policy Brief - development and implementation of participative management structures
The new ecosystems approach to fishery regulation is a great challenge. Fisheries must be regarded in relation to numerous other uses of maritime resources. The interactions between those other uses, as well as many other ecological, economical and social factors, must be taken into account. The observations on the role of participation in decision-making on fishery issues proved that major decision-makers and actors can be found in several different sectors and on all levels - from the EU to the local level. The decision-making process is therefore very complicated, and such processes as production and propagation of information, or distribution of costs, may be difficult to organize. As a consequence, the development of constructive interaction may be retarded, and the credibility of politicians who speak for the protection of marine ecosystems may suffer.
The IBEFish project was funded by the European Union´s 6th framework programme for research. The project was carried out by SYKE and its partners, the universities in Aalborg, Gothenburg and Newcastle, and the Helmholtz Centre for Environment Research (UFZ) in Germany.
Publication:
Berghöfer, A., H. Wittmer and F. Rauschmayer (2008). Stakeholder Participation in Ecosystem-Based Approaches to Fisheries Management: A Synthesis from European Research Projects. Marine Policy, in press.
Varjopuro, R., T. S. Gray, J. Hatchard, F. Rauschmayer and H. Wittmer (2008). Introduction: Interaction between environment and fisheries – the role of stakeholder participation. Marine Policy, in press.
Links:
Project IBEFish
Project IBEFish
Policy Brief with policy advise:
Policy Brief
More information:
Dr. Heidi Wittmer / Dr. Felix Rauschmayer / Augustin Berghöfer
Helmholtz Centre for Environmental research (UFZ)
phone +49 341-235-1629 ,-1656 ,-2869

in Englisch
Mr Riku Varjopuro (Project coordinator IBEFish)
Finnish Environment Institute SYKE
phone +358-0400-148-843
or
Helmholtz Centre for Environmental Research - UFZ
Press office
Tilo Arnhold / Doris Böhme
phone +49 341 235 2278
presse@ufz.de
The Helmholtz Centre for Environmental Research – UFZ was established in 1991 and has about 830 employees in Leipzig, Halle/S. and Magdeburg. They study the complex interactions between humans and the environment in cultivated and damaged landscapes. The scientists develop concepts and processes to help secure the natural foundations of human life for future generations.
The Helmholtz Association contributes to solving major challenges facing society, science and the economy with top scientific achievements in six research areas: Energy, Earth and Environment, Health, Key Technologies, Structure of Matter, Transport and Space. With 25,700 employees in 15 research centres and an annual budget of approximately 2.3 billion euro, the Helmholtz Association is Germany's largest scientific organisation. Its work follows in the tradition of the great natural scientist Hermann von Helmholtz (1821-1894).
Helmholtz Association
The research centres UFZ (Germany) and SYKE (Finland) are part of the PEER initiative. PEER, the Partnership for European Environmental Research, unites seven major European public environmental research centres. A prime activity of PEER is to foster strong interdisciplinary environmental research and monitoring. Since its foundation in 2001, PEER has promoted synergies and added-value on a European scale through the co-ordination of research strategies and activities of its partners. PEER members are active in many areas of environmental research. These include biodiversity and ecosystem services, water cycle and natural hazards, conflicts in land use, renewable energies, sustainable production and consumption, development of environmental technologies, risk assessment of pollutants, and policy evaluation and environmental governance. PEER research covers natural and social sciences and uses tools such as remote sensing, geoinformatics, modelling, environmental monitoring and scenario-building in a wide variety of ecosystems at different spatial and temporal scales.
www.peer-environment.eu