Press release from 10 October 2011
Europe and the global food crisis
Press release for World Food Day, 16 October 2011
Warszaw/Poland and Halle/Saale/Germany. In connection with the Polish Presidency of the EU a group of leading academics led by Prof Tim Benton, UK, met in the Polish Academy of Sciences, Warsaw, to make a consensus statement on Europe as a key player in global food security. The team from across Europe covered expertise in agriculture, economics, sociology, environment, ecology, conservation, water and food consumption.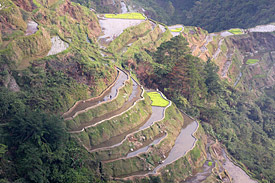 The Banaue Rice Terraces are 2000-year old terraces that were carved into the mountains of Ifugao in the Philippines. - LEGATO stands for 'Land-use intensity and Ecological Engineering - Assessment Tools for risks and Opportunities in irrigated rice based production systems' and aims to advance long-term sustainable development of irrigated rice fields, against risks arising from multiple aspects of global change.
Photo: PD Dr. Josef Settele/UFZ
The statement was delivered to the Polish minister of agriculture and rural development on the 7th of October 2011 and is attached here:
www.minrol.gov.pl/pol/content/download/32536/180288/file/delaracja%20ang.pdf
Josef Settele of the Helmholtz Centre for Environmental Research - UFZ was part of the group, who agreed that food security and agriculture should play a central role in European policies. Guaranteeing global food security needs cross-sectoral approaches combining agricultural production, environment, health and socio-economics, following the principles of sustainable intensification.
"While biotechnology may play a role in global food security it is unlikely to be the main solution", the experts state. "Innovations and institutions concerning management of farming systems and agricultural landscapes in an environmentally sensitive way may well provide greater scope in addressing this issue globally."
The recently started research project LEGATO (www.legato-project.net; www.ufz.de/index.php?en=21842), which is coordinated by Josef Settele and his team, was developed exactly along these lines and according to this philosophy. "There is convincing evidence that sustainable intensification really is a way to move forward - e.g. by using the so called 'ecological engineering' approach as done in LEGATO for irrigated rice production in South-East Asia" says Settele.
There also was consensus that the EU should maintain its productive agricultural land in order to meet future food demands, whether for the EU or the rest of the world.
More information
PD Dr. Josef Settele
Helmholtz Centre for Environmental Research (UFZ)
josef.settele@ufz.de
or
Tilo Arnhold
Helmholtz Centre for Environmental Research (UFZ)
Public Realtions
Phone + 49 341 235 1635
tilo.arnhold@ufz.de
And from all the authors of the consensus document
Prof Tim Benton (initiator and head of group), University of Leeds, United Kingdom
T.G.Benton@leeds.ac.uk
Prof Jerzy Wilkin, University of Warsaw, Poland
wilkin@wne.uw.edu.pl)
Prof Jan Bengtsson, Swedish University of Agricultural Sciences, Sweden
(Jan.Bengtsson@slu.se
Dr Juan Antonio Rodriguez Diaz, University of Cordoba, Spain
ma2rodij@uco.es
Prof Herve Guyomard, INRA, France
Herve.Guyomard@paris.inra.fr
Dr Tibor Hartel, Mihai Eminescu Trust, Romania
hartel.tibor@gmail.com
Dr John Kearney, Dublin Institute of Technology, Ireland
john.kearney@dit.ie
Dr Iwona Nurzynska, Polish Academy of Sciences, Poland
Links
Homepage LEGATO:
www.legato-project.net
Press release to LEGATO:
www.ufz.de/index.php?en=21842
Press release of Polish Ministry of Agriculture and rural Development (in Polish):
www.minrol.gov.pl/pol/Ministerstwo/Biuro-Prasowe/Informacje-Prasowe/Europejscy-naukowcy-z-wizyta-u-ministra-M.-Sawickiego/
In the Helmholtz Centre for Environmental Research (UFZ) scientists are researching the causes and consequences of far-reaching changes to the environment. They are concerned with water resources, biological diversity, the consequences of climate change and adaptability, environmental and biotechnologies, bioenergy, the behaviour of chemicals in the environment, their effect on health, modelling and social science issues. Their guiding theme: Our research contributes to the sustainable use of natural resources and helps to secure this basis for life for the long term under the effects of global change. The UFZ employs 1,000 people in Leipzig, Halle and Magdeburg. It is financed by the federal government, Saxony and Saxony-Anhalt.
The Helmholtz Association contributes towards solving major and pressing social, scientific and economic issues with scientific excellence in six research areas: Energy, Earth and Environment, Health, Key Technologies, Structure of Matter and Aeronautics, Space and Transport. The Helmholtz Association is Germany's largest scientific organisation with over 30,000 employees in 17 research centres and an annual budget of approximately 3 billion euros. Its work stands in the tradition of the naturalist Hermann von Helmholtz (1821-1894).