Press release from the 9th of January 2012
Birds and butterflies are unable to track climate change
European study reveals for the first time impacts on a large scale
Montpellier / London/ Halle/Saale. Birds and butterflies are obviously unable to keep up with climate change. Temperatures have risen faster in the last two decades than both animal groups have been able to adapt. Their northward migration has been slower than appears necessary based on their climatic needs. This is the conclusion of a study which the journal Nature Climate Change published online on Sunday. Based on the statistical average, butterflies and birds lag 135 km and 212 km respectively behind the rise in temperature and northward shift of their habitat.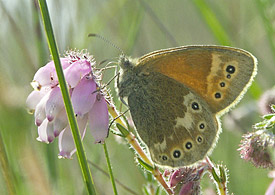 Large Heath (Coenonympha tullia) is a butterfly which relies on bogs. Because of the lack of such habitats it cannot follow climatic changes.
Photo: Chris van Swaay / Butterfly Climate Risk Atlas 2008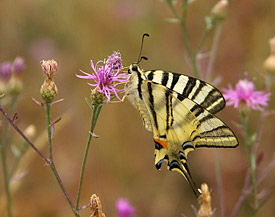 The Scarce Swallowtail (Iphiclides podalirius) is a butterfly which follows, to current knowledge, climatic shifts better than many other species.
Photo: Chris van Swaay / Butterfly Climate Risk Atlas 2008
This is the first proof for an entire continent that climate change results in a significant shift in habitat and can tear apart communities of different animal groups. For the study, an international team of researchers assessed data provided by voluntary observation networks such as "Tagfalter-Monitoring Deutschland" (Butterfly Monitoring Germany) and gathered in around 1.5 million hours of observation.
The authors developed a simple method for their study in order to illustrate and evaluate whether, how and where certain animal and plant groups are affected by climate change. For this purpose they developed an index for the average temperatures where species appear. For birds and butterflies this was calculated from over 9,000 and over 2,000 observation locations respectively in Europe. A species temperature index (STI) is calculated for each species. By combining all of the species in one location, the average STI for all species, the community temperature index (CTI), is calculated. If this CTI is calculated again after a given period, it is relatively easy to measure the changes in the composition of species due to climate change. In this study significant shifts were revealed in the observation period between 1990 and 2008. "The changes in the community temperature index (CTI) say nothing about how different species are affected by climate change, but they are very good at showing the overall picture for the actual decline in cold-dwelling species, the increase in warm-dwelling species and the combination of both," explains Dr. Vincent Devictor of the French National Centre for Scientific Research (CNRS). In the last two decades the climatic conditions and thus the habitats of butterflies and bird in Europe have shifted northwards by an average of 249 km. However, according to the statistics, butterflies have only migrated 114 km northwards. The gap is even greater for Europe's birds which migrated only 37 km.
"Our results indicate not only that birds and butterflies are unable to follow the changing climates fast enough. They also show that the gap between the two groups is widening," points out Chris van Swaay of the Dutch Butterfly Conservation. The results vary greatly between the different countries. For example, there has been hardly any change in the average habitat temperature for bird species in the Czech Republic, but there has been a sharp rise in temperature in Sweden. For butterflies, there were only minor changes in Great Britain, but major changes in the Netherlands.
"Data from Germany collected by "Tagfalter-Monitoring" (TMD) should allow similar analyses within a few years, but they were not included here as the available time span is too short for comparison purposes," explained PD Dr. Josef Settele of the Helmholtz Centre for Environmental Research (UFZ).
The results are surprising particularly for birds. Hardly any other animal group is as mobile and covers such long distances. Dr. Oliver Schweiger of the UFZ suggests a simple explanation for this though: "The fact that butterflies are reacting on average faster to climate change at a European level than birds might be because they have relatively short life cycles and are very sensitive to ambient temperature, which allows them to follow temperature changes better than birds."
Nevertheless, the scientists consider the results to be alarming because birds and butterflies are among the most widespread and most mobile animal groups. The delay in climate drift might tear apart a wide range of communities, fears Josef Settele: "For example, many bird species depend on the caterpillars of certain butterfly species for food and might therefore suffer from the changes. The more specialised a species is, the more threatened it will be by such shifts. The caterpillars of the Titania's Fritillary (Boloria titania) depend on the adderwort plant (Polygonum bisorta) for food. Even if this butterfly species manages to keep up with the temperatures, the plant upon which it depends is nowhere near as mobile." (see UFZ Special April/2008, p. 12, www.ufz.de/index.php?en=16853)
The scientists also believe that the study shows the importance of the data compiled by voluntary observers on changes in nature and that predictions of the impact of climate change on ecosystems can only be made if complex changes in the structures and the composition of communities are recorded for the whole food chain.
Tilo Arnhold
Publication
Vincent Devictor, Chris van Swaay, Tom Brereton, Lluís Brotons, Dan Chamberlain, Janne Heliölä, Sergi Herrando, Romain Julliard, Mikko Kuussaari, Åke Lindström, Jirí Reif, David B. Roy, Oliver Schweiger, Josef Settele, Constantí Stefanescu, Arco Van Strien, Chris Van Turnhout, Zdenek Vermouzek, Michiel WallisDeVries, IrmaWynhoff and Frédéric Jiguet (2012):
Differences in the climatic debts of birds and butterflies at a continental scale. Nature Climate Change. AOP, DOI: 10.1038/NCLIMATE1347, Published online: 8 January 2012
www.nature.com/doifinder/10.1038/nclimate1347
www.nature.com/nclimate/index.html
Die Untersuchungen wurden u.a. von der Europäischen Union im Rahmen der EU-Projekte ALARM, MACIS und STEP sowie vom BMBF im Rahmen des Projektes CLIMIT gefördert.
Further information
Helmholtz Centre for Environmental Research (UFZ)
PD Dr. Josef Settele per mail via
PD Dr. Josef Settele
Dr. Oliver Schweiger
Telefon: 0345-558-5306
Dr. Oliver Schweiger
Tilo Arnhold (UFZ press office)
Telefon: 0341 235 1269
presse@ufz.de
Dr. Vincent Devictor
Institut des Sciences de l'Evolution - Montpellier (I.S.E.-M.) / CNRS
Phone: (+00 33) 467144081 & (+00 33) 609467841
Dr. Vincent Devictor
Chris van Swaay
Dutch Butterfly Conservation, The Netherlands
Chris van Swaay
Links with further information
Economy and Ecology: Reconciling economic development and the conservation of Europe's Biodiversity (press release, 12 December 2011):
www.ufz.de/index.php?en=22386
Distribution Atlas of Butterflies in Europe (press release, 5 October 2011):
www.ufz.de/index.php?de=22156
"Ein Drittel der Schmetterlinge Europas gefährdet" (One third of butterflies in Europe under threat) (press release, 18 March 2010):
www.ufz.de/index.php?de=19465
German butterfly experts export know-how (press release, 14 August 2009):
www.ufz.de/index.php?en=18495
Tagfalter-Monitoring Deutschland (Butterfly Monitoring Germany, TMD):
www.tagfalter-monitoring.de
In the Helmholtz Centre for Environmental Research (UFZ) scientists are researching the causes and consequences of far-reaching changes to the environment. They are concerned with water resources, biological diversity, the consequences of climate change and adaptability, environmental and biotechnologies, bioenergy, the behaviour of chemicals in the environment, their effect on health, modelling and social science issues. Their guiding theme: Our research contributes to the sustainable use of natural resources and helps to secure this basis for life for the long term under the effects of global change. The UFZ employs 1000 people in Leipzig, Halle and Magdeburg. It is financed by the federal government, Saxony and Saxony-Anhalt.
The Helmholtz Association contributes towards solving major and pressing social, scientific and economic issues with scientific excellence in six research areas: Energy, Earth and Environment, Health, Key Technologies, Structure of Matter and Aeronautics, Space and Transport. The Helmholtz Association is Germany's largest scientific organisation with over 31,000 employees in 18 research centres and an annual budget of approximately 3 billion euros. Its work stands in the tradition of the naturalist Hermann von Helmholtz (1821-1894).