Press release 26 June 2013
Placing flood mitigation on four pillars
UFZ researchers draw conclusions from the 2013 floods and outline what must be done in future to mitigate these consequences
Leipzig. In future, flood mitigation in Germany should be based on four key indicators: technical flood protection for larger built-up areas will be required just as much as greater space for rivers by means of dike relocation and integration of the agricultural sector. Further, private mitigation should be supported wherever technical flood protection has so far been unable to provide sufficient protection against damage. To ensure provisions of solidarity in accommodating the residual damage, it would be sensible to introduce mitigation-based, mandatory insurance. This is what scientists at the Helmholtz Centre for Environmental Research (UFZ) write in a position paper on the 2013 flooding, published in June.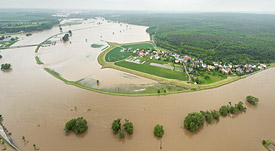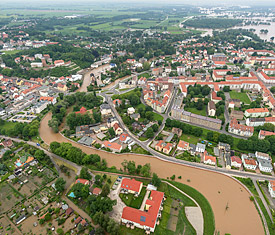 Eilenburg (bottom) and Erlln (top) at 4 June 2013 – two municipalities in the river Mulde in Saxony during the flood of 2013.
As the examples Eilenburg or Erlln show, many of the newly constructed levees and flood protection systems have fulfilled its function and protected the settlements against floods.
Both photos: André Künzelmann/UFZ
In their position paper the flood researchers warn against the illusion that if only sufficient funds are invested, damage caused by flooding could be cut to around zero. Economists, geographers and landscape planners at the UFZ write: "There is no way we can provide blanket protection against flooding. A residual risk of damage will always remain, for instance if the dike break. The conception of one-hundred-percent flood protection is just as fallacious as the idea that future damage can be prevented as long as plan approval procedures are expedited and public participation curtailed. We do not need less dialogue, we need more, centring on the question of how we should best prepare for extreme flooding in the future"; they propose that in future, flood mitigation measures should be based on four pillars to keep damage levels as low as possible and to distribute the burden fairly:
1. Technical flood protection
In Saxony alone, over half a billion euro has been invested in technical flood protection since the catastrophic flooding of 2002. Approximately one billion euro is planned for concrete wallsand dikes, etc., earmarked for investment by 2020. Local government authorities and residents hope that the areas they live in will be better, perhaps even completely, protected. In a representative survey conducted by UFZ in 2005 among 404 households damaged by the flooding in 2002, over 60 % of the inhabitants of three municipalities in the Mulde river hinterlands agreed with the statement that levees convey a sense of security. "But this enhanced sense of security comes at a risk. There is more building than ever before. And if the walls break or overflow, the subsequent damage will just be greater", reports social geographer Dr. Christian Kuhlicke from UFZ, who analysed the consequences of the river Mulde flooding in Eilenburg and Grimma. "This is another reason why it is short-sighted to trust only in technical protection."
2. Natural flood protection by providing rivers with more space
Throughout Germany, two thirds of the former floodplains have been lost to dikes and other flood protection measures. The situation along the major rivers such as the Rhine, the Elbe, the Danube and the Oder is in places even more dramatic. Some sections have held on to a paltry ten to twenty percent of their former alluvial floodplains, kept available as flood zones. But in addition to purifying the water, these floodplains fulfil an important role during emergencies: they retain the water for as long as possible within their boundaries, hence alleviating waves of peak flooding. Just a few centimetres can be enough in places to decide whether a protective wall and the built-up area located behind are flooded or not. If all of the dike relocation projects currently under discussion along the German Elbe were to be carried out, the water masses would have an over 23,000 hectares, or one third more, of additional space to spread across. "Although planning has progressed really quite a long way along the Elbe (approx. 700 hectares have been completed, a further 2,600 hectares are in the concrete stages of planning), implementation of these projects have proven exceedingly time-consuming and a drain on resources. After all, the surface availability must be agreed just as much as the new dike lines, and agricultural repurposing in particular needs clarification", explains Mathias Scholz, expert for alluvial zone ecology at UFZ. The first expansive project of this kind is the dike relocation at Roßlauer Oberluchs (City of Dessau-Roßlau) in the Central Elbe Biosphere Reservation. Following over a decade of preparation, the State of Saxony-Anhalt reactivated an approx. 140 hectares floodplain here by reconstructing the dike in 2006. UFZ provided scientific monitoring for this project, as dike relocation in this manner offers the opportunity of combining sustainable and modern flood protection with nature conservation objectives and hence of safeguarding resources for future generations
3. Private precautionary measures– don't just demand, subsidise also
The German Water Management Law already specifies that those potentially affected (are) "obligated within the framework of what is possible and reasonable to undertake suitable mitigation measures in protecting against the hazards of flooding and to reduce the damage thereof, in particular to design the use of properties to consider the possible deleterious implications that flooding may have on human beings, the environment or material assets." However, this demand will remain nothing other than simple theory without the introduction of concrete obligations or economic incentives. At the same time, technical protection structures reduce the expected damage and hence the efficiency of additional private precautionary measures. "Private mitigation tends to be effective and efficient wherever there is no, or inadequate, protection in the form of technical flood protection", explains UFZ economic geographer Dr. Volker Meyer. If responsibility for flood protection is increasingly reassigned from the public sector to those potentially affected, citizens become managers of their own risks. "How many of them invest in flood protection as a result is not dependent merely on how high they perceive the risk to be, but also on the resources they have at their disposal. Who will be able to afford which (individual) level of protection in future? What happens to those who are unable to afford protection?" This is why in their statement, the UFZ researchers recommend the subsidisation of private precautionary measures – for instance in the form of low interest loans, conditional on the building measures, i.e. refurbishments, providing protection against flooding, or in the form of reduced insurance premiums.
4. Mitigation-based, mandatory insurance
Nevertheless, even a combination of technical, natural and private mitigation to protect against flooding will not succeed in preventing all damage – 'residual risks' remain. And although immediate aid such as the current 8-billion programme by the federal and state governments alleviate suffering, they do not help solve the crux of the problem. "Mandatory insurance for all home-owners would reassign the costs for damage within a framework of solidarity, while the premium rebates would create economic incentive for private mitigation measures to tackle elementary damage such as flooding, severe rainfall and snow pressure", prompts Prof. Reimund Schwarze from UFZ as food for thought. The calls for mandatory insurance are not new. The German government considered introducing a mandatory insurance for elemental damage in the wake of the 2002 flooding. Regrettably, this endeavour floundered on the bureaucratic merry-go-round and collective forgetfulness. But this did not provide those worst affected with any sustained alleviation. Although roughly every third house is currently insured against elementary damage, 1.4 percent are located in areas that statistically speaking are flooded every ten years and are hence deemed 'uninsurable'. Accordingly, in the region of one million people have no chance of acquiring regular insurance coverage. Policies are 'reviewed individually' after every major incident – such as 2002 in Dresden – often ending up more expensive than they had been before. Climate change places an additional burden on the availability of insurance policies, as new areas are spreading into 'uninsurable' zones. "It appears appropriate, therefore, that there should be a degree of solidarity in a model of mandatory insurance. In this, a carefully structured, mandatory insurance can assign the costs of actual damage in such a way that the economic incentives for mitigation measures against flooding and heavy rainfall are not lost. A mandatory elementary damage insurance would ensure that extreme, rare or local incidents such as flash floods, earthquakes or land subsidence would become comprehensively insurable", says climate economist Reimund Schwarze as a summary to his analysis of catastrophe mitigation.
The UFZ scientists believe that a public debate is urgently necessary to determine what responsibility the state should accept and what responsibility should remain with the residents of areas at risk of flooding. Not only public debates on single local protective measures are needed; what is more, a broader societal discussion is required on the risks that a society and its citizens are willing to carry in connection with flooding and how the costs of mitigation have to be distributed.
Tilo Arnhold
Position paper:
Christian Kuhlicke, Volker Meyer, Reimund Schwarze, Mathias Scholz (2013):
"100 % flood protection is not possible – we need four pillars of sustainable, flood mitigation measures"
Read the position paper
Additional information on the authors:
Dr. Christian Kuhlicke
Social geographer and chairmen of the work group Natural Hazards/Natural Risks in the Germany Society for Geography
Dr. Volker Meyer
Economic geographer with a focus on the costs of natural hazards
Prof. Reimund Schwarze Economist and expert for climate adaptation and policies
Mathias Scholz Landscape planner and expert for floodplain ecology
Dagmar Haase Geographer and landscape ecologist with a focus on urban flood risk assessment
Information & contact via
www.ufz.de/index.php?de=31670
or
Tilo Arnhold / Susanne Hufe (UFZ Press office)
Telefon: 0341-235-1635, -1630
Current publications
Christian Kuhlicke, Volker Meyer, Annett Steinführer:
"Jenseits der Leitdifferenz "Beton contra Natur": Neue Paradoxien und Ungleichheiten im Hochwasserrisikomanagement". Erschienen in: Hydrologie und Wasserbewirtschaftung, 57/2 (2013): 70-74.
(Anmerkung der Autoren: In der Zeitschrift Hydrologie und Wasserbewirtschaftung (HyWa) haben wir kurz vor dem Hochwasser 2013 einen Beitrag veröffentlicht, der sich mit aktuellen Entwicklungen im Management von Hochwassergefahren befasst. Für die Erlaubnis der Redaktion der HyWa ,diesen Text frei zugänglich machen zu können, möchten wir uns bedanken.)
Reimund Schwarze, Gert G. Wagner, Manijeh Schwindt, Hannelore Weck-Hannemann
Ökonomische Strategien des Naturgefahrenmanagements – Konzepte, Erfahrungen und Herausforderungen. Innsbruck University Press, 2012.
Ökonomische Strategien des Naturgefahrenmanagements ...
Mathias Scholz, Dietmar Mehl, D., Christiane Schulz-Zunkel, C., Hans Dieter Kasperidus, Wanda Born, Klaus Henle (2012):
Ökosystemfunktionen von Flussauen - Analyse und Bewertung von Hochwasserretention, Nährstoffrückhalt, Kohlenstoffvorrat, Treibhausgasemissionen und Habitatfunktion. Naturschutz und Biologische Vielfalt 124: 257 S.
Ökosystemfunktionen von Flussauen ...
Selected research projects
emBRACE - Building Resilience Amongst Communities in Europe
www.embrace-eu.org
CapHaz-Net- Social Capacity Building for Natural Hazards
www.caphaz-net.org
CONHAZ - Costs of Natural Hazards
http://conhaz.org
RISK MAP (Flood Risk Maps)
http://risk-map.org
Synergien und Konflikte von Anpassungsstrategien und -maßnahmen (SynKon)
www.ufz.de/index.php?de=19460
BioFresh - Biodiversity of Freshwater Ecosystems: Status, Trends, Pressures, and Conservation Priorities
www.ufz.de/index.php?de=19326
Ökosystemfunktionen in Flussauen - Analyse und Bewertung - (FuE-Vorhaben des BfN)
www.ufz.de/index.php?de=17551
Interdisziplinäre Forschungsplattform für Auenökologie Mittelelbe - TERENO
www.ufz.de/index.php?de=10816
At Helmholtz Centre for Environmental Research (UFZ), scientists research the causes and ramifications of far-reaching changes in the environment. They focus on water resources, biological diversity, the consequences of climate change and means of adaptation, environmental and bio-technologies, bio-energy, how chemicals behave in the environment, their repercussions on health, modelling and questions of social sciences. Their leitmotif: our research serves the sustainable use of natural resources and, under the influence of climate change, helps safeguard these foundations of life for posterity. UFZ employs a staff of 1,100 employees at its sites in Leipzig, Halle and Magdeburg. Its funding comes from the Federal Government and the states of Saxony and Saxony Anhalt.
The Helmholtz Association contributes to solving major and urgent questions within society, sciences and industry through the provision of academic excellence in six fields of research: energy, the earth and environment, health, key technologies, structure of matter and aviation, aerospace and transport. Employing a staff of 38,000 in 18 research centres and equipped with an annual budget in the region of 3.8 billion euro, the Helmholtz Association is Germany's largest scientific organisation. Its work stands in the tradition of the outstanding natural scientist Hermann von Helmholtz (1821-1894).