ESCALATE Synthesis Projects

ESCALATE offered innovative education to PhD students in the form of Synthesis Projects. These projects were designed as a two-part series of education and research workshops (one at a partner institution and one at the UFZ) and addressed doctoral researchers and other scholars in the early stages of their career.

The main concepts and aims covered by ESCALATE Synthesis Projects are:

Collaboratively conduct a scientific synthesis project from start to finish
Form a team of 8-15 PhD students, 4-6 supervisors and postdocs
Learn to work in an international and interdisciplinary team from at least two institutions
Develop and submit a manuscript
Apply knowledge gathered in scientific and soft-skill courses
Practice collaborative paper writing
Get familiar with the publication process
Learning by collaborating
Networking and role models

The participants attended two interdisciplinary workshops on a topical research question, learn how to synthesize and review previous scholarship and collaboratively draft a research paper. The final goal of ESCALATE Synthesis Projects was to prepare and submit a manuscript to an international peer-reviewed journal, whereby all participants will be listed as co-authors.

Typical schedule of an ESCALATE Synthesis Project
The first workshop served to discuss key concepts and to develop a research agenda. This usually included a one-night stay at the Selside–Yorkshire Dales Outdoor Adventure Centre of the University of Leeds, with outdoor activities (e.g. rock climbing, caving) and various other social and team-building activities with a view to build a sustainable network of young scholars interested in nature conservation and ecosystem services.
Team building experience at the Selside Outdoor Centre of the University of Leeds.
After the kick-off workshop, all participants examined key scholarly works and original data, following methods and guidelines agreed upon in the first meeting. The expected workload for the literature review, data extraction and analysis was about 60 hours per participant within a six-month period. During those six months, work groups and the entire cohort will remain in touch via Skype to discuss their work. Work was closely supported by 2-3 researchers from the partner institute and a similar number from the UFZ.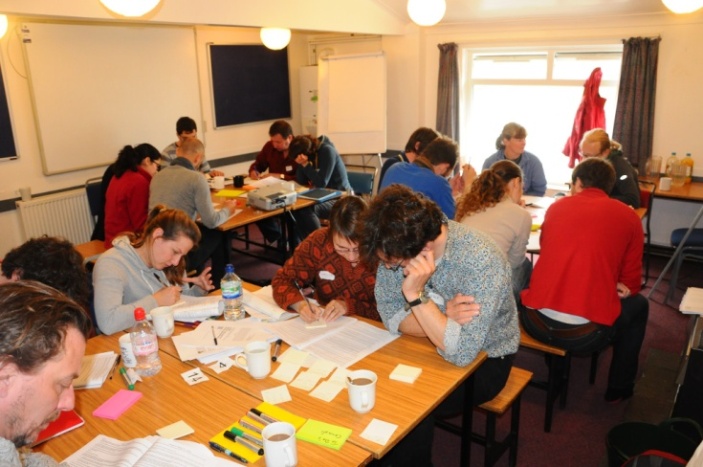 Brainstorming research questions during the first workshop.

We then met again for a second workshop where we synthesized the literature and data sources reviewed, analyze the data and discuss how the resulting research paper could be framed and organized. A manuscript was submitted to a peer-reviewed journal a few months after the second meeting.
Published papers from ESCALATE Synthesis Projects:
Dittrich, A., von Wehrden, H., Abson, D.J., Bartkowski, B., Cord, A.F., Fust, P., Hoyer, C., Kambach, S., Meyer, M.A., Radzevičiūtė, R., Nieto-Romero, M., Seppelt, R., Beckmann, M., (2017):
Mapping and analysing historical indicators of ecosystem services in Germany
Ecological Indicators 75 , 101 - 110
Ziv, G., Mullin, K., Boeuf, B., Fincham, W., Taylor, N., Villalobos-Jiménez, G., von Vittorelli, L., Wolf, C., Fritsch, O., Strauch, M., Seppelt, R., Volk, M., Beckmann, M., (2016):
Water quality is a poor predictor of recreational hotspots in England
PLOS One 11 (11), e0166950
Ziv, G., Hassall, C., Bartkowski, B., Cord, A.F., Kaim, A., Kalamandeen, M., Landaverde-González, P., Melo, J.L.B., Seppelt, R., Shannon, C., Václavík, T., Zoderer, B.M., Beckmann, M., (2018):
A bird's eye view over ecosystem services in Natura 2000 sites across Europe
Ecosystem Services 30 (Part B), 287 - 298
Gosal, A.S., Giannichi, M.L., Beckmann, M., Comber, A., Massenberg, J.R., Palliwoda, J., Roddis, P., Schägner, J.P., Wilson, J., Ziv, G., (2021):
Do drivers of nature visitation vary spatially? The importance of context for understanding visitation of nature areas in Europe and North America
Sci. Total Environ. 776 , art. 145190
Biffi, S., Traldi, R., Crezee, B., Beckmann, M., Egli, L., Epp Schmidt, D., Motzer, N., Okumah, M., Seppelt, R., Slabbert, E.L., Tiedeman, K., Wang, H., Ziv, G., (2021):
Aligning agri-environmental subsidies and environmental needs: a comparative analysis between the US and EU
Environ. Res. Lett. 16 (5), art. 054067