WP 1: Concepts & Synthesis: Urban transformations between global dynamics and local contexts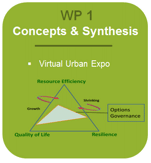 In WP 1 the conceptual framework of the Integrated Project is developed. The focus is on urban transformations with their complexity and dynamics. For different urban contexts, interlinkages, synergies and conflicts with regard to resource efficiency, quality of life and resilience are presented and discussed. The following research questions are guiding our work:
What are the central drivers, processes and consequences in the context of urban land use change, resource use, and environmental risks?
Which synergies, trade-offs and conflicts can be identified regarding the interlinkages between resource efficiency, quality of life and resilience?
What are appropriate governance options for strengthening sustainable urban development strategies?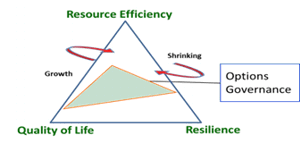 The framework developed organizes and synthesizes the complementary contributions of all WPs according to the main research questions of the IP Urban Transformations. This allows for developing joint concepts, transferable indicators and methods as well as the exchange of research results. Furthermore, WP1 assists the integrative character of the IP research in terms of synthesis and outreach at IP-level. The model of a "Virtual Urban Expo" serves as platform for communicating and representing our findings to different target groups such as the interested research society, as well as civil and political society in an adequate and innovative way.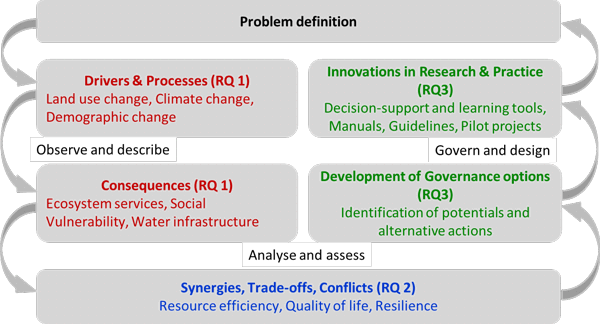 Publications
The following WP1-publications describe our understandig of Urban Transformations:
Rink, D., Haase, A. (Eds.)(2019): Handbuch Stadtkonzepte: Analysen, Diagnosen, Kritiken und Visionen. UTB. Link
Kabisch, S., Koch, F., Gawel, E., Haase, A., Knapp, S., Krellenberg, K., Nivala, J., Zehnsdorf, A. (Eds.)(2018): Urban Transformations. Sustainable Urban Development Through Resource Efficiency, Quality of Life and Resilience. Future City book series, Volume 10, Springer. Link
Koch, F., Krellenberg, K., Kabisch, S. (2016): How to achieve Urban Sustainability Transformations (UST) in real life politics? Brief for the UN Global Sustainable Development Report, 2016. Text
Rink, D., Banzhaf, E., Kabisch, S., Krellenberg, K. (2015): Von der "Großen Transformation" zu urbanen Transformationen: zum WBGU-Hauptgutachten Welt im Wandel. From the "Great transformation" to urban transformations: reflections on the report World in Transition by the WBGU, GAIA 24 (1), 21 - 25 Text

Kabisch, S., Kuhlicke, C. (2014): Urban transformations and the idea of resource efficiency, quality of life and resilience. Built Environment 40 (4), 475 - 485. Text
Contact
WP speakers:
Virtual Urban Expo: