Physiology-based toxicokinetics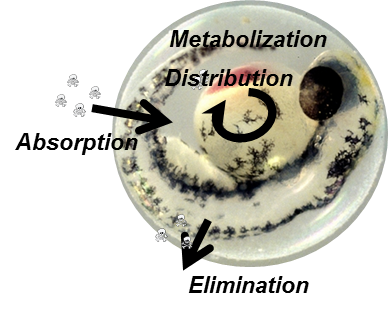 The amount of a chemical that finds its way into an organism within a given time frame strongly influences the potential adverse outcome. We aim at identifying and characterizing important parameters of accumulation of chemicals in biological matrices. Our main experimental model is the zebrafish embryo, a prominent organism in ecotoxicological research and a major model system in our department. We use chemical analytics to investigate toxicokinetics of chemicals and study the effects of cellular transporter systems on chemical uptake.
Background: In line with Paracelsus´ notion "the dose makes the poison" the toxicity of a chemical depends also on the amount of the chemical that enters the cell or organism. The uptake of a chemical by a cell or organism over time is called toxicokinetics. Using the zebrafish embryo as experimental model system we want to find out which metabolic processes and which physiological properties of the embryo dermine the absorption, distribution, metabolism and elimination or ADME of chemicals. Cells are equipped with an array of cellular defense mechanisms that block the chemical uptake or facilitate the elimination once a chemical is taken up. The uptake and elimination of chemicals by cells is often controlled by proteins acting as transporters of chemicals across compartment barriers (so called phases 0 and III of xenobiotic metabolism). Certain metablic enzymes modify chemical compounds (so called phase I and II of xenobiotic metabolism) and often these modifications result in the change of the physico-chemical properties and the compounds become more water-soluble.

Our research: We study if and how much of a chemical is taken up and how and when during zebrafish embryo development it is modified. Furthermore, we investigate which phase 0-III enzymes are present in zebrafish embryos.
Contact: