Experiments on ecosystem functions and resources
The role of biodiversity as a regulator for ecosystem functions and ecosystem stability has not yet been sufficiently investigated and is therefore the object of several research projects on a national and international level. At the Helmholtz Centre for Environmental Research – UFZ this topic is being researched on in the projects "Connections between above-ground and below-ground processes" and "Interactions between species, ecosystem functions and ecosystem stability".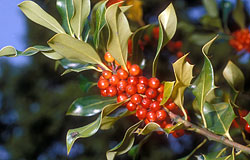 Ilex aquifolium spreads northwards.
Foto: Uwe Lochstampfer
The research results are relevant for practical purposes of a future-orientated forestry. Conifer forests are transformed into semi-natural deciduous and mixed forests in order to achieve a higher resilience of the forests against extreme weather events and infestation by pests. One project focuses on how plant diversity influences above-ground and below-ground food webs and substance conversion in soil. The according field experiments are conducted by the Departments of Soil Ecology, Soil Physics, Community Ecology, Environmental Microbiology and Landscape Ecology.
Projects & Contact
DIVA-Projekt, Mechanisms of biodiversity conservation and functional role of biodiversity in the grassland model system
(e.g. comparison of functional diversity of Mykhorrhiza fungi on sites with and without pesticide treatment)
Soil Ecology, Community Ecology
im Rahmen des BMBF-Programmes BIOLOG
ESF-Project BioCycle, impact of tree diversity on ecosystem functions
with partners from the Departments of Soil Ecology, Environmental Microbiology, Soil Physics, Landscape Ecology
Jena-Experiment, the biggest European biodiversity project in grassland communities analyses experimentally the host range of arbuscular mycorrhizal fungi on the basis of monoculture experiments
German biodiversity-exploratories
Soil Ecology
Computational Landscape Ecology
Community Ecology
Within the DFG-exploratories UFZ-colleagues analyse the diversity of Mykhorrhiza fungi, Basidiomycetes and specific genes along land use gradients
www.bio.uni-potsdam.de/biodiversity