Conflicts on resources and sustainable use
Conflicts in nature conservation are mainly rooted in competing use of resources by animals and humans – even if they compete "only" for habitats. Current examples are conflicts of humans with bears, otters and cormorants.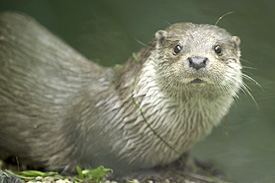 The Eurasian Otter (Lutra lutra L.) competes with fischermen for fishes.
Photo: André Künzelmann
It is the duty of politics to identify such conflicts and to mitigate them with appropriate measures. Interdisciplinary teams of the UFZ analyse the backgrounds of these conflicts and develop recommendations for their mitigation. For example, in the EU-project FRAP a framework for the analysis and mitigation of such conflicts has been developed. Further projects work intensely on sustainable use of forests.
Projects & Contact
FRAP - Fishery and biodiversity conservation: Sustainable strategies for conservation and use, using the example of otter, cormorant and seal
Economics, Conservation Research
• Biodiversity conservation in forests and their sustainable use, particularly in tropical forests
Projects with the EU, DFG, GTZ, BMBF, Smithsonian Institute
• Application of forest models for predicting consequences of different land uses and indicator development for certification of forest use
Cooperation with Forest Stewardship Council
Models for biodiversity management