Press release September 27th, 2006
Nature + Culture = new specialist journal for interdisciplinary environmental research
Leipzig. A new scientific journal is focusing on the area of tension between natural and social sciences. Nature + Culture has an interdisciplinary approach and is edited at the UFZ Centre for Environmental Research Leipzig-Halle. The English-language peer-review journal is published half-yearly by acclaimed New York publishing house Berghahn Books. The editors are Prof. Sing C. Chew of Humboldt State University, Aracta, California, and Dr. Matthias Gross of UFZ's Department of Urban and Environmental Sociology.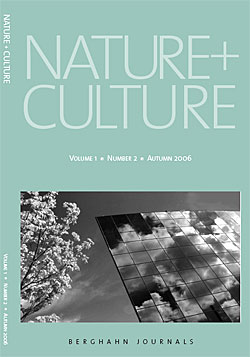 Nature + Culture is a new journal focusing on the area of tension between natural and social sciences.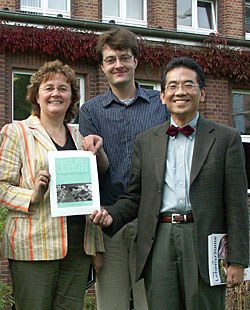 Dr. Sigrun Kabisch (Head of the Department Urban and Environmental Sociology) with the two editors Prof. Sing C. Chew (Humboldt State University, California) and Dr. Matthias Groß (UFZ).
Source: Norma Neuheiser/UFZ
The journal's target audience is international scientists and practitioners involved in researching the interactions between society and nature in historical and contemporary perspective. "Since Nature + Culture explicitly addresses interdisciplinary papers on the margins of natural and social sciences, it fills a niche that other journals have until now failed to fill", explains Dr. Matthias Gross of the UFZ Helmholtz Centre. "There are a few journals on the social sciences side, but they deal exclusively with special sub-disciplines." With the new journal, the editors aim to offer a platform for interdisciplinary approaches which have until now not found much of a place in current debates and journals.
The range of topics covered by Nature + Culture is broad. In the first issue the topics range from the organisation of landscape areas to climate impacts on the Southwest Asian Bronze Age. What all the articles should have in common is a theoretical, methodological or empirical discussion of nature and culture and their interactions or the resolution of their differences. This means that submissions of contributions are encouraged from representatives of almost all the environmental sciences, anthropology and sociology, history and political sciences, geography and ecology. Since scientific work is often moulded by the internal rules of established disciplines, this journal intends to create a space for interdisciplinary environmental research that is free from disciplinary constraints. This is encouraged in the "Perspectives" category, in which short articles of between 2,000 and 5,000 words may be submitted. Scientific quality is ensured by the strict, double-blind review process involving at least three members of the editorial board or other external experts. The editorial board consists of 27 scientists from the USA, Canada, Japan, China, Australia, Tanzania, Great Britain, France, Sweden, the Netherlands and Germany.
Nature + Culture:
Editors:
Sing C. Chew
www.humboldt.edu/~soc/chew.htm
Matthias Groß
www.ufz.de/index.php?en=5479
More information:
Dr. Matthias Groß
Department Urban and Environmenatl Sociology
Helmholtz Centre for Environmental Research – UFZ
phone + 49 341 235 3315
or
Doris Böhme / Tilo Arnhold,
Public Relations of Helmholtz Centre for Environmental Research – UFZ
Phone: +49-341-235-2278
Telefon: +49 (0)341 235 2278
E-mail: presse@ufz.de