Press release from June 4th, 2008
The Cormorant - the "black plague" or an example of successful species conservation?
Researchers suggest an action plan to smooth the conflict between fishermen and conservationists
Leipzig. Europe requires a common management strategy for cormorants in order to reconcile nature conservation and fishing interests. An effective regulation of cormorant populations can only work at the European level, researchers from the Helmholtz Centre for Environmental Research (UFZ) write in the scientific journal Environmental Conservation. Furthermore, they suggest a five-step action plan, which would start with a consensus on the real numbers of animals and end in an international management plan. Currently a common solution is not materialising because of too many different interests from individual countries and a lack of coordination, according to UFZ researchers. In North America by comparison, a management plan for the Double-crested Cormorant has been in operation since 2003, although the problem there is just as complex as it is in Europe. The size of the cormorant population in Europe varies between half a million and one and a half million birds, depending on who provides the data. The researchers' vision of a new action plan materialised from 22 interviews conducted with responsible persons from several EU countries at different management levels.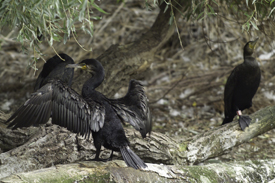 Researchers suggest an new action plan for the Great Cormorant (Phalacrocorax carbo) to smooth the conflict between fishermen and conservationists.
Photo: André Künzelmann/UFZ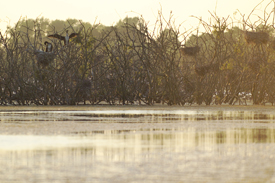 Colony of the the Great Cormorant.
Photo: André Künzelmann/UFZ
Fishermen insult them as the "black plague", birds that steal their fish and eat them in front of their eyes, while conservationists on the other hand celebrate the increase in the number of cormorants as proof of the fact that the conservation measures of recent decades have been successful. Attempts to regulate numbers locally or regionally have regularly made this conflict into headline news, not least because such attempts have remained unsuccessful. It has been common knowledge for a long time now that the Great Cormorant (Phalacrocorax carbo) does not stop at country borders. As a typical migratory bird it breeds in the North and the Baltic Sea area, but winters in the proximity of the Mediterranean. Thus, if the numbers of cormorants were regulated in order to defuse the conflict between the fishing industry and nature conservation, all EU countries should be involved in the process. The attitude towards the Great Cormorant however is very different in each of these countries: The Netherlands for example is completely opposed to culling, while France on the other hand culls 40,000 cormorants per year. "With the involvement of 25 member states it is indeed difficult to find a regulation with which all states are satisfied. If only one member state disagrees, then the plan will not materialise", as Vivien Behrens of the Helmholtz Centre for Environmental Research (UFZ) explains the dilemma. The social scientist and two colleagues conducted interviews with numerous decision-makers on this subject and investigated, why a common European cormorant management strategy is so difficult. From her point of view past attempts have failed, because an appropriate agency is missing: "In Europe it is clearly an institutional problem: Who is responsible? Is it the conservation agencies, the fishery authorities or other actors? There are so many different levels involved from the regional and national to the international level, and yet there is no one place for all of these threads to intertwine, where one can say: We are now going to develop an action plan that we can use to regulate the problem." Officially, the ORNIS committee would be the responsible body, but they have categorised the problem as not that urgent. In the meetings, in which the approach and the results of the research work were presented, there was always at least a representative of one country that did not consider an action plan to be necessary. Dr. Felix Rauschmayer from the Helmholtz Centre for Environmental Research (UFZ) comments on the reactions to his presentations: "Some arguments against a plan of action were not scientifically sound but simply put forward as objections and this was clear to all of those present at the meetings." The Convention on Migratory Species (CMS) clearly stated the fact that the cormorant population is sufficiently stable at the moment and therefore does not have to be regulated, as this convention concentrates first and foremost on highly endangered species.
The researchers have therefore come up with a five-step action plan, which could help to steer the cormorant management in the European Union out of the dead end. Firstly it is necessary to obtain accurate data on cormorant population, as the estimated numbers are varying according to the respective interests. Subsequently, regional conditions would be compared, a cost-benefit analysis of management options conducted, and a common model of the entire cormorant population established. Following this, a comprehensive institution would have to be set up, which would be responsible for the application of a common management strategy in the long run. "These steps must be taken successively. If one was to start with the third step only to discover that no consensus prevails concerning the first step, then everything would fizzle out again." A difficult process, requiring mutual understanding, as all countries would have to give up their decision-making autonomy.
The fact that a trans-national cormorant management policy is however possible can be illustrated by the example of the USA where a central authority is responsible, namely the U.S. Fish and Wildlife Service in the Ministry of the Interior. The problem in North America is comparable with Europe: Since the 1970's, populations of the Double-crested Cormorants of North America (Phalacrocorax auritus) have been increasing. Breeding and wintering areas are distributed over the entire continent and therefore over different Federal States. After an intensive consultation process, a management plan with over 200 pages was compiled in 2003, which is now being applied religiously. This plan is structured with alternatives, which are introduced progressively and only implemented if the previous stage remained unsuccessful: 1. no intervention, 2. scaring birds (without shooting), 3. limiting local damage at commercial fish ponds, 4. strictly monitored reduction of resources, 5. reduction of regional populations, and 6. opening up national hunting as a last alternative. In this way the cormorant population in North America is to be reduced by approximately 160,000 birds, which according to estimations from the U.S. Fish and Wildlife Service will not lead to any apparent negative consequences for the population. Apart from the institutional shortcomings in Europe, there is yet another reason why past attempts to regulate cormorant populations have failed. The structure of the cormorant population makes their regulation difficult: "Some of the birds are not breeding in spite of being sexually mature, because they are waiting for the chance to occupy a free nesting spot to be able to provide for their young ", explains Sten Zeibig from the UFZ, who is currently working on a model of the cormorant population in Europe. "These so-called floaters provide a kind of natural buffer that protects the population from severe losses after disasters. If the breeding birds are killed, then the "floaters" will take their place until this buffer is depleted, and the population breaks down to the point of being threatened with extinction."
Tilo Arnhold
You can read more about biological invasions and other issues concerning biodiversity in a special edition of the UFZ newsletter for the 9th Meeting of the Conference of the Parties to the Convention on Biological Diversity (COP9), that was from 19 to 30 May in Bonn.
http://www.ufz.de/index.php?en=10690
Publications:
Behrens, V., Rauschmayer, F., Wittmer, H. (2008):
Managing international 'problem' species: why pan-European cormorant management is so difficult
Environ.Conserv. 35 (1), 55-63
http://dx.doi.org/10.1017/S037689290800444X
Berghöfer, A., Wittmer, H., Rauschmayer, F. (2008)
Stakeholder participation in ecosystem-based approaches to fisheries management: a synthesis from European research projects
Marine Policy 32 (2), 243-253
The research was promoted by the European Union in the context of the research project FRAP as well as by the German Federal Environment Fund (DBU - Deutsche Bundesstiftung Umwelt).
http://dx.doi.org/10.1016/j.marpol.2007.09.014
Further information from:
Helmholtz Centre for Environmental Research (UFZ)
Vivien Behrens
Phone: +49-341-235-1745 (UFZ) or +49-521-106-4656 (Bielefeld University)
http://www.ufz.de/index.php?de=7035
and
Dr. Felix Rauschmayer
Phone: +49-341-235-1656
http://www.ufz.de/index.php?de=1660
and
Sten Zeibig (UFZ/Osnabrück University)
Phone: 0341-235-1718

or from
Helmholtz Centre for Environmental Research (UFZ)
Tilo Arnhold (UFZ press office)
Phone: +49-341-235-1269
presse@ufz.de
Links
The meaning of buffers for an efficient and effective management of biological populations under uncertainty - an ecological-economical approach illustrated by the example of the Cormorant (Phalacrocorax carbo sinensis):
https://www.dbu.de/stipendien_20005/796_db.html
Taming the Intractable
EU Project FRAP: Development of a Procedural Framework for Action Plans to Reconcile Conflicts between Large Vertebrate Conservation and the Use of Biological Resources: Fisheries and Fish-eating Vertebrates as a Model Case
http://www.ufz.de/index.php?de=1717
http://www.frap-project.ufz.de/
http://www.ufz.de/index.php?de=6715

Cormorant management in the USA:
http://www.fws.gov/migratorybirds/issues/cormorant/cormorant.html
U.S. Fish and Wildlife Service: "Final Environmental Impact Statement - Double-crested Cormorant Management in the United States"
Double-crested Cormorant Management in the United States
Wetlands International Cormorant Research Group:
http://web.tiscali.it/sv2001/

At the Helmholtz Centre for Environmental Research (UFZ) scientists research the causes and consequences of far-reaching environmental changes. They study water resources, biological diversity, the consequences of climate change and adaptation possibilities, environmental and biotechnologies, bio energy, the behaviour of chemicals in the environment and their effect on health, as well as modelling and social science issues. Their guiding research principle is supporting the sustainable use of natural resources and helping to secure these basic requirements of life over the long term under the influence of global change. The UFZ employs 900 people at its sites in Leipzig, Halle and Magdeburg. It is funded by the German government and by the states of Saxony and Saxony-Anhalt.
The Helmholtz Association helps solve major, pressing challenges facing society, science and the economy with top scientific achievements in six research areas: Energy, Earth and Environment, Health, Key Technologies, Structure of Matter, Transport and Space. With 25,700 employees in 15 research centres and an annual budget of around EUR 2.3 billion, the Helmholtz Association is Germany's largest scientific organisation. Its work follows in the tradition of the great natural scientist Hermann von Helmholtz (1821-1894).