Press release from February 1st, 2010
Participatory processes in the European Union can be improved
Junior scientists submit recommendations for environmental legislators
Leipzig. Participatory processes can be an important contribution to successfully implementing environmental policy. It is however important that the respective goals, costs and benefits are clear and that participatory procedures are individually tailored to take into account the respective institutional and social contexts. This was found in a study with ten participating European research institutes coordinated by the Helmholtz Centre for Environmental Research (UFZ). In this study, participatory processes in the environmental sector were investigated in different European countries at all levels, in order to develop new solutions for complex governance processes in water and nature protection and to facilitate the implementation of these following the expansion of the European Union. The project "GoverNat" is being funded for four years by the European Union in the context of the Marie Curie Research Training Program with a total of 2.4 million Euros.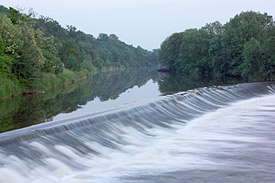 Weir at the river Saale in Germany. Participatory processes are for example required by the EU Water Framework Directive (WFD).
Photo: André Künzelmann/UFZ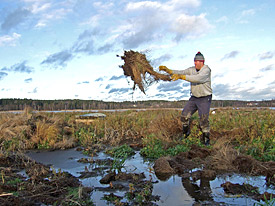 In the Finnish region of Lempääla a lake was prevented from becoming overgrown with reeds and with it an important protected area for birds was conserved. That particular initiative was initiated by local ornithologists.
Photo: Minna Santaoja,/ Universität Stuttgart
In the European Union governance processes in the field of biodiversity and water are a complex system with different political levels - from the local to the international level. A multiplicity of stakeholders participates in the process: national and non-governmental institutions, people from industry and civil society, economists and private individuals. It is a major challenge to integrate all of these into the process and to incorporate a relevant flow of knowledge. In different EU countries, 12 PhD students and Post-Doc researchers were able to investigate the participatory processes, which are required by the EU Water Framework Directive (WFD) and the Natura 2000 network. The researchers summarised their findings at the final conference of the "GoverNat" project as recommendations for governance identifying five main points:
1. Regulate expectations
The various stakeholders involved in such participatory processes have different hopes and expectations. If goals are not clear, then misunderstandings, frustration and conflicts are pre-programmed, which can undermine the results of the whole participatory process.
2. Adapt processes to contexts
The case studies showed that standard participatory processes in individual EU states and in individual sectors can differ tremendously; a blueprint for the EU would therefore achieve very little. Instead, processes should always be adapted to the respective cultural and institutional context.
3. Involve various stakeholders
Due to the many levels it is important to find constructive ways to deal with the different responsibilities, resources and management of procedures. Here it is important to decide upon priorities between sectors and levels.
4. Incorporate initiatives with a "bottom-up-approach"
Civil society organizations and local initiatives have contributed considerably over the past decades to democratic environmental governance. The knowledge and commitment shown by such organizations can substantially help to promote such processes. In this way for example, in the Finnish region of Lempääla a lake was prevented from becoming overgrown with reeds and with it an important protected area for birds was conserved. That particular initiative was initiated by local ornithologists, who shared their experiences and participated in agreements that led to its inclusion in the Natura 2000 network. Similarly, the establishment of the Hungarian Körös-Maros National Park was initiated by amateur ornithologists. In the meantime there is an official full-time National Park administration, although residents are still involved in its management through regular meetings, because the level of acceptance among local residents and farmers will ultimately determine the success of the measures undertaken.
5. Highlight the costs and benefits and break them down
Even when the democratic benefits of such participatory processes are undisputed, implementation requires personnel resources. Here it is important that costs and benefits are evenly distributed. Politicians and researchers have often underestimated this aspect. This was also apparent in the case study on the implementation of the Water Framework Directive in the Sprotte catchment in Thüringen, conducted by Matteo Roggero. To improve the water quality there it was necessary to achieve the voluntary cooperation of many private landowners in the river catchment. This not only resulted in administrative costs but also in costs to private individuals from a change in land use, and also costs from participating in the participatory process itself. The inclusion of a private engineering consultant, which was only possible through additional funding, proved to be very helpful in the co-ordination and communication of individual measures.
"More than 30 examples were investigated in countries such as Germany, Portugal, the UK, Spain, Hungary or Finland and show that it is still not clear as to what the specific benefits of participatory processes are. What seems to be clear is that they often facilitate or improve the realisation of EU guidelines as well as enabling those who are affected to take part in decision-making. It still remains unclear however as to which specific form of participation, in such complex processes that include both local as well as regional, national and European stakeholders from different groups in society, is both appropriate and meaningful" says Dr. Felix Rauschmayer from the UFZ, who is coordinating the project. "There is still an obvious tension between often naive advocates of greater participation and - in terms of the goals, opportunities and procedures that participation presents - often rather inexperienced employees in public governance. Here, in addition to train administrative staff in participatory processes, in-depth and systematic research that relates to the needs of practical situations can facilitate progress in environmental governance."
Policy advice:
"Towards successful participation in European biodiversity and water governance" (Policy brief - auf Englisch) www.governat.eu/files/files/policy_brief_governat_1_2010.pdf
Publication
Rauschmayer, F., Berghöfer, A., Omann, I. and Zikos, D. (2009):
Examining Processes or Outcomes? Evaluation Concepts in European Governance of Natural Resources. Environmental Policy and Governance 19(3): 159-173.
DOI: 10.1002/eet.506
more publications:
www.governat.eu/library
Further information
Helmholtz Centre for Environmental Research (UFZ)
Dr. Felix Rauschmayer / MSc Matteo Roggero
Telephone: +49 (0)341 235-1656, -1681
Dr. Felix Rauschmayer
MSc Matteo Roggero
or
Helmholtz Centre for Environmental Research (UFZ)
Press office
Tilo Arnhold
Telephone: +49 (0)341 235 1269
presse@ufz.de
At the Helmholtz Centre for Environmental Research (UFZ) scientists research the causes and consequences of far-reaching environmental changes. They study water resources, biological diversity, the consequences of climate change and adaptation possibilities, environmental and biotechnologies, bio energy, the behaviour of chemicals in the environment and their effect on health, as well as modelling and social science issues. Their guiding research principle is supporting the sustainable use of natural resources and helping to secure these basic requirements of life over the long term under the influence of global change. The UFZ employs 930 people at its sites in Leipzig, Halle and Magdeburg. It is funded by the German government and by the states of Saxony and Saxony-Anhalt.
The Helmholtz Association helps solve major, pressing challenges facing society, science and the economy with top scientific achievements in six research areas: Energy, Earth and Environment, Health, Key Technologies, Structure of Matter, Transport and Space. With 28,000 employees in 16 research centres and an annual budget of around EUR 2.8 billion, the Helmholtz Association is Germany's largest scientific organisation. Its work follows in the tradition of the great natural scientist Hermann von Helmholtz (1821-1894).