WP 3 Transient Dynamics
The objective of our work here in WP 3 is to analyse transient dynamics of terrestrial ecosystems in response to climate change, and to assess their consequences for ecosystem services under various intensities of land management and their associated pesticide pressures.
Description of work
We established the Global Change Experimental Facility (GCEF), the central experimental platform of the Work Package, in spring 2014. With this novel facility, we study the impacts of climate change and land-use intensity on species composition and species interactions above and below ground (including soil microbial communities), the role of genetic variation and micro-evolution for species persistence, and the impact on ecosystem processes such as primary production, turnover of soil organic matter, carbon sequestration, carbon and water flow between soil and atmosphere, and degradation of pesticides. Complementary investigations will be performed within the framework of iDiv at the universities of Halle, Leipzig and Jena, and other research groups. The GCEF will enable us to understand the transient dynamics of terrestrial ecosystems in response to climate change under the impact of different land-use intensities, to assess the consequences for services provided by these ecosystems, and to develop strategies for sustainable land management under changing climatic conditions. The GCEF experiments will be complemented by satellite experiments and by analogous experiments in microbial systems which allow assessing changes and responses more quickly. Additionally, the SPEAR (Species At Risk) framework as a bioindicator system based on biological traits and focusing on various types of contaminants in fresh waters will be modified for terrestrial ecosystems, i. e. different pesticide treatments will be included to selected GCEF experiments.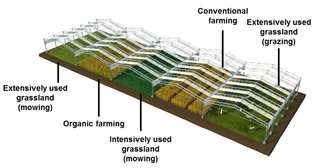 Expected results
Improved understanding and assessment of the impacts of climate change and land-use, including pesticide application, on biodiversity, species interactions and ecosystem services
Indicators of and options for the sustainable use of terrestrial ecosystems under climate change

Methodology/models
The GCEF is the central experimental platform of WP 3. Furthermore, we use experiments in climate chambers, greenhouses and experimental gardens, as well as meso-, micro- and nanocosms experiments.
We also use long-term field experiments and third-party funded experimental platforms to study land-use effects on biodiversity and ecosystem functioning.
We further use natural isotopes to trace matter fluxes, and advances molecular methods (e. g. high-throughput sequence data analysis, molecular environmental genomics combined with bioinformatics, epigenetic analyses) to study climate and land-use effects on above- and below-ground biodiversity and species interactions, and to deduce indicators.