Dr. Stefan Michalski
Department of Community Ecology
Helmholtz Centre for Environmental Research - UFZ
Theodor-Lieser-Str. 4
06120 Halle, Germany

Tel: 0345 558 5310
Fax: 0345 558 5329
Stefan.Michalski@ufz.de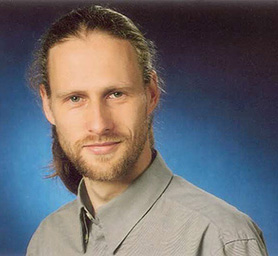 Research interests

I started my scientific career as a botanist with a background in molecular systematics. Now, my field of expertise is the application of molecular techniques to answer ecological and evolutionary questions. Most of my work relates to the question on how spatial and temporal distribution of genetic diversity in plants is affected by different factors and how genetic diversity impact on ecosystem functioning. I do have a particular interest in the evolution and functional ecology of the genus Juncus.

Projects and cooperations
- Subproject 4, Treegenetics in the DFG project BEF China
- DFG project "Evolutionary potential in functional traits of a wetland macrophyte (Juncus effusus) relevant for natural degradation of contaminants
Publications

Index:
You could use our publication index for further requests.
2023 (5)
to index
2022 (2)
Švara, V., Michalski, S.G., Krauss, M., Schulze, T., Geuchen, S., Brack, W., Luckenbach, T. (2022):
Reduced genetic diversity of freshwater amphipods in rivers with increased levels of anthropogenic organic micropollutants [Dataset]
Dryad 10.5061/dryad.zw3r2288p
Švara, V., Michalski, S.G., Krauss, M., Schulze, T., Geuchen, S., Brack, W., Luckenbach, T. (2022):
Reduced genetic diversity of freshwater amphipods in rivers with increased levels of anthropogenic organic micropollutants
Evol. Appl. 15 (6), 976 - 991
full text (doi)
to index
2021 (3)
Rutten, G., Hönig, L., Schwaß, R., Braun, U., Saadani, M., Schuldt, A., Michalski, S.G., Bruelheide, H. (2021):
More diverse tree communities promote foliar fungal pathogen diversity, but decrease infestation rates per tree species, in a subtropical biodiversity experiment
J. Ecol. 109 (5), 2068 - 2080
full text (doi)
Staab, M., Liu, X., Assmann, T., Bruelheide, H., Buscot, F., Durka, W., Erfmeier, A., Klein, A.-M., Ma, K., Michalski, S., Wubet, T., Schmid, B., Schuldt, A. (2021):
Tree phylogenetic diversity structures multitrophic communities
Funct. Ecol. 35 (2), 521 - 534
full text (doi)
Švara, V., Krauss, M., Michalski, S.G., Altenburger, R., Brack, W., Luckenbach, T. (2021):
Chemical pollution levels in a river explain site-specific sensitivities to micropollutants within a genetically homogeneous population of freshwater amphipods
Environ. Sci. Technol. 55 (9), 6087 - 6096
full text (doi)
to index
2020 (2)
Durka, W., Michalski, S., Bucharova, A. (2020):
RegioDiv - Genetische Vielfalt krautiger Pflanzenarten in Deutschland
Naturmagazin 34 (4), 12 - 13
Madaj, A.-M., Michalski, S.G., Durka, W. (2020):
Establishment rate of regional provenances mirrors relative share and germination rate in a climate change experiment
Ecosphere 11 (3), e03093
full text (doi)
to index
2019 (8)
to index
2018 (2)
Huang, Y., Chen, Y., Castro-Izaguirre, N., Baruffol, M., Brezzi, M., Lang, A., Li, Y., Härdtle, W., von Oheimb, G., Yang, X., Liu, X., Pei, K., Both, S., Yang, B., Eichenberg, D., Assmann, T., Bauhus, J., Behrens, T., Buscot, F., Chen, X.-Y., Chesters, D., Ding, B.-Y., Durka, W., Erfmeier, A., Fang, J., Fischer, M., Guo, L.-D., Guo, D., Gutknecht, J.L.M., He, J.-S., He, C.-L., Hector, A., Hönig, L., Hu, R.-Y., Klein, A.-M., Kühn, P., Liang, Y., Li, S., Michalski, S., Scherer-Lorenzen, M., Schmidt, K., Scholten, T., Schuldt, A., Shi, X., Tan, M.-Z., Tang, Z., Trogisch, S., Wang, Z., Welk, E., Wirth, C., Wubet, T., Xiang, W., Yu, M., Yu, X.-D., Zhang, J., Zhang, S., Zhang, N., Zhou, H.-Z., Zhu, C.-D., Zhu, L., Bruelheide, H., Ma, K., Niklaus, P.A., Schmid, B. (2018):
Impacts of species richness on productivity in a large-scale subtropical forest experiment
Science 362 (6410), 80 - 83
full text (doi)
Scheepens, J.F., Lachmuth, S., Michalski, S.G. (2018):
Plant population biology in a changing world
Basic Appl. Ecol. 28 , 1 - 4
full text (doi)
to index
2017 (11)
to index
2016 (3)
Bucharova, A., Durka, W., Hermann, J.-M., Hölzel, N., Michalski, S., Kollmann, J., Bossdorf, O. (2016):
Plants adapted to warmer climate do not outperform regional plants during a natural heat wave
Ecol. Evol. 6 (12), 4160 - 4165
full text (doi)
Roscher, C., Schumacher, J., Petermann, J.S., Fergus, A.J.F., Gerighausen, U., Michalski, S.G., Schmid, B., Schulze, E.D. (2016):
Convergent high diversity in naturally colonized experimental grasslands is not related to increased productivity
Perspect. Plant Ecol. Evol. Syst. 20 , 32 - 45
full text (doi)
Staab, M., Bruelheide, H., Durka, W., Michalski, S., Purschke, O., Zhu, C.-D., Klein, A.-M. (2016):
Tree phylogenetic diversity promotes host–parasitoid interactions
Proc. R. Soc. B-Biol. Sci. 283 (1834), art. 20160275
full text (doi)
to index
2015 (2)
Lipowsky, A., Roscher, C., Schumacher, J., Michalski, S.G., Gubsch, M., Buchmann, N., Schulze, E.-D., Schmid, B. (2015):
Plasticity of functional traits of forb species in response to biodiversity
Perspect. Plant Ecol. Evol. Syst. 17 (1), 66 - 77
full text (doi)
Michalski, S.G., Durka, W. (2015):
Separation in flowering time contributes to the maintenance of sympatric cryptic plant lineages
Ecol. Evol. 5 (11), 2172 - 2184
full text (doi)
to index
2014 (7)
to index
2013 (5)
to index
2012 (6)
to index
2011 (2)
Shi, M.-M., Michalski, S.G., Chen, X.-Y., Durka, W. (2011):
Isolation by elevation: genetic structure at neutral and putatively non-neutral loci in a dominant tree of subtropical forests, Castanopsis eyrei
PLoS One 6 (6), e21302
full text (doi)
Stark, C., Michalski, S.G., Babik, W., Winterfeld, G., Durka, W. (2011):
Strong genetic differentiation between Gymnadenia conopsea and G. densiflora despite morphological similarity
Plant Syst. Evol. 293 (1-4), 213 - 226
full text (doi)
to index
2010 (2)
Michalski, S.G., Durka, W. (2010):
Pollen and ovule production in wind-pollinated species with special reference to Juncus
Plant Syst. Evol. 286 (3-4), 191 - 197
full text (doi)
Michalski, S.G., Durka, W., Jentsch, A., Kreyling, J., Pompe, S., Schweiger, O., Willner, E., Beierkuhnlein, C. (2010):
Evidence for genetic differentiation and divergent selection in an autotetraploid forage grass (Arrhenatherum elatius)
Theor. Appl. Genet. 120 (6), 1151 - 1162
full text (doi)
to index
2009 (1)
to index
2008 (1)
to index
2007 (2)
to index
2006 (1)
to index
2004 (1)
Hendrichs, M., Michalski, S., Begerow, D., Oberwinkler, F., Hellwig, F.H. (2004):
Phylogenetic relationships in Carex, subgenus Vignea (Cyperaceae), based on ITS sequences
Plant Syst. Evol. 246 (1-2), 109 - 125
full text (doi)
to index
Feldauge: Personal photoblog (not updated in recent years) dedicated to landscapes featuring digital and analogue techniques: