Dr. Stefan Michalski
Department of Community Ecology
Helmholtz Centre for Environmental Research - UFZ
Theodor-Lieser-Str. 4
06120 Halle, Germany

Tel: 0345 558 5310
Fax: 0345 558 5329
Stefan.Michalski@ufz.de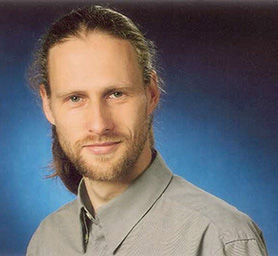 Research interests

I started my scientific career as a botanist with a background in molecular systematics. Now, my field of expertise is the application of molecular techniques to answer ecological and evolutionary questions. Most of my work relates to the question on how spatial and temporal distribution of genetic diversity in plants is affected by different factors. I do have a particular interest in the evolution and functional ecology of the genus Juncus und wind-pollinated species in general.

Projects and cooperations
- Subproject 4, Treegenetics in the DFG project BEF China
- DFG project "Evolutionary potential in functional traits of a wetland macrophyte (Juncus effusus) relevant for natural degradation of contaminants
Publications
Michalski SG & Durka W. 2015. Separation in flowering time contributes to the maintenance of sympatric cryptic plant lineages Ecology and Evolution: accepted.

Egorov E, Prati D, Durka W, Michalski SG, Fischer M, Schmitt B, Blaser S, Brändle M. 2014. Does land-use intensification decrease plant phylogenetic diversity in local grasslands? Plos One 9: e103252.

Schuldt A, Bruelheide H, Durka W, Michalski SG, Purschke O, Assmann T. 2014. Tree diversity promotes functional dissimilarity and maintains functional richness despite species loss in predator assemblages. Oecologia 174: 533-543.

Schuldt A, Assmann T, Bruelheide H, Durka W, Eichenberg D, Haerdtle W, Kroeber W, Michalski SG, Purschke O. 2014. Functional and phylogenetic diversity of woody plants drive herbivory in a highly diverse forest. New Phytologist 202: 864-873.

Purschke O, Sykes MT, Poschlod P, Michalski SG, Roemermann C, Durka W, Kuehn I, Prentice HC. 2014. Interactive effects of landscape history and current management on dispersal trait diversity in grassland plant communities. Journal of Ecology 102: 437-446.

Nadrowski K, Pietsch K, Baruffol M, Both S, Gutknecht J, Bruelheide H, Heklau H, Kahl A, Kahl T, Niklaus P, Kröber W, Liu X, Mi X, Michalski SG, von Oheimb G, Purschke O, Schmid B, Fang T, Welk E, Wirth C. 2014. Tree species traits but not diversity mitigate stem breakage in a subtropical forest following a rare and extreme ice storm. Plos One 9: e96022.

Bruelheide H, Nadrowski K, Assmann T, Bauhus J, Both S, Buscot F, Chen X-Y, Ding B, Durka W, Erfmeier A, Gutknecht J, Guo D, Guo L-D, Härdtle W, He J-S, Klein A-M, Kühn P, Liang Y, Xiaojuan L, Michalski SG, Niklaus P, Pei K, Scherer-Lorenzen M, Scholten T, Schuldt A, Seidler G, von Oheimb G, Welk E, Wirth C, Wubet T, Yang X, Yu M, Zhang S, Zhou H, Fischer M, Ma K, Schmid B. 2014. Designing forest biodiversity experiments: general considerations illustrated by a new large experiment in subtropical China. Methods in Ecology and Evolution 5: 74-89.

Shi M-M, Michalski SG, Welk E, Chen X-Y, Durka W. 2013. Phylogeography of a widespread Asian subtropical tree: East-west differentiation and climate envelope modelling suggest multiple glacial refugia. Journal of Biogeography 41:1710-1720.

Ritter S, Michalski SG, Settele J, Wiemers M, Fric ZF, Sielezniew M, Sasic M, Rozier Y, Durka W. 2013. Wolbachia infections mimic cryptic speciation in two parasitic butterfly species, Phengaris teleius and P. nausithous (Lepidoptera: Lycaenidae). Plos One 8:e78107.

Purschke O, Schmid BC, Sykes MT, Poschlod P, Michalski SG, Durka W, Kuehn I, Winter M, Prentice HC. 2013. Contrasting changes in taxonomic, phylogenetic and functional diversity during a long-term succession: insights into assembly processes. Journal of Ecology 101: 857-866.

Hempel S, Götzenberger L, Kühn I, Michalski SG, Rillig MC, Zobel M, Moora M. 2013. Mycorrhizas in the Central European flora – relationships with plant life history traits and ecology. Ecology 94: 1389-1399.

Barrufol M, Schmid B, Bruelheide H, Chi X, Hector A, Ma K, Michalski SG, Tang Z, and Niklaus PA. 2013. Biodiversity promotes tree growth during succession in subtropical forest. Plos One 8:e81246.

Durka W & Michalski SG, Daphne - a dated phylogeny of a large European flora for phylogenetically informed ecological analyses
Ecology 93:2297–2297, 2012 DaPhnE_01.zip (tree file & references)
Schuldt A,Bruelheide H, Durka W, Eichenberg D, Fischer M, Kröber W, Härdtle W, Ma K, Michalski SG, Palm WU, Schmid B, Welk E, Zhou H & Assmann T, Plant traits affecting herbivory on tree recruits in highly diverse subtropical forests
Ecology Letters 15: 732-739, 2012
DOI: 10.1111/j.1461-0248.2012.01792.x
Michalski SG & Durka W, Assessment of provenance delineation by genetic differentiation patterns and estimates of gene flow in the common grassland plant Geranium pratense
Conservation Genetics 13: 581-592, 2012 Reprint (718.6 KB)
Michalski SG & Durka W, Identification and characterization of microsatellite loci in the rush Juncus effusus (Juncaceae)
American Journal of Botany 99:e53-e55, 2012 Reprint (463.6 KB)
Zeng X, Michalski SG, Fischer M & Durka W, Species diversity and population density affect genetic structure and gene dispersal in a subtropical understory shrub.
Journal of Plant Ecology 5: 270-278, 2012 Reprint (215.3 KB)
Shi MM, Michalski S, Chen XY & Durka W, Isolation by elevation: Genetic structure at neutral and putatively non-neutral loci in a dominant tree of subtropical forests, Castanopsis eyrei
PLOS ONE 6: e21302, 2011 Reprint (256.8 KB)
DOI: 10.1371/journal.pone.0021302
Stark C, Michalski SG, Babik W, Winterfeld G & Durka W, Strong genetic differentiation between Gymnadenia conopsea and G. densiflora despite morphological similarity
Plant Systematics and Evolution 293: 213-226, 2011 Reprint (443.1 KB)
Michalski SG & Durka W, Pollen and ovule production in wind-pollinated species with special reference to Juncus
Plant Systematics and Evolution 286: 191-197, 2010 Reprint (220.7 KB)
Michalski SG, Durka W, Jentsch A, Kreyling J, Pompe S, Schweiger O, Willner E & Beierkuhnlein C, Evidence for genetic differentiation and divergent selection in an autotetraploid forage grass (Arrhenatherum elatius)
Theoretical and Applied Genetics 183: 470-479, 2009 Reprint (766.1 KB)
DOI: 10.1007/s00122-009-1242-8
Michalski SG & Durka W, Pollination mode and life form strongly affect the relation between pollen/ovule ratios and the mating system
New Phytologist 183: 470-479, 2009 Reprint (441.1 KB)
Michalski SG & Durka W, High selfing and high inbreeding depression in peripheral populations of Juncus atratus
Molecular Ecology 16: 4715-4727, 2009 Reprint (305.6 KB)
Michalski SG & Durka W, Synchronous pulsed flowering – Analysis of the flowering phenology in Juncus (Juncaceae)
Annals of Botany 100: 1271-1285, 2007 Reprint (753.9 KB)
Michalski SG, Gautschi B, Burkart M & W Durka, Isolation and characterization of microsatellite loci in the rush Juncus atratus
Conservation Genetics 7: 149-151, 2006 Reprint (181.5 KB)
Hendrichs M, Michalski S, Begerow D, Oberwinkler F, and FH Hellwig, Phylogenetic relationships in Carex, subgenus Vignea (Cyperaceae), based on ITS sequences
Plant Systematics and Evolution 246: 109-126, 2004 Reprint (729.3 KB)
Feldauge: Personal photoblog dedicated to landscapes featuring digital and analogue techniques: