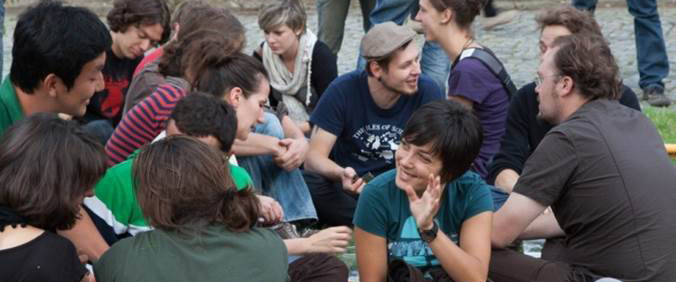 International Café

Come to our monthly "International Café" and meet people from different countries. We want to establish an international network at UFZ and are looking for people who share ideas for nice events.
Starting from May 6th, 2015 we already carried out several events within the frame of our "International Café":

Activities in 2015
Activities in 2016

Join our mailinglist to know about upcoming events!
Planned activities in 2017:
24 January: Games afternoon
14 February: Visit of the Leipzig Nazi forced labour memorial at UFZ/Gedenkstätte für Zwangsarbeit

9 March: Dances from Middle Ages and Renaissance

19 April: Indian evening with presentations, photos and snacks
May: Excursion to our neighbour town Halle

9 June: Excursion to the former coal mining area of Leipzig
July: Guided city tour with the urban sociologist Prof. Dieter Rink
August: Summer BBQ at UFZ (with games, music, dance and some sports activities)
16 - 17 September: Weekend hiking tour in the Saxony Switzerland (Sächsische Schweiz)

October: Movie evening
November: International evening (Länderabend)
December: End-of year party

Dances from the Middle Age and Renaissance

Unfortunately we had to cancel our medieval dancing event on 9th March at UFZ Leipzig due to the low number of participants.

We hope to combine this dancing event with our next Summer BBQ in July 2017!

Registration:
The form was only in use in the period to 06.03.2017! Please contact barbara.timmel@ufz.de