Working Groups


Stochastic and Land Surface Hydrology
Luis Samaniego: "Our main focus is on understanding and modeling the complex interaction of land-surface hydrologic processes and their spatial and temporal variability at meso- to macro-scale"

Subsurface Hydrology
Sabine Attinger: "We are concerned with developing computational methods to scale processes in the hydrological cycle. Avoiding heuristically motivated upscaling steps, we propose to develop a systematic multi-scale scheme starting from physically based conservation laws of water and matter fluxes on smallest scales up to conceptual models on terrain scale, in order to close the gap between traditional hydrological modelling and modelling approaches in soil science and groundwater hydrology. "

Terrestrial Ecohydrology
Anke Kleidon-Hildebrandt: "We work at the interface between vegetation and hydrosystem and on the vertical connection between soil and atmosphere. We investigate how vegetation creates hydrological patterns, how those are dampened or reinforced, and derive appropriate aggregate model formulations."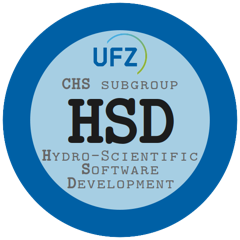 Hydro-Scientific Software Development
Stephan Thober: "We develop high-quality software in cooperation with working groups at the UFZ that work in the field of hydrosciences. This means that we maintain and update already existing codes. Furthermore, we enable and implement new projects in close collaboration with researchers."

Climate Office for Central Germany
Andreas Marx: "The Climate Office for Central Germany is part of a Helmholtz Climate Office Network. These Regional Climate Offices pool and impart research findings that are of particular relevance for climate-sensitive areas of the region in question."
Compound weather and climate events
Jakob Zscheischler: "We unravel how multiple weather and climate process cause large societal and environmental impacts using an array of different methods including statistical modelling, process-based modelling and machine learning."