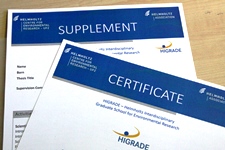 Curriculum & Certificate
After completion of the HIGRADE Curriculum and submission of the PhD thesis, HIGRADE will issue the HIGRADE Certificate.

In order to complete the HIGRADE Curriculum outlined in the figure below, doctoral researchers can choose freely from HIGRADE courses and external courses, including those offered by HIGRADE cooperation partners, according to their individual needs.
We encourage doctoral researchers to develop their individual course plan together with their advisory committee according to the skills needed for the PhD project and envisioned career perspectives. Below, please find the requirements of the HIGRADE Curriculum as well as an overview of HIGRADE courses, which we offer on a regular basis.



Download HIGRADE Regular Courses