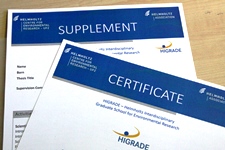 Curriculum & Certificate
After completion of the HIGRADE Curriculum, HIGRADE will issue the HIGRADE Certificate.

In order to complete the HIGRADE Curriculum outlined in the figure below, doctoral researchers can choose freely from UFZ courses and external courses, including those offered by HIGRADE cooperation partners, according to their individual needs.
We encourage doctoral researchers to develop their individual course plan together with their advisory committee according to the skills needed for the PhD project and envisioned career perspectives. Below, please find the requirements of the HIGRADE Curriculum.

NOTE: TEMPORARY CURRICULUM CHANGE
Due to several restrictions related to the Corona pandemic, we decided to reduce the requirements of the HIGRADE Curriculum from 30 to 20 days of further education to be completed within 3 years. All other requirements of the HIGRADE Curriculum remain unchanged. This change applies until further notice to all doctoral researchers who started their PhD project after/on 1.1.2018.
(decided on 29 April 2021)