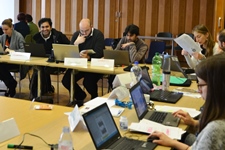 Below you find upcoming courses organized by HIGRADE. You can also download the HIGRADE Course programme 2017 or check our archive for previous courses.

Please note

The application period closes about 1 month beforehand. Places might still be available after the deadline – please contact us for further information.
Courses are free of charge & open for external candidates of cooperating institutions.
For your long-term course planning, please find a list of HIGRADE courses, which we offer on a regular basis here.
Please read the course description before applying & consider registrations as binding.
Filters