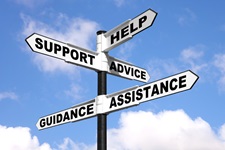 Consultations

The HIGRADE team is happy to support you regarding any questions and challenges you may encounter during your doctorate. We offer confidential consultations and we also serve as a general information and contact point for a variety of issues. Don't hesitate to contact us, no matter how big or small your query may be!

Confidential Consultations

We serve as a contact point for further training, career development, funding and general questions during your PhD. If you face difficulties concerning supervision or other general issues during your doctorate, please contact us to make an appointment for a confidential meeting.

We will be happy to help you or assist to find the right contact point inside or outside UFZ! Note that the DEVELOP team and other UFZ services may be able to help you as well (see further below).

Stress & Mental Health

Doing a PhD surely is a challenge. There will be stressful times and maybe unexpected events that put you in a difficult situation. If you feel like the pressure is getting too much on your shoulders, don't hesitate to seek professional advice!
We summarized some useful contacts for our doctoral researchers here (UFZ-internal link).
Articles on mental health in science:
Other UFZ Services

The UFZ offers a great number of services for its employees. Services which might be relevant for doctoral researchers are listed below.