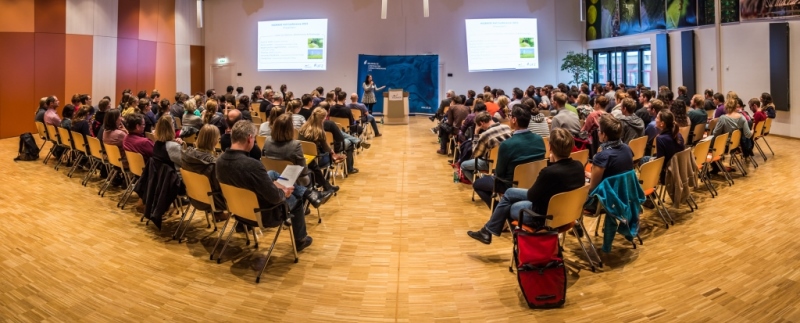 HIGRADE Conference
At the HIGRADE Conference, doctoral researchers in their final year present their work and there are many possibilities for scientific exchange and networking. All UFZ colleagues and our cooperation partners are invited to join the event!

! SAVE THE DATE: HIGRADE Conference 2024 takes place on the 30 May 2024 !

Review: HIGRADE Conference 2023 (25 May)

The conference day started in the morning with a well-attended "warm-up", which was followed by lively discussions at the poster stands. The official part in the afternoon began with a welcome from Prof. Rolf Altenburger, after which almost 50 doctoral researchers presented short "pitches" (one-minute speed talks) to more than 200 visitors, inviting them to discuss their dissertation projects at their posters.
Sarah Unrath (ISOBIO) and Stembridge Ayuk (IMMU) moderated this lively part of the event, which produced some creative contributions. This was followed by the poster session with intense discussions over coffee and cake. Dr. Daniel Kaping (HIGRADE) moderated the final session, where prizes were awarded for the best posters and the best pitch. The
best pitch
was awarded as an audience prize. Here,
Kabiru Nata'ala Muhammad (UMB)
gave a convincing presentation with musical accompaniment on "Uncovering the Hidden Role of Prokaryotes in Carbon Fixation from Marine Surface Water: Insights for Climate Regulation". The
best posters
were selected by a jury. The lucky winners of the book prizes are:
1.
Jana Kachler (ESS)
: "More than biodiversity… Why do nature visitors value protected areas?"
2.
Jasmin Heilemann (OEKON)
: "From rain-fed to irrigated agriculture? Projecting the future irrigation water demand in Germany using a hydro-economic multi-agent system model"
3.
Victor Alfonso Castañeda-Monsalve (MOLSYB)
: "Screening the influence of 93 chemicals on a Human Gut Microbiota Model (SIHUMIx) using metaproteomics and metabolomics"
Furthermore, the 37 doctoral researchers of the UFZ who successfully completed their doctorate in 2022 were honoured. A special highlight during the session was the lecture by
Andrea Büermann & Dr. Guy Pe'er (ESS)
on the topic: "Citizen science: exciting, promising but also demanding! Example from VielFalterGarten".
Special thanks go to the
UFZ Förderverein
, which contributed the book prizes for the best posters and the best pitch. In addition,
"BAM! Bock auf Morgen – Marketing For Future"
contributed two tickets for the "BAM! Festival" in November as a prize. Furthermore, we would like to thank everyone who made the conference and the subsequent evening programme a successful event!
Agenda 2023

Posters 2023