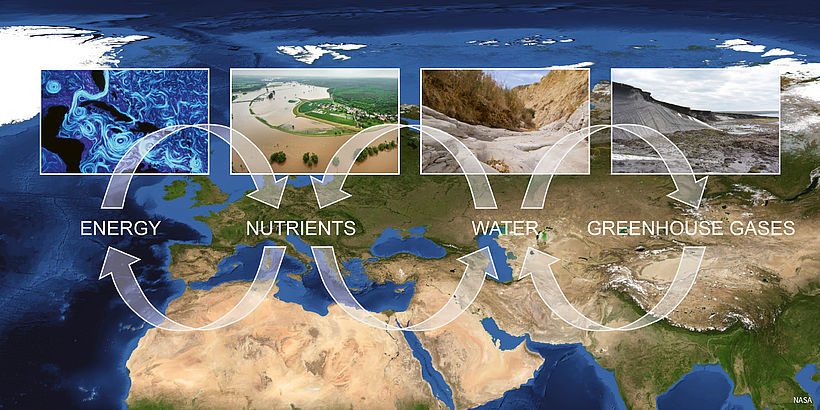 Events and Trends:
Impact of Disturbances on Earth Systems
MOSES is a novel observing system of the Helmholtz Association, developed by the Helmholtz Centres in the research field "Earth and Environment". It comprises highly flexible and mobile observation modules which are specifically designed to investigate the interactions of short-term events and long-term trends across Earth compartments. Heat waves, hydrological extremes, ocean eddies and permafrost thaw will be in the focus of this new event-oriented observation and research initiative.


+++ News +++ News +++ News +++ News +++
Swabian MOSES is running and chasing storms

The MOSES campaign of the 'Hydrological Extremes' and 'Heat / Droughts' working groups on the Swabian Jura and in the Neckar Valley has now been going on for two months now. The measurement campaign coordinated by KIT with the participation of FZJ, UFZ, GFZ, DLR, the Universities of Tübingen, Hohenheim, Braunschweig and the German Weather Service (DWD) will run until September 2021. The aim of the investigations is to clarify the questions of how extreme weather events such as thunderstorms, hail, heavy rain and heat waves develop and what consequences they have for the affected environmental areas such as agricultural areas or rivers.
On the afternoon of June 23, a large supercell passed right over the measuring instruments of the KITcube installations and could thus be studied in detail. Extreme wind gusts, high reaching convection, heavy rain and hailstones up to 5 cm in diameter led to flooding and numerous traffic problems in the region. However, the severe hailstorm provided valuable information for the scientists involved in the Swabian MOSES campaign.
Current campaign updates are provided
here
.