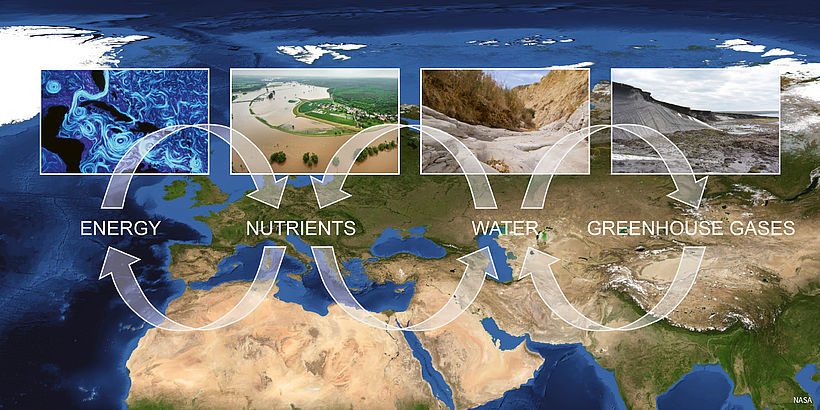 Events and Trends

MOSES is a new observing system of the Helmholtz Research Field "Earth and Environment" that investigates the evolution and impacts of highly dynamic, often extreme events using a systemic monitoring approach. By quantifying energy, water, nutrient, and greenhouse gas fluxes during short-term events such as weather extremes, abrupt permafrost thaw, or rapidly changing ocean currents, the system provides data to study potential long-term environmental impacts. Such event-oriented, yet cross-compartment datasets are necessary to better understand the impacts of climate change and develop adaptation strategies.
+++ News +++ News +++ News +++ News +++
MOSES Launches into Campaign Season as Summer Begins

Three major campaigns are currently underway, covering different aspects of meteorological and hydrological extremes as well as the rapid thawing of permafrost thaw in the Arctic.
The Swabian MOSES 2023 campaing started in May in the Black Forest region. Researchers from serveral Helmholtz centres, universities and the German Weather Service aim at a better understanding of weather extremes. To do so, they are tracking convective storms from the first shallow cumulus clouds to the development of a thunderstorm, the associated hail formation, heavy precipitation and flooding, and the input of pollutants into water bodies.
The Elbe 2023 campaign started at the end of June. Researchers from several Helmholtz centres and the Czech Academy of Sciences want to analyse in detail how environmental chemicals, microplastic particles or nutrients enter the Elbe River and how they are degraded and modified on their way to the North Sea. The study also serves to better estimate pollutant inputs in extreme situations such as low water or floods.

The Polar MOSES 2023 campaign started in July to study permafrost thaw in Svalbard. In collaboration with the international AWIPEV station, scientists from two Helmholtz centres are investigating processes that lead to rapid thawing of the permafrost, as well as the effects on greenhouse gas emissions and land subsidence.