Profile of HIGRADE participants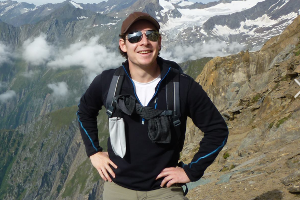 Name: Timo Houben (Germany)
Department Monitoring and Exploration Technologies


Research topic
Virtual Aquifer - Numerical Groundwater Flow Model
---
How did you learn about the UFZ?
I found different Phd positions from UFZ announced on the web.
Why did you come to the UFZ?
I know the Forschungszentrum Jülich, which is also part of the Helmholtz Association and its expensive super computer. As I am interested in environmental issues, I thought that it would be a good choice to come to the UFZ.
What do you like about the city you live in?
I really enjoy the different overgrown river channels such as the Karl-Heine-Kanal and of course the big lakes in the vicinity of Leipzig. But I am also impressed by the historic district and the pleasant and colourful people.
How do you like it at the UFZ / in HIGRADE?
Working at the UFZ is exciting and inspiring. The accumulation of broad expertise from various disciplines is overwhelming and supports my personal development.
Your own links (e.g. homepage, publications)
http://www.ufz.de/index.php?en=43660
Personal information ("what else to do", etc.)
Me and some other helpful docs are in charge of organising the DocDays2018. If you have any questions, do not hesitate to contact me.
Hobbies
When the Alps are powdered with wonderful white, I really enjoy riding down the hills with my snowboard. In summer time I replace it by my longboard and enjoy the concrete waves. Together with my girlfriend, I practice motorcycling at the weekend but also crafting and building with wood and metal (furniture) and cooking =).
---