Webinar: "
Migration and Environment: The Risk of a Vicious Cycle

?"


May 5th 2021
15:30 - 17:00 CET
via ZOOM
00:00 Introduction
11:15 Juliane Groth
26:45 Raphael Karutz
43:02 Kimberly G. Rogers
01:07:55 Charlotte Wiederkehr
01:26:40 Discussion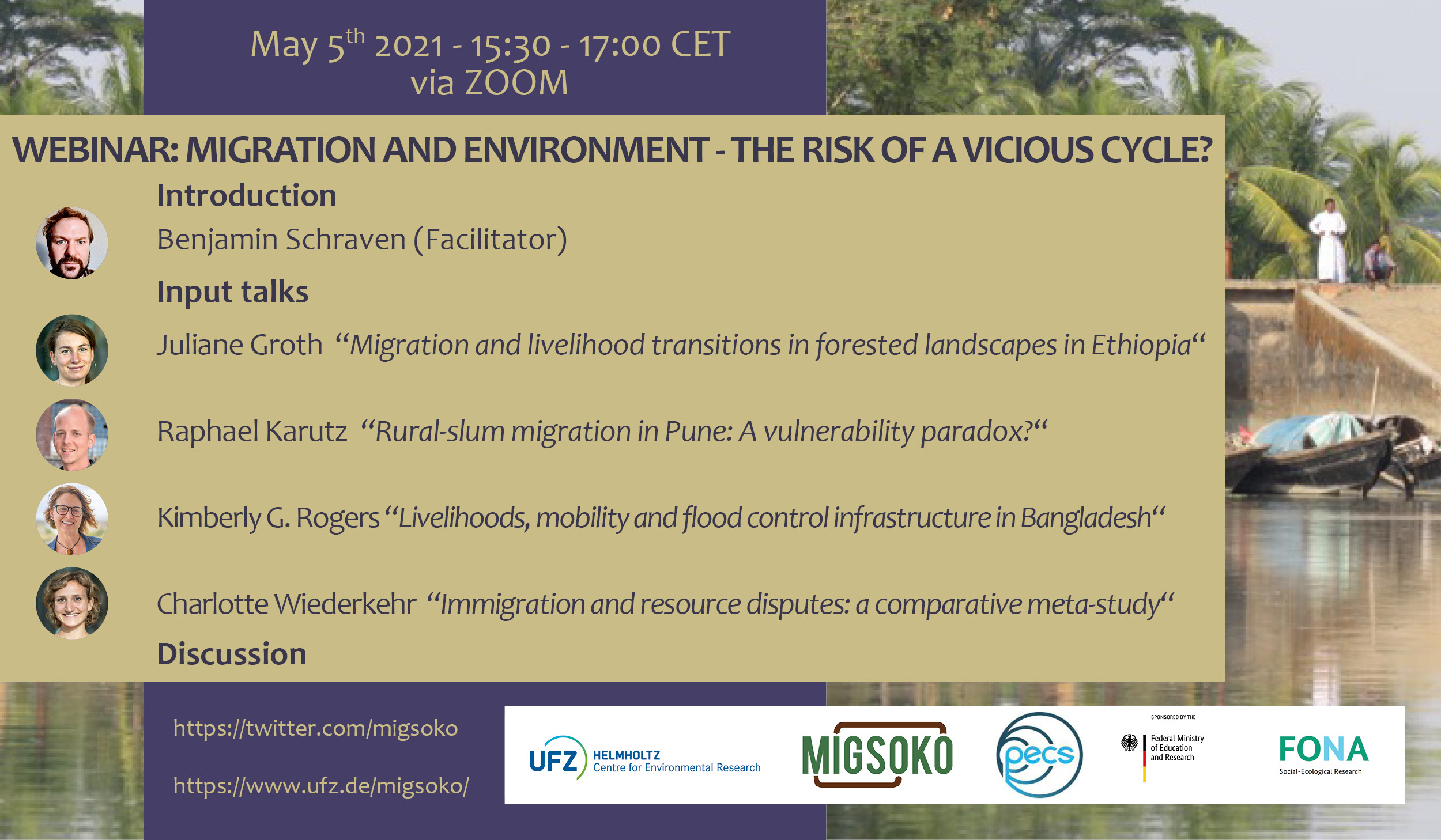 Facilitator

Senior Researcher
German Development Institute
Speakers

Doctoral researcher (MigSoKo)
Landscape Ecology Department, UFZ
"Migration and livelihood transitions in forested landscapes in Ethiopia"
Juliane will present results from her fieldwork in Guraferda district, a hotspot of rural in-migration and forest loss in southwest Ethiopia. In her talk, she will discuss drivers of why household stopped forest activities and the role of migration in these livelihood transitions.
Doctoral researcher (FUSE)
Department of Urban and Environmental Sociology, UFZ
"Rural-slum migration in Pune: A vulnerability paradox"
Pune is one of India's fastest growing cities and many newcomers settle in slums. Using a mixed-methods approach, Raphael explored migration trajectories and reasons for moving to Pune. IIn his talk, he will discuss whether there are paradoxical effects of migrants finding themselves more vulnerable in the city than at their place or origin.
Assistant professor
Integrated Coastal Programs, East Carolina University
"Livelihoods, mobility and flood control infrastructure in Bangladesh"
Feedbacks between natural processes and the built environment shift land-water boundaries in river deltas, impacting livelihood options and creating both pushes and pulls for migrants. In her talk, Kimberly will address sediment dynamics, livelihood shifts, and human mobility in a heavily embanked and densely populated river delta: the Ganges-Brahmaputra-Meghna Delta in Bangladesh.
Doctoral researcher (MigSoKo)
Landscape Ecology Department, UFZ
"Immigration and resource disputes: a comparative meta-study"
Charlotte will share insights from a comprehensive meta-study on 20 rural immigration areas in the Global South. Using QCA, she identified conditions that are conducive to violent resource conflicts involving migrant and other groups. In her talk, Charlotte will explain why governments play a key role in this context.