Webinar: "Migration and Environment - Which Feedback Loops?"
November 4th 2021
15:30 - 17:00 CET
via ZOOM
04:55 Prof. Arild Angelsen
25:18 Laura Merz
48:55 Dr. Kees van der Geest
1:20:36 Discussion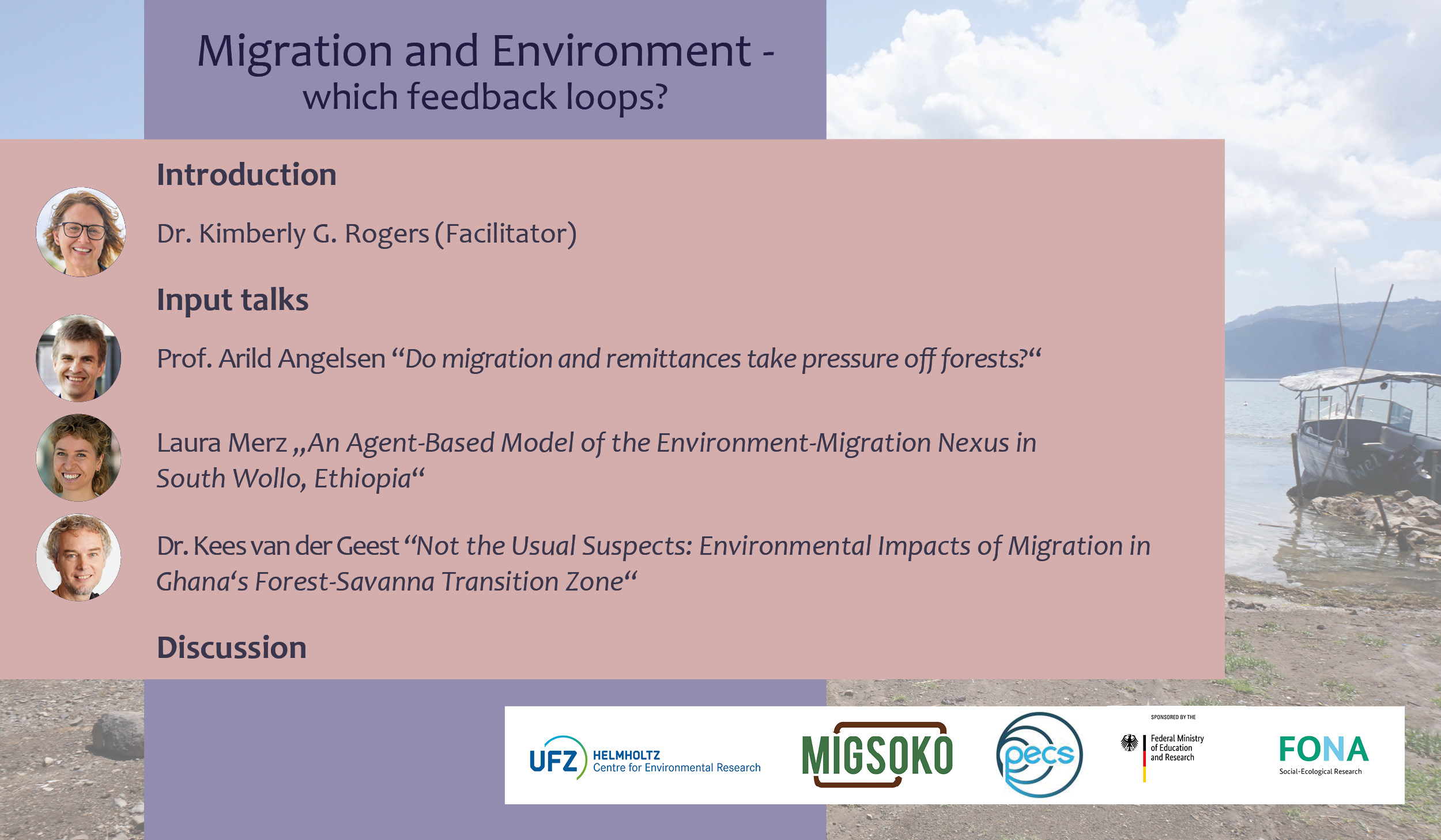 Facilitator
Assistant professor
Integrated Coastal Programs, East Carolina University
Speakers
Professor
School of Economics and Business, Norwegian University of Life Science
"Do migration and remittances take pressure off forests?"
Migration from rural areas and remittances affect forest cover, but in diverse ways. Based on surveys in Guatemala and Chiapas, Mexico, we argue – contrary to what is often claimed - that pressure might increase. When attractive opportunities exist to invest in agriculture and land expansion, remittances and returnee savings provide fresh capital that is likely to increase deforestation.
Research Assistant / MigSoKo
Landscape Ecology Department, UFZ
"An Agent-based Model of the Environment-migration Nexus in South Wollo, Ethiopia"

In her talk, Laura will introduce an Agent-based Model (ABM) as an approach to explore dynamic feedbacks in social-ecological systems. Based on ABMig (the ABM developed within the junior research group MigSoKo), she will share insights from analysing a more nuanced perspective on environmentally-induced out-migration and consequential impacts on the environment within the study area of South Wollo, Ethiopia.
Academic Officer / Head of EMIC Section
Environment and Migration: Interactions and Choices Section (EMIC), United Nations University

"Not the Usual Suspects: Environmental Impacts of Migration in Ghana's Forest-Savanna Transition Zone"

Kees van der Geest will address the environmental impacts of immigration and question the alleged contribution of settle farmers to land degradation in the forest-savanna transition zone of Ghana