WP 3: Pathways through stress transitions
News (December 2022)

Geotechnical interfaces
The interaction between soil and structure is an important topic in geotechnics. Some examples of soil-structure interactions are pressure development behind rough retaining walls, foundation tractions, and interactions between tunnel liners and rock masses, casings, and driven piles. Considering the interface between soil and structure would make numerical simulations much easier. For example, the geometry can be simplified because the interaction between these two or more structures can be represented using lower-dimension elements (e.g., as lines in 2D simulations and as shells in 3D simulations).

For illustrative purposes, we show the results of a soft oedometer testing on a soil sample. In soft oedometers, the oedometer ring is compliant enough, and thus radial stresses can be inferred to the sample in addition to the axial load. The following example illustrates how the LIE model [Watanabe et al., 2012, Yoshioka et al., 2019] can be used to model the relative displacement between the soil sample and the deformable walls of the soft oedometer (Figure 1). The load on the top of the soil causes an increasing displacement. The vertical load the right side of the ring is set to zero. Through the interface and the implemented Heaviside enrichment a high displacement change can be simulated. The implementation of geotechnical interfaces confirms the reliability of OpenGeoSys for practical tasks.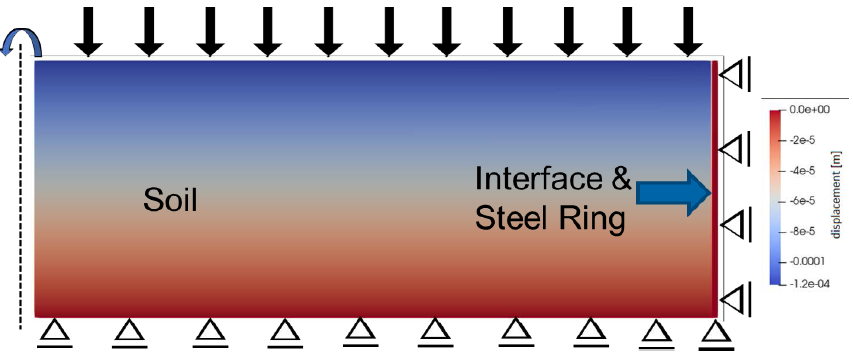 Vertical displacements in the soft oedometer caused by load on the top.
Watanabe, N., Wang, W., Taron, J., Gorke, U. J., and Kolditz, O. (2012).Lower-dimensional interface elements with local enrichment: application to coupled hydromechanical problems in discretely fractured porous media. International Journal for NumericalMethods in Engineering, 90(8)

Yoshioka, K., Parisio, F., Naumov, D., Lu, R., Kolditz, O., and Nagel, T. (2019). Comparative verification of discrete and smeared numerical approaches for the simulation of hydraulic fracturing. GEM - International Journal on Geomathematics, 10(1):13.