WP 3: Pathways through stress transitions
News (June 2022)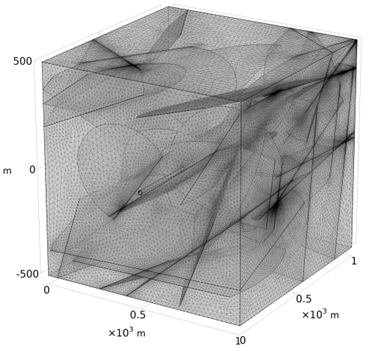 COMSOL created mesh with DFN-mesh, matrix-mesh, and tunnel geometry [TUBAF] In addition to the open-source DFN generators (dfnWorks and frackit), a commercial software "Comsol Multiphysics" was utilized for complex mesh generation. The DFN approach integrated with Comsol was used to generate fractures, connect them to the matrix and account for underground structures. The generated mesh files can be easily exported for the further use in OpenGeoSys framework. With the help of "FEconv" program [1], the generated networks can be converted from the COMSOL format (.mphtxt) into a compatible OpenGeoSys format (.vtu). The custom workflow can be employed to generate a variety of fractures having different orientations. This approach complements the already existed open-source workflows, making it feasible to create more complex geometries.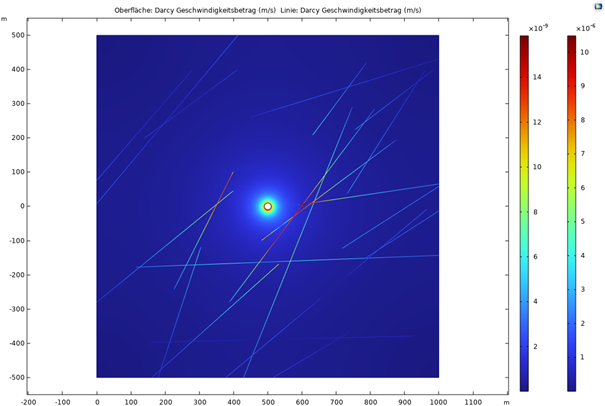 Right scale: velocity in the fractures, Left scale: velocity in the matrix (OGS simulation)
In the following picture the flow to the tunnel inside a fractured rock is simulated (slice in the centre of the geometry). The inflow area are the fractures on the right side of the geometry. The major flow occurs via the highly permeable fractures while drainage into the tunnel occurs through the matrix.
In linking GeomInt2 to other projects, members of our department (Geotechnical Institute Technische Universität Bergakademie Freiberg) bridge the gap between mostly quasistatic THM models and methods for wave propagation. These results may lead to acceleration spectra, supporting the further design of the DGR and its components according to KTA or Eurocode [2].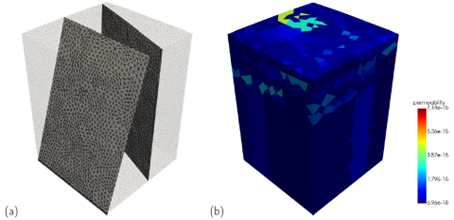 Mesh of modelled domain with two exemplary fault planes (a), heterogeneous permeability distribution (b),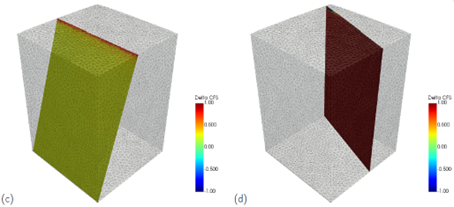 maximum change in Coulomb failure stress (ΔCFS < 0 indicates failure) during a glacial cycle on first fault plane (c) and on second fault plane (d) [2]

[1] Iban Constenla, Victor Sande, Francisco Pena (2012). FEconv – Finite Element mesh Conversor. http://victorsndvg.github.io/FEconv/index.html
[2] Kern, D., Deng, T., Magri, F., Malkovsky, V. I., Nagel, T., (2022). Advancing transient simulation of hydro-mechanically coupled systems in geological disposal applications. DAEF 2022 (Deutsche Arbeitsgemeinschaft Endlagerforschung), 4th to 6th July 2022, Köln.