Ecosystem services
Ecosystem services are the benefits ecosystems provide to human wellbeing. The choice of the word services becomes clearer when the direct contribution of water to us is considered, for example. The concept of ecosystems providing us with services was catalysed in the early 2000s when the UN-led Millennium Ecosystem Assessment defined a number of services that ranged, among others, from food, timber, fuel and fibre through air quality and waste processing, to cultural value and amenity. These services may be categorized into three broad groups: provisioning, regulating and cultural ecosystem services. Respective examples are the provision of food, the control of climate or disease, and the recreational benefit of ecosystems.
Without preserving and managing these ecosystem services, long-term utilization of land by humans is inconceivable. The value of ecosystem services, however, is often not recognized by the society. The multiplicity of ecosystem services also creates a number of interactions. Not everything – food, clean water, and recreation – can be obtained from the same area at the same time. Communicating the complexity of ecosystem service assessments and inherent trade-offs to decision makers, politicians and local stakeholders, is therefore a difficult task.
A core objective of the research was to conduct global scale investigations on ecosystem services and synthesize available place-based knowledge on the interactions between land management and ecosystem services. The research aimed at developing management methods and instruments to resolve ecosystem service trade-offs given a certain land management regime and to specifically address the socio-economic context of management decisions to support communication of ecosystem services.
Key findings
Among other things (see additional information on webpages dedicated to the regional projects), the research results from twelve regional projects show that:
Sustainable land management can improve the capacity of ecosystems and agricultural production systems. It can thus meet the changing demands of society, strengthen the environmental and climate protection, and also adapt to climate change.
Using market-based instruments can be helpful and efficient, as shown by the examples of the Soya or Cattle Moratoriums in South Amazonia. Ownership rules and their enforcement supported by a development of land mapping and surveying methods can help reduce rainforest deforestation and thereby reduce greenhouse gas emissions. Sustainable land management can still increase yields while preserving the soil fertility and water quality.
Preservation of ecosystems and provision of their services can be accomplished by intensifying land use on agricultural areas within production systems while leaving other areas of natural habitat untouched ("land sharing ‒ land sparing"). It is not about choosing either one or the other, but about integrating both into the available space.
Modelling results show significant changes (variances) in organically bound carbon and GHG emissions from soils, and indicate that scenarios of legally possible land-use intensification show minimal effects on erosion risk and water balance. (Example from Brazil: Carbiocial)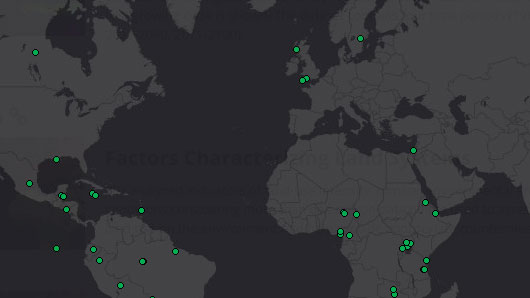 The knowledge on feasible monetary valuation of ecosystem services is spatially distributed. A synthesis of case studies shows extrapolated relative monetary values (yellow to green) and uncertainties (yellow to red) of the benefit transfer functions for the ecosystem services.
Potential conflicts between economic interests and ecological, social, and cultural costs and benefits may hinder the preservation of ecosystems. In some places, a less intensive management of a production system can improve biodiversity but may result in losses in yields and income. This is most obvious in places where natural conditions for agricultural production (soil, water, and climate) are favourable and degradation has not yet taken place.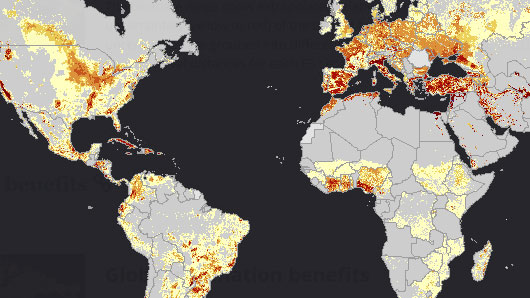 Pollination is one of the best studied ecosystem services, addressed also by the IPBES (Intergovernmental Science-Policy Platform on Biodiversity and Ecosystem Services) report. This world map shows the economic importance of pollination for agriculture based on yield data on pollination-dependent crops. The values are given as US $ per hectare for the year 2000.
Recommendations
Solutions for the management of ecosystem services were developed in the twelve research projects and adapted to each particular region. A combination of several different measures, in particular, has proved a positive effect on improving available ecosystem services:
When applying the concept of ecosystem services in regional land management, potential responses of the services can be demonstrated. Stakeholders should be shown that biodiversity and the provision of resources are interconnected.
Further reading (selection)
Cord, A.F., Brauman, K.A., Chaplin-Kramer, R., Huth, A., Ziv, G., Seppelt, R. (2017): Priorities to advance monitoring of ecosystem services using earth observation. Trends in Ecology & Evolution, 32(6): 416–428.
URL: https://doi.org/10.1016/j.tree.2017.03.003
Liniger, H.P., Mekdaschi Studer, R., Moll, P., Zander, U. (2017): Making sense of research for sustainable land management. Centre for Development and Environment (CDE), University of Bern, Switzerland and Helmholtz- Centre for Environmental Research GmbH (UFZ), Leipzig.
URL: www.ufz.de/makingsense
Schmidt, S., Manceur, A.M., Seppelt, R. (2016): Uncertainty of monetary valued ecosystem services – Value transfer functions for global mapping. PLoS ONE, 11(3): e0148524.
URL: https://doi.org/10.1371/journal.pone.0148524
Weinzierl, T., Wehberg, J., Böhner, J., Conrad, O. (2016): Spatial Assessment of Land Degradation Risk for the Okavango River Catchment, Southern Africa. Land Degradation & Development, 27(2): 281–294.
URL: https://doi.org/10.1002/ldr.2426
Fleischer, E., Khashimov, I., Hölzel, N., Klemm, O. (2016): Carbon exchange fluxes over peatlands in Western Siberia: Possible feedback between land-use change and climate change. Science of the Total Environment, 545–546: 424–433.
URL: https://doi.org/10.1016/j.scitotenv.2015.12.073
Kämpf, I., Hölzel, N., Störrle, M., Broll, G., Kiehl, K. (2016): Potential of temperate agricultural soils for carbon sequestration: A meta-analysis of land-use effects. Science of the Total Environment, 566–567: 428–435.
URL: https://doi.org/10.1016/j.scitotenv.2016.05.067
Cierjacks, A., Pommeranz, M., Schulz, K., Almeida-Cortez, J. (2016): Is crop yield related to weed species diversity and biomass in coconut and banana fields of northeastern Brazil? Agriculture, Ecosystems & Environment, 220: 175–183.
URL: https://doi.org/10.1016/j.agee.2016.01.006
Schulz, K., Voigt, K., Beusch, C., Almeida-Cortez, J.S., Kowarik, I., Walz, A., Cierjacks, A. (2016): Grazing deteriorates the soil carbon stocks of Caatinga forest ecosystems in Brazil. Forest Ecology and Management, 367: 62–70.
URL: https://doi.org/10.1016/j.foreco.2016.02.011
Witte, S., Giani, L. (2016): Greenhouse gas emission and balance of marshes at the Southern North Sea coast. Wetlands, 36(1): 121–132.
URL: https://doi.org/10.1007/s13157-015-0722-7
Burkhard, B., Müller, A., Müller, F., Grescho, V., Anh, Q., Arida, G., Bustamante, J.V. (Jappan), Van Chien, H., Heong, K.L., Escalada, M., Marquez, L., Thanh Truong, D., Villareal, S. (Bong), Settele, J. (2015): Land cover-based ecosystem service assessment of irrigated rice cropping systems in Southeast Asia —An explorative study. Ecosystem Services, 14: 76–87.
URL: https://doi.org/10.1016/j.ecoser.2015.05.005
Spangenberg, J.H., Görg, C., Settele, J. (2015): Stakeholder involvement in ESS research and governance: between conceptual ambition and practical experiences – risks, challenges and tested tools. Ecosystem Services, 16: 201–211.
URL: https://doi.org/10.1016/j.ecoser.2015.10.006
Förster, J., Barkmann, J., Fricke, R., Hotes, S., Kleyer, M., Kobbe, S., Kübler, D., Rumbaur, C., Siegmund-Schultze, M., Seppelt, R., Settele, J., Spangenberg, J. H., Tekken, V., Vaclavik, T., Wittmer, H. (2015): Assessing ecosystem services for informing land-use decisions: a problem-oriented approach. Ecology & Society, 20(3): 31.
URL: https://doi.org/10.5751/ES-07804-200331
Westphal, C., Vidal, S., Horgan, F.G., Gurr, G.M., Escalada, M., Ho Van Chien, Tscharntke, T., Heong, K.L., Settele, J. (2015): Promoting multiple ecosystem services with flower strips and participatory approaches in rice production landscapes. Basic and Applied Ecology, 16(8): 681–689.
URL: https://doi.org/10.1016/j.baae.2015.10.004
Siegmund-Schultze, M., Köppel, J., Sobral, M.C. (2015): Balancing ecosystem services and societal demands in a highly managed watershed: setup and progress of a comprehensive research project. Revista Brasileira de Ciências Ambientais, N°36 (June 2015): 3–18.
URL: https://doi.org/10.5327/Z2176-947820151001
Ahlheim, M., Börger, T., Frör, O. (2015): Replacing rubber plantations by rain forest in Southwest China–who would gain and how much? Environmental Monitoring and Assessment, 187: 3.
URL: https://doi.org/10.1007/s10661-014-4088-8
Seppelt, R., Manceur, A.M., Liu, J., Fenichel, E.P., Klotz, S. (2014): Synchronized peak-rate years of global resources use. Ecology and Society, 19(4): 50.
URL: https://dx.doi.org/10.5751/ES-07039-190450
Karrasch, L., Klenke, T., Woltjer, J. (2014): Linking the ecosystem services approach to social preferences and needs in integrated coastal land use management – A planning approach. Land Use Policy, 38: 522–532.
URL: https://doi.org/10.1016/j.landusepol.2013.12.010
Projects