Food security
As of today, 800 million people all around the world are suffering from under- or malnutrition. And many scientists already question how we will be able to guarantee food security in 2050, when 10+ billion people live on Earth, as predicted by the Food and Agriculture Organization of the United Nations (FAO). Ending hunger has therefore been listed as goal No. 2 of the UN Sustainable Development Goals (SDGs). Sustainable land management plays a special role in the fight against hunger. One of the most obvious approaches to food provisioning is "closing yield gaps"– an approach that aims at increasing agricultural yields. But this approach is just one of many aspects of the food security challenge. More efficient food distribution, better access to food, reduced crop losses and food waste, or adjusted consumption habits are all equally important strategies to combat hunger. Securing food for the world's population is therefore more of a socio-economic issue than an agro-ecological issue of incresing agricultural yields.
Key findings
Among other things (see additional information on webpages dedicated to the regional projects), the research results from twelve regional projects show that:
Food production has increased substantially since industrialization, i.e. since the beginning of the Anthropocene about 200 years ago. Between 1961 and 1999, growth rates of food production were higher than the population growth. However, this growth is unlikely to continue, as the area that can be used for agriculture is limited (GLUES; Seppelt et al. 2014). [press release]
The rising demand for food can be met without expansion of agricultural land if the now available land is exploited optimally. The stock of agricultural land currently in use has a potential to feed the growing population and even to exceed the projected demand for the year 2050. This will be possible especially thanks to a better spatial distribution of agricultural use (GLUES; Mauser et al. 2015). [press release]
In a few exceptional cases, there may be positive interactions with biodiversity. In most cases, however, trade-offs with biodiversity protection are to be expected if the yield increase is achieved by expansion of agricultural land (GLUES; Delzeit et al. 2016). Intensification of land use also increases the pressure on biodiversity, although its effect is more complex and depends on the region and the type of land use (GLUES; Stein et al. 2014, Gerstner et al. 2014)
Eighty percent of the agricultural land in sub-Saharan Africa is managed by smallholders (working on up to 10 hectares), producing 80 percent of the food supply in these regions (source: FAO). Maintaining the smallholder farming, which provides livelihood for many people in developing countries, is therefore of utmost importance for food security. Climate change might affect these farmers more severely than the high intensive agricultural systems of the west. Diversification of cropping systems and sources of income can help to stabilize yields and livelihoods. (GLUES, SuLaMa)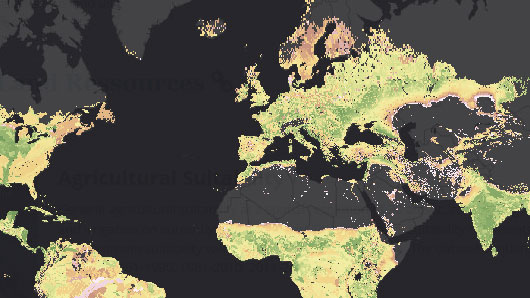 General agricultural suitability at a spatial resolution of 30 arcsec considering rainfed conditions and irrigation on currently irrigated areas. The agricultural suitability represents for each pixel the maximum suitability value of the considered 16 crops.
Recommendations
To improve the foundations of food production, solutions were developed in the research projects adapted to each particular region:
In the semi-arid areas of Africa, crop production on deep sands depends on rainfall amounts and patterns during the growing season, which is associated with risks of crop failure. Here, woodlands are better adapted due to their deep rooting system, which is able to take up the water from deep layers in dry spells, and prevent nutrients from leaching. Therefore, growing woodlands rather than farming crops would not only provide better food security but also decrease the pressure on water resources. (The Future Okavango)
Population pressure and a disappearance of traditional taboos in Madagascar have led to an overuse of sweet potatoes and tamarinds. They were used as a dietary supplement, as medicine, and as a supply source for charcoal production. The suggested solutions to this problem include raising awareness about the sustainable use of sweet potatoes, approaches to their cultivation (with different results on different soil types), and utilization of tree species other than tamarind trees for charcoal production. Establishment of tamarind tree plantations in villages and better food processing are other options. (SuLaMa)
Adaptive management practices provided higher yields in the Kulunda Steppe of Russia. It was possible to stabilize the yields despite often occurring drought spells. The direct sowing proved to be an efficient method in these particular cases. (KULUNDA)
Vegetable production in home gardens can be a feasible diversification strategy for food security. It can be improved by a deliberate inclusion of trees and shrubs, and various agroforestry systems with drought resistant crops (millet and sorghum instead of corn). (SuLaMa)
Further reading (selection)
Liniger, H.P., Mekdaschi Studer, R., Moll, P., Zander, U. (2017): Making sense of research for sustainable land management. Centre for Development and Environment (CDE), University of Bern, Switzerland and Helmholtz- Centre for Environmental Research GmbH (UFZ), Leipzig.
URL: www.ufz.de/makingsense
Dominik, C., Seppelt, R., Horgan, F.G., Marquez, L., Settele, J., Vaclavik, T. (2017): Regional-scale effects override the influence of fine-scale landscape heterogeneity on rice arthropod communities. Agriculture, Ecosystems & Environment, 246(June): 269–78.
URL: https://doi.org/10.1016/j.agee.2017.06.011
Delzeit, R., Zabel, F., Meyer, C., Vaclavik, T. (2017): Addressing future trade-offs between biodiversity and cropland expansion to improve food security. Regional Environmental Change, 1–13.
URL: https://doi.org/10.1007/s10113-016-0927-1
Meyfroidt, P., Schierhorn, F., Prishchepov, A. V., Müller, D., Kuemmerle, T. (2016): Drivers, constraints and trade-offs associated with recultivating abandoned cropland in Russia, Ukraine and Kazakhstan. Global Environmental Change, 37: 1–15.
URL: https://doi.org/10.1016/j.gloenvcha.2016.01.003
Noromiarilanto, F., Brinkmann, K., Faramalala, M.H., Buerkert, A. (2016): Assessment of food self-sufficiency in smallholder farming systems of south-western Madagascar using survey and remote sensing data. Agricultural Systems, 149: 139–149.
URL: https://doi.org/10.1016/j.agsy.2016.09.005
Mauser, W., Klepper, G., Zabel, F., Delzeit, R., Hank, T., Putzenlechner, B., Calzadilla, A. (2015): Global biomass production potentials exceed expected future demand without the need for cropland expansion. Nature Communications, 6: 8946.
URL: https://doi.org/10.1038/ncomms9946
Kraemer, R., Prishchepov, A. V., Müller, D., Kuemmerle, T., Radeloff, V. C., Dara, A., Terekhov, A., Frühauf, M. (2015): Long-term agricultural land-cover change and potential for cropland expansion in the former Virgin Lands area of Kazakhstan. Environmental Research Letters, 10(5): 054012.
URL: https://doi.org/10.1088/1748-9326/10/5/054012
Ranaivoson, T., Brinkmann, K., Rakouth, B., Buerkert, A. (2015): Distribution, biomass and local importance of tamarind trees in south-western Madagascar. Global Ecology and Conservation, 4: 14–25.
URL: https://doi.org/10.1016/j.gecco.2015.05.004
Kamp, J. (2014): Weighing up the reuse of Soviet croplands. Nature, 505(7484): 483.
URL: https://doi.org/10.1038/505483d 40.1
Stein, A., Gerstner, K., Kreft, H. (2014): Environmental heterogeneity as a universal driver of species richness across taxa, biomes and spatial scales. Ecology Letters, 17(7): 866–880.
URL: https://doi.org/10.1111/ele.12277 40.1
Gerstner, K., Dormann, C.F., Stein, A., Manceur, A.M., Seppelt, R. (2014): Effects of land use on plant diversity - A global meta‐analysis. Journal of Applied Ecology, 51(6): 1690–1700.
URL: https://doi.org/10.1111/1365-2664.12329 40.1
Schierhorn, F. Müller, D., Prishchepov, A.V. , Faramarzi, M., Balmann, A. (2014): The potential of Russia to increase its wheat production through cropland expansion and intensification. Global Food Security, 3: 133–141.
URL: https://doi.org/10.1016/j.gfs.2014.10.007
Foley, J. A five-step plan to feed the world. National Geographic Magazine.
URL: http://www.nationalgeographic.com/foodfeatures/feeding-9-billion/
Tscharntke, T., Clough, Y., Wanger, T. C., Jackson, L., Motzke, I., Perfecto, I., Vandermeer, J., Whitbread, A. (2012): Global food security, biodiversity conservation and the future of agricultural intensification. Biological Conservation, 151(1): 53–59.
URL: https://doi.org/10.1016/j.biocon.2012.01.068
Projects