Climate change
Halting climate change is a grand societal challenge. Land-use research can play an important role in addressing this issue, as land-use change and management of soil, water, and vegetation can decrease carbon stocks through emissions of greenhouse gases (GHG). These emissions amount to 20‒40 percent of the GHG emissions worldwide. On the other hand, a proper land management can lead to an increased carbon sequestration above and below ground. In the first case, land acts as a 'C-source' and in the latter as a 'C-sink'. This makes the role of sustainable land management so special.
Reducing carbon dioxide and other GHG emissions plays a central role in global efforts towards climate change mitigation. Land management can be used as a tool for reducing the GHG emissions and is a key driver for achieving the Sustainable Development Goal 13 ("Climate Action").
Not only land use affects the climate, but the processes of climate change also affect the land. As precipitation patterns change, carbon dioxide in the environment increases. Rising temperatures change the composition of animal and plant species and cause changes in productivity. Clearly, as proved by many results of the Sustainable Land Management funding measure, there are many mutual interactions between land use and climate change.
Land management thus concerns two aspects of climate change: Adaptation to climate change and mitigation or even halting climate change and GHG emissions.
Key findings
Among other things (see additional information on webpages dedicated to the regional projects), the research results from twelve regional projects show that:
Climate change mitigation is often a compromise, especially due to the long time period required until the mitigation measures take effect. For this reason, not every local stakeholder has the patience, time, resources, or desire to get involved.
Major carbon and GHG emissions occur when:
Under unchanged land use, 140-340 teragrams of soil carbon can be lost in the Kulunda steppe in the 21st century, depending on the scenario. With no applied land use, i.e. by returning to the natural steppe landscape, it can be expected that these carbon losses can be overcompensated. On the other hand, further intensive use could lead to a further loss of 1050-1130 teragrams of carbon. (Example of Russian steppes: KULUNDA)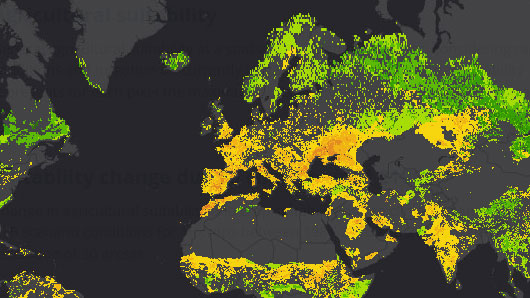 Change in agricultural suitability and crop suitability due to climate change for SRES A1B scenario conditions for 16 crops between 1981-2010 and 2071-2100 at a spatial resolution of 30 arcsec.
Recommendations
Many research projects have developed approaches and solutions to climate change. The recommendations vary among individual regions.
Emissions from land management and intensive farming can be reduced:
If existing carbon sinks in soils with high carbon pools are to be protected, it is necessary:
Carbon sequestration can be increased and carbon storage capacity can be improved by:
Some strategies for climate change mitigation including re-wetting of organic soils and extensification of grassland have clear co-benefits. They protect biodiversity and increase the resilience of the whole ecosystem. (Example from Germany: COMTESS)
Further reading (selection)
Liniger, H.P., Mekdaschi Studer, R., Moll, P., Zander, U. (2017): Making sense of research for sustainable land management. Centre for Development and Environment (CDE), University of Bern, Switzerland and Helmholtz- Centre for Environmental Research GmbH (UFZ), Leipzig.
URL: www.ufz.de/makingsense
Bösch, M., Elsasser, P., Rock, J., Rüter, S., Weimar, H., Dieter, M. (2017): Costs and carbon sequestration potential of alternative forest management measures in Germany. Forest Policy and Economics, 78: 88–97.
URL: https://doi.org/10.1016/j.forpol.2017.01.005
Meurer, K.H.E., Franko, U., Stange, C.F., Dalla Rosa, J., Madari, B., Jungkunst, H. (2016): Direct nitrous oxide (N2O) fluxes from soils under different land use in Brazil—a critical review. Environmental Research Letters, 11(2).
URL: https://doi.org/10.1088/1748-9326/11/2/023001
Fleischer, E., Khashimov, I., Hölzel, N., Klemm, O. (2016): Carbon exchange fluxes over peatlands in Western Siberia: Possible feedback between land-use change and climate change. Science of the Total Environment, 545–546: 424–433.
URL: https://doi.org/10.1016/j.scitotenv.2015.12.073
Kämpf, I., Hölzel, N., Störrle, M., Broll, G., Kiehl, K. (2016): Potential of temperate agricultural soils for carbon sequestration: A meta-analysis of land-use effects. Science of the Total Environment, 566–567: 428–435.
URL: https://doi.org/10.1016/j.scitotenv.2016.05.067
Bischoff, N., Mikutta, R., Shibistova,O., Puzanov, A., Reichert, E., Silanteva, M., Grebennikova, A., Schaarschmidt, F., Heinicke, S., Guggenberger, G. (2016): Land-use change under different climatic conditions: Consequences for organic matter and microbial communities in Siberian steppe soils. Agriculture, Ecosystems and Environment, 235: 253–264.
URL: https://doi.org/10.1016/j.agee.2016.10.022
Schulz, K., Voigt, K., Beusch, C., Almeida-Cortez, J.S., Kowarik, I., Walz, A., Cierjacks, A. (2016): Grazing deteriorates the soil carbon stocks of Caatinga forest ecosystems in Brazil. Forest Ecology and Management, 367: 62–70.
URL: https://doi.org/10.1016/j.foreco.2016.02.011
Boy, J., Strey, S., Schönenberg, R., Weber-Santos, O., Nendel, C., Klingler, M., Schumann, C., Hartberger, K., Strey, R., Guggenberger, G. (2016): Seeing the forest not for the carbon: why concentrating on land-use-induced carbon stock changes of soils in Brazil can be climate-unfriendly. Regional Environmental Change, pp 13.
URL: https://doi.org/10.1007/s10113-016-1008-1
Witte, S. Giani, L. (2016): Greenhouse gas emission and balance of marshes at the Southern North Sea coast. Wetlands, 36(1): 121–132.
URL: https://doi.org/10.1007/s13157-015-0722-7
Hoymann, J., Goetzke, R. (2016): Simulation and Evaluation of Urban Growth for Germany including Climate Change Mitigation and Adaptation Measures. ISPRS International Journal of Geo-Information, 5(7): 101.
URL: https://doi.org/10.3390/ijgi5070101
Nauditt, A., Ribbe, L. (Eds.) (2016): Land Use and Climate Change Interactions in Central Vietnam (LUCCi). Springer, Book series: Water Resources Development and Management, ISBN 978-981-10-2623-2.
URL: http://www.springer.com/de/book/9789811026232#aboutBook
Röder, N., Henseler, M., Liebersbach, H., Kreins, P., Osterburg, B. (2015): Evaluation of land use based greenhouse gas abatement measures in Germany. Ecological Economics, 117: 193–202.
URL: https://doi.org/10.1016/j.ecolecon.2015.06.007
Henseler, M., Dechow, R. (2014): Simulation of regional nitrous oxide emissions from German agricultural mineral soils: A linkage between an agro-economic model and an empirical emission model. Agricultural Systems, 124: 70–82.
URL: https://doi.org/10.1016/j.agsy.2013.10.005
Koch, S., Jurasinski, G., Koebsch, F., Koch, M., Glatzel, S. (2014): Spatial variability of annual estimates of methane emissions in a Phragmites australis (Cav.) Trin. ex Steud. dominated restored coastal brackish fen. Wetlands, 34(3): 593–602.
URL: https://doi.org/10.1007/s13157-014-0528-z
Projects