Water management
Clean water in a sufficient amount and quality is a key to life. Whether in agriculture, household or industry – water is a crucial resource for human well-being. That may be self-evident for many people especially on the northern hemisphere, but it is far from being acknowledged globally. There is still 10 percent of global population with no access to clean drinking water and 32 percent with inadequate basic sanitation. These are one of the reasons why the United Nations have explicitly stated that provision of water and sanitation is a fundamental prerequisite for sustainable development (target no. 6 of the UN Sustainable Development Goals). Sufficient and clean water is also essential for ecosystems and agriculture. On the contrary, land use in general and agriculture in particular have a major impact on water quality: through utilized chemicals, soil sealing and compaction, and the associated loss of filter- and storage function.
In addition, water availability and rainfall distribution during the growing season are being affected by climate change. Recurrent drought and flood events demonstrate that non-adapted land-use strategies may have negative consequences, such as having both too much and too little water at the same place but at different times. The efficient use of rainwater has therefore become another challenge that land users are faced with.
Key findings
Among other things (see additional information on webpages dedicated to the regional projects), the research results from twelve regional projects show that:
Water already is, and will continue to be, a limiting factor in the agricultural production, be it rain-fed or irrigated. Conflicts over water arise in many regions of the world, e.g. when river basins cross national borders (Okavango Delta) or when water has to fulfil different purposes (agriculture, industry, private households, environment). The current overexploitation of water resources will have serious consequences.
Climate change and climate extremes will affect water availability by increased rain storms followed by prolonged dry spells. This will lead to water scarcity and hence decreasing crop yields (associated with risks of crop failures), as well as low availability of water for hydropower generation and other purposes.
The increasing use of water resources together with a spread of irrigation systems have consequences for the hydrology of large river basins. In cases such as the African Okavango Delta, a transnational cooperation is therefore needed. In this particular case, the OKACOM River Commission was established. If commissions such as these are sufficiently funded and politically strengthened, water resources can be collectively and sustainably managed.
Water scarcity and current irrigation practices are associated with a severe expansion of salinized soils. The intrusion of salt water into freshwater aquifers is a globally growing threat to freshwater supplies for cities and agriculture.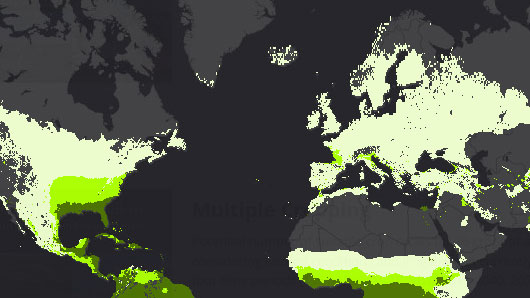 Number of suitable crop cycles for 16 crops, considering rain-fed conditions and irrigation on currently irrigated areas.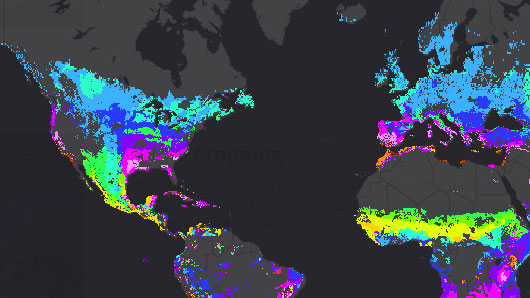 Start of the growing cycle for 16 crops, considering rain-fed conditions and irrigation on currently irrigated areas. In case of multiple cropping, the start of the first growing cycle is shown.
Recommendations
In order to improve water management, solutions were developed in the research projects adapted to each particular region:
Due to water scarcity and high investment costs for irrigation, it is important to make the best use of rainwater and to promote water-conserving agricultural practices in order to reduce the need for further irrigation.
Storing water whenever possible: This has a great potential for further application in practice, especially in arid and semi-arid areas. The diverse demands for the use of reservoir water require strong management skills – especially when it comes to reconciling hydropower, irrigation, and environmental water uses.
The following principles are relevant for the irrigated land management, both on small and large-scales:
Further reading (selection)
Liniger, H.P., Mekdaschi Studer, R., Moll, P., Zander, U. (2017): Making sense of research for sustainable land management. Centre for Development and Environment (CDE), University of Bern, Switzerland and Helmholtz- Centre for Environmental Research GmbH (UFZ), Leipzig.
URL: www.ufz.de/makingsense
Thomas, F.M., Jeschke, M., Zhang, X., Lang, P. (2016): Stand structure and productivity of Populus euphratica along a gradient of groundwater distances at the Tarim River (NW China). Journal of Plant Ecology, rtw078.
URL: https://doi.org/10.1093/jpe/rtw078
Disse, M. (2016): Sustainable land and water management of River Oases along the Tarim River, Proc. IAHS, 373: 25–29.
URL: https://doi.org/10.5194/piahs-373-25-2016
Firoz, A.B.M., Nauditt, A., Fink, M., Ribbe, L. (2016): Modelling the impact of hydropower development and operation on downstream discharge in a highly dynamic tropical central Vietnamese river basin. Submitted to Hydrology and Earth System Sciences.
URL: not available
Rumbaur, C., Thevs, N., Disse, M., Ahlheim, M., Brieden, A.. Cyffka, B.. Duethmann, D., Feike, T., Frör, O., Gärtner, P., Halik, Ü., Hill, J., Hinnenthal, M., Keilholz, P., Kleinschmit, B., Krysanova, V., Kuba, M., Mader, S., Menz, C., Othmanli, H., Pelz, S., Schroeder, M., Siew, T.F., Stender, V., Stahr, K., Thomas, F.M., Welp, M., Wortmann, M., Zhao, X., Chen, X., Jiang, T., Luo, J., Yimit, H., Yu, R., Zhang, X., Zhao, C. (2015): Sustainable management of river oases along the Tarim River (SuMaRiO) in Northwest China under conditions of climate change. Earth System Dynamics, 6(1): 83–107.
URL: https://doi.org/10.5194/esd-6-83-2015
Krysanova, V., Wortmann, M., Bolch, T., Merz, B., Düthmann, D., Walter, J., Huang, Sh., Tong, J., Buda, S., Kundzewicz, Z. (2015): Analysis of current trends in climate parameters, river discharge and glaciers in the Aksu River basin (Central Asia). Hydrological Sciences Journal, 60(4): 566–590.
URL: https://doi.org/10.1080/02626667.2014.925559
Keilholz, P., Disse, M., Halik, Ü. (2015): Effects of Land Use and Climate Change on Groundwater and Ecosystems at the Middle Reaches of the Tarim River Using the MIKE SHE Integrated Hydrological Model. Water, 7: 3040–3056.
URL: https://doi.org/10.3390/w7063040
Thevs, N., Peng, H., Rozi, A., Zerbe, S., Abdusalih, N. (2015): Water allocation and water consumption of irrigated agriculture and natural vegetation in the Aksu-Tarim river basin, Xinjiang, China. Journal of Arid Environments, 112A: 87–97.
URL: https://doi.org/10.1016/j.jaridenv.2014.05.028
Zhao, X., Othmanli, H., Schiller, T., Zhao, C., Sheng, Y., Zia, S., Müller, J., Stahr, K., (2015): Water Use Efficiency in Saline Soils under Cotton Cultivation in the Tarim River Basin. Water 2015, 7(6): 3103–3122.
URL: https://doi.org/10.3390/w7063103
Koch, H., Biewald, A., Liersch, S., Azevedo, J.R.G., Silva, G.N.S., Kölling, K., Fischer, P., Koch, R., Hattermann, F.F. (2015): Scenarios of climate and land-use change, water demand and water availability for the São Francisco River Basin. Revista Brasileira de Ciências Ambientais, N°36 (June 2015): 96–114.
URL: https://doi.org/10.5327/Z2176-947820151007
Viet, T.Q., Stolpe, H., Ribbe, L., Nauditt, A. (2015): Impact of sea level rise on saltwater intrusion in the Vu Gia Thu Bon estuary, Central Vietnam. Accepted in Coastal Processes.
URL: not available
Yang, Y., Disse, M., Yu, R., Yu, G., Sun, L., Huttner, P., Rumbaur, C. (2015): Large-Scale Hydrological Modeling and Decision-Making for Agricultural Water Consumption and Allocation in the Main Stem Tarim River, China. Water 2015, 7(6): 2821–2839.
URL: https://doi.org/10.3390/w7062821
Hagel, H., Hoffmann, C., Doluschitz, R. (2014): Mathematical programming models to increase land and water use efficiency in semi-arid NE-Brazil. International Journal on Food System Dynamics, 5(4): 173–181.
URL: https://doi.org/10.18461/ijfsd.v5i4.542
Souvignet, M., Laux, P., Freer, J., Cloke, H. Dang Quang Thinh, Tran Thuc, Cullmann, J., Nauditt, A., Flügel, W.-A., Kunstmann, H., Ribbe, L. (2013): Recent climatic trends and linkages to river discharge in Central Vietnam. Hydrological Processes, 28(4): 1587–1601.
URL: https://doi.org/10.1002/hyp.9693
Cyffka, B., Rumbaur, C., Kuba, M., Disse, M. (2013): Sustainable Management of River Oases along the Tarim River (P.R. China) and the Ecosystem Services Approach. Geography, Environment & Sustainability, 4: 77–90.
URL: http://dx.doi.org/10.24057/2071-9388-2013-6-4-77-90
Projects