Biodiversity
A foundation of our existence and a key to our future survival: biological diversity, also called biodiversity. It refers to more than just counting animal and plant species. It is about the entire life spectrum on Earth, about the genetic diversity within species and diversity of ecosystems. Protection and sustainable use of biological diversity is therefore of great importance for sustainable development of land and water resources. Maintaining biodiversity is one of the greatest challenges of our time. In addition to climate change, changes in land use and land-use intensity are the major causes of biodiversity decline. Sustainable land use and sustainable land management ensure food production and are therefore indispensable to our future.
Sustainable land management must also ensure fulfilling the Aichi Biodiversity Targets adopted by the Parties to the Convention on Biological Diversity (CBD) in 2010. The concepts of sustainable land use have to be designed in such a way that land management goals are achieved and, simultaneously, protection of biodiversity, as defined by the UN Sustainable Development Goals (SDGs), is ensured. For that reason, such concepts are required for future that support overall economy and prevent loss of biodiversity.
Key findings
Among other things (see additional information on webpages dedicated to the regional projects), the research results from twelve regional projects show that:
Politicians, decision makers and general public in the investigation areas know very little about the status and importance of regional biodiversity. Commonly, main economic interests lie in the use of available resources.

Comprehensive monitoring of species diversity in the landscape of a particular region can be very complex. This is because there are different indicators used to determine species richness (number of species, functional groups, number of individuals of particular species, etc.). In case of insufficient information, there is a higher risk of mistakes when making decisions about land management and land-use changes.

In principle, any land-use change (in addition to climate change and invasive species) leads to biodiversity change - in most cases, to biodiversity decline. The most obvious cases are when forests and extensive grasslands are transformed into uniformly cultivated fields or intensively used meadows and pastures, or when small-scale, mosaic landscapes are transformed into large, uniform landscapes.

In most intact natural ecosystems, construction of traffic routes and intensification of agriculture lead to degradation and fragmentation of landscape and to biodiversity decline. An integrated and systematic planning of land use is urgently needed to prevent further fragmentation of habitats.

Since a majority of land worldwide has already been managed by man in one form or another, land management generally leads to a more intensive use. An intensification of land use usually results in biodiversity declines.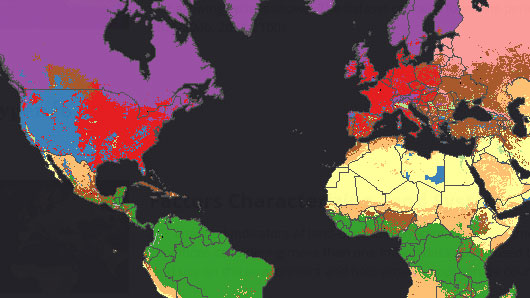 This map reveals a pattern of global land use dividing the world into categories ("archetypes"). Each archetype is characterized by a specific combination of 32 land management indicators (including land-use intensity, and climate, environmental, and socioeconomic conditions).
The results of the research programme show, above all, that protection of species in managed landscapes is of great importance if fundamental ecosystem functions are to be maintained. To this end, it is necessary to find a balance between an increase in produced goods per area and possible declines in biodiversity. Choosing between nature conservation and intensive land use is not the goal here.
Recommendations
Protection of natural and semi-natural ecosystems can and must be strengthened if biodiversity loss is to be halted, and the Aichi Biodiversity Goals for global biodiversity protection and goals for sustainable development are to be achieved. To this end, solutions were developed in twelve research projects adapted to each particular region:
In many regions of the world, it is necessary to establish or maintain protected areas and intensively monitor and reinforce the nature conservation rules and regulations (see the examples from Philippines (LEGATO) or Brazil (INNOVATE)). The aim is to preserve native (endemic) species and to achieve minimum standards for species conservation.

It is equally important to avoid further fragmentation of landscape, create new habitats and connect existing habitats, e.g. by creating corridors or mosaic landscapes (see Philippines (LEGATO), China (SURUMER), Africa (The Future Okavango)).

Last but not least, appropriate measures to restore degraded ecosystems need to be implemented (see West China (SuMaRiO)).
As there is a functional dependence between biodiversity and agricultural production, protecting or even increasing biological diversity on agricultural land should be done by means of "sustainable land-use intensification":
Both biodiversity and agricultural production are essential parts of conservation agriculture. It is assumed that conservation tillage results in an increase in soil organisms (see examples from Siberia (KULUNDA)).

A concurrent cultivation of different crops (e.g. beans and rice) reduces the risk of a total crop loss suffered by farmers (see examples from China (SUMARIO)), but at the same time it increases biodiversity.

It is meaningful to offer financial incentives for conservation management of landscape in order to protect nature or rehabilitate intensively used landscapes (see examples from Madagascar (SuLaMa)).
There are measures of agricultural practice that can help establish a natural balance in the ecosystems (ecological engineering, see the example from the LEGATO project in Southeast Asia).
The spectrum of used agricultural crops can be expanded to preserve or even increase biodiversity (SuMaRiO). Although these examples are still isolated cases, they serve as important exemplary models for other countries and regions.
Land management (especially management of interactions between biodiversity and use of resources) is a regionally specific task and the transferability of solutions remains a challenge. Data-based or practice-oriented approaches are the key to transferring successful solutions from individual regions (GLUES).
Further reading (selection)
Gerstner, K., Levers, C., Kuemmerle, T., Vaclavik, T., Pereira, H.M., Seppelt, R. (2017): Assessing land-use effects on European plant diversity using a biome-specific countryside species–area model. Diversity and Distributions, 23(10): 1193–1203.
URL: https://doi.org/10.1111/ddi.12608
Liniger, H.P., Mekdaschi Studer, R., Moll, P., Zander, U. (2017): Making sense of research for sustainable land management. Centre for Development and Environment (CDE), University of Bern, Switzerland and Helmholtz- Centre for Environmental Research GmbH (UFZ), Leipzig.
URL: www.ufz.de/makingsense
Schulz, C., Koch, R., Cierjacks, A., Kleinschmit, B. (2017): Land change and loss of landscape diversity at the Caatinga phytogeographical domain - Analysis of pattern-process relationships with MODIS land cover products (2001-2012). Journal of Arid Environments, 136: 54–74.
URL: https://doi.org/10.1016/j.jaridenv.2016.10.004
Nopper, J., Lauströer, B., Rödel, M.-O., Ganzhorn, J.U. (2016): A structurally enriched agricultural landscape maintains high reptile diversity in sub-arid south-western Madagascar. Journal of Applied Ecology, 54(2): 480–488.
URL: https://doi.org/10.1111/1365-2664.12752
Cierjacks, A., Pommeranz, M., Schulz, K., Almeida-Cortez, J. (2016): Is crop yield related to weed species diversity and biomass in coconut and banana fields of northeastern Brazil? Agriculture, Ecosystems & Environment, 220: 175–183.
URL: https://doi.org/10.1016/j.agee.2016.01.006
Bischoff, N., Mikutta, R., Shibistova,O., Puzanov, A., Reichert, E., Silanteva, M., Grebennikova, A., Schaarschmidt, F., Heinicke, S., Guggenberger, G. (2016): Land-use change under different climatic conditions: Consequences for organic matter and microbial communities in Siberian steppe soils. Agriculture, Ecosystems and Environment, 235: 253–264.
URL: https://doi.org/10.1016/j.agee.2016.10.022
Mathar, W., Kämpf, I., Kleinebecker, T., Kuzmin, I., Tolstikov, A., Tupitsin, S., Hölzel, N. (2016): Floristic diversity of meadow steppes in the Western Siberian Plain: Effects of abiotic site conditions, management and landscape structure. Biodiversity and Conservation, 25(12): 2361–2379.
URL: https://doi.org/10.1007/s10531-015-1023-4
Kämpf, I., Mathar, W., Kuzmin, I., Hölzel, N., Kiehl, K. (2016): Post-Soviet recovery of grassland vegetation on abandoned fields in the forest steppe zone of Western Siberia. Biodiversity and Conservation, 25(12): 2563–2580.
URL: https://doi.org/10.1007/s10531-016-1078-x
Newbold, T. et al. (2015): Global effects of land use on local terrestrial biodiversity. Nature, 520(7545): 45–50.
URL: https://doi.org/10.1038/nature14324
Westphal, C., Vidal, S., Horgan, F.G., Gurr, G.M., Escalada, M., Ho Van Chien, Tscharntke, T., Heong, K.L., Settele, J. (2015): Promoting multiple ecosystem services with flower strips and participatory approaches in rice production landscapes. Basic and Applied Ecology, 16(8): 681–689.
URL: https://doi.org/10.1016/j.baae.2015.10.004
Häuser, I., Thellmann, K., Cotter, M., Sauerborn, J. (2015): Ecosystem services and biodiversity of rubber plantations - a systematic review. CAB Reviews, 10(37): 1–6.
URL: https://doi.org/10.1079/PAVSNNR201510037
He, P., Martin, K. (2015): Effects of rubber cultivation on biodiversity in the Mekong Region. CAB Reviews, 10(44): 1–7.
URL: https://doi.org/10.1079/PAVSNNR201510044
Kamp, J. (2014): Weighing up the reuse of Soviet croplands. Nature, 505(7484): 483.
URL: https://doi.org/10.1038/505483d
Stein, A., Gerstner, K., Kreft, H. (2014): Environmental heterogeneity as a universal driver of species richness across taxa, biomes and spatial scales. Ecology Letters, 17(7): 866–880.
URL: https://doi.org/10.1111/ele.12277
Gerstner, K., Dormann, C.F., Stein, A., Manceur, A.M., Seppelt, R. (2014): Effects of land use on plant diversity - A global meta‐analysis. Journal of Applied Ecology, 51(6): 1690–1700.
URL: https://doi.org/10.1111/1365-2664.12329
Projects