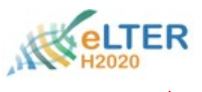 EcoPar: Parameters and Methods for Ecosystem Research & Monitoring
What it is about

EcoPar is a tool based on a database of indicators, parameters and corresponding methods for ecosystem monitoring and research. This database has been compiled by experts within the Life+ project EnvEurope (2010-13) and is based on the conceptual framework of Ecosystem Integrity (for explanation see elements of Ecosystem Integrity ). This framework enables the assignment of parameters to structures and processes of ecosystems. The EcoPar database covers the main types of ecosystems: terrestrial, river, lake and marine ecosystems. It is aiming at harmonization of measurements especially in Long Term Ecosystem Research (LTER). However, it provides parameter recommendations for any kind of ecosystem research.
EcoPar is interactive, meaning that you are invited to comment and add information according to your expertise in the COMMENT fields of the table below (pdf of references are welcome by email to Mark Frenzel ). Its value for the community and the degree of completeness depends on your input too!
Note: Until end of February 2019 we are including the Essential Biodiversity Variables (EBV) concept in EcoPar. Moreover the parameters will be linked to the corresponding terms of the EnvThes thesaurus.

How to use EcoPar

In order to choose and focus on the things of interest, use the Selection and Search functions. Selections are available as check boxes or pull down options for:
I. Selection of Ecosystems and Ecological Integrity components
Ecosystems (terrestrial, rivers, lakes, marine)
Ecosystem Structures & Processes
Diversity (of structures) & Budgets (related to energy, water, matter)
Basic Ecological Integrity Indicators
Parameters
II. Selection of table columns
Select the the columns you want to see. Ranking of parameters: the last four columns (ecological importance, sensibility to changes, measurement effort, instrumentation level) represent the result of a survey among the international scientific community asking for evaluation of each parameter according to specific criteria. Values give the mean of the rankings of each parameter (1-none, 2-small, 3-medium, 4-high). In "()" the number of votes is indicated.

To understand the hierarchy and arrangement of items of I. take a look at the table and the figure illustrating the Ecosystem Integrity concept. Note that selections at higher hierarchy levels affect the lower levels.
Search allows AND / OR connections of terms by adding new search fields. The retrieved terms are highlighted in yellow.
Pressing the Submit query button processes all queries at once. The columns of the resulting table can be sorted alphabetically by the up and down triangles. The table columns dealing with References provide links to websites and PDF files of cited documents as far as available. At the bottom of the page two buttons allow an export of the query results as Excel table (all pages or just current page). Note that you get the complete database when no selection is active.
The detailed PDF document about the conceptual framework and the approach taken for gathering EcoPar data is available at EnvEurope - Products (Manual of harmonized methods for environmental indicators across different ecosystems).

Contact: Mark Frenzel


Parameters and Methods for Ecosystem Monitoring & Research
I. Selection of Ecosystems and Ecosystem Integrity components
II. Selection of table columns
III. Search for terms and phrases
Show rows on each page


Table size

| Ecosystem | Structures and Processes | Diversity and Budget | Essential Biodiversity Variables (EBV) | Basic Indicators | Definition | Parameter | EnvThes vocabulary | Parameter extended | Abbreviation | Popular Object Names | Comments; Definitions | Frequency of measurement | Accuracy of measurement | Measurement within the year | Spatial scale | Mandatory meta data | Base units | Related indices | Method keywords | References: site-specific, national applied methods | References: international established methods | Method used by sites or networks | Parameter used by modelling community | Ecological Importance | Sensibility to Changes | Measurement Effort | Instrumentation Level |
| --- | --- | --- | --- | --- | --- | --- | --- | --- | --- | --- | --- | --- | --- | --- | --- | --- | --- | --- | --- | --- | --- | --- | --- | --- | --- | --- | --- |
Terrestrial
Ecosystem Structures
Biotic Diversity

Flora Diversity

The presence and absence of selected species, (functional) groups of species, biotic habitat components or species composition.

tracheophyta - species list
plants - tracheophyta - species list



vascular plants



Yearly (standardised timing according to phenology of target organism group)

Reference to Flora Europea taxonomy;
Vienna-nomenclature code;
Tokyo- Code;
Coverage estimation for vegetation layers (tree, shrub, herb, floor)

Depending on the dynamics of the community (often different seasonal aspects);
More than once a year if necessary

Stratified sampling;
independent plots representative for the site and/or the habitats within the sites;
at least 4 replicates;
minimum areal depending on biotop type (100, 25 or 1m²),

Survey date, location (XY coordinates), plot/area size, frequency of observations, biotope discription, method reference, design of sampling

Species numbers;
percentage cover;
frequency (no. of individuals)

Shannon;
Simpson;
Eveness;
species turn-over;
rarefaction curves;
phylogenetic diversity;
functional diversity;
abundance-incidence-curves

Large plots: vegetation relevés compatible to Braun-Blanquet, e.g. 5 x 5m in open habitat types, 10 x 10m in woody habitat types or transects (at least 20m long) with application of point intercept method;
small plots (e.g. 1x1m): point frame method or simple frame method

Espelta, J. M., Cortés, P., Molowny-Horas, R., Sánchez-Humanes, B., & Retana, J. (2008). Masting mediated by summer drought reduces acron predation in mediterranean oak forests. Ecology, 89(3), 805-817 download;
Petriccione, B. (2005). Short-term changes in key plant communities of Central Apennines (Italy). Acta botanica Gallica, 152(4), 545-561;
Rossi, G., Parolo, G., & Ulian, T. (2009). Human trampling as a threat factor for the conservation of peripheral plant populations. Plant Biosystems, 143(1), 104-113;
Rossi, G., Parolo, G., Zonta, L. A., Crawford, J. A., & Leonardi, A. (2006). Salix herbacea L. fragmented small population in the N-Apennines (Italy): response to human trampling disturbance. Biodiversity and Conservation, 15(12), 3881-3893 download;
Sparks, T. H., Jaroszewicz, B., Krawczyk, M., & Tryjanowski, P. (2009). Advancing phenology in Europe's last lowland primeval forest: non-linear temperature response. Climate Research, 39(3), 221-226 download;
Stanisci, A., Carranza, M., Pelino, G., & Chiarucci, A. (2011). Assessing the diversity pattern of cryophilous plant species in high elevation habitats. Plant Ecology, 212(4), 595-600 download and download;
Stanisci, A., Pelino, G., & Blasi, C. (2005). Vascular plant diversity and climate change in the alpine belt of the central Apennines (Italy). Biodiversity and Conservation, 14(6), 1301-1318 download

Braun-Blanquet, J. (1932). Plant sociology - the study of plant communities (1st ed.): McGraw-Hill book company, inc.;
The GLORIA* Field Manual – Multi-Summit Approach (*Global Observation Research Initiative in Alpine Environments). (2011). In H. Pauli, M. Gottfried, D. Hohenwallner, K. Reiter, R. Casale & G. Grabherr (Eds.) pp. 89. Link to websiteICP IM Programme Centre Finnish Environment Institute (Helsinki, F. (2003). Manual for Integrated Monitoring - Convention on Long-range Transboundary Air Pollution of the UNECE Link to websiteCanullo R, Starlinger F, Granke O, Fischer R, Aamlid D, Neville P., 2011 - Assessment of Ground Vegetation. Manual Part VII.1, 19 pp. In: ICP Forests (2010), Manual on methods and criteria for harmonized sampling, assessment, monitoring and analysis of the effects of air pollution on forests. UNECE ICP Forests Programme Co-ordinating Centre, Hamburg. Link to websiteMorris, W. F., & Doak, D. F. (2002). Quantitative Conservation Biology: Theory and Practice of Population Viability Analysis;
Petchey, O. L., O'Gorman, E., & Flynn, D. F. B. (2009). A functional guide to functional diversity measures. In S. Naeem, D. E. Bunker, A. Hector, M. Loreau & C. Perrings (Eds.), Biodiversity, Ecosystem Functioning, and Human Wellbeing - An Ecological and Economic Perspective (pp. 384);
Wikum, D. A., & Shanholtzer, G. F. (1978). Application of the Braun-Blanquet cover-abundance scale for vegetation analysis in land development studies. Environmental Management, 2(4), 323-329 download





4[114]

3 [114]

3 [114]

2 [114]
Terrestrial
Ecosystem Structures
Biotic Diversity

Flora Diversity

The presence and absence of selected species, (functional) groups of species, biotic habitat components or species composition.

tracheophyta - species coverage abundance
plants - tracheophyta - species coverage abundance



vascular plants



Yearly

Reference to Flora Europea taxonomy;
Vienna-nomenclature code;
Tokyo- Code;
Coverage estimation for vegetation layers (tree, shrub, herb, floor)

Depending on the dynamics of the community (often different seasonal aspects);
More than once a year if necessary

Stratified sampling;
independent plots representative for the site and/or the habitats within the sites;
at least 4 replicates;
minimum areal depending on biotop type (100, 25 or 1m²),

Survey date, location (XY coordinates), plot/area size, frequency of observations, biotope discription, method reference, design of sampling

Species numbers;
percentage cover;
frequency (no. of individuals)

Shannon;
Simpson;
Eveness;
species turn-over;
rarefaction curves;
phylogenetic diversity;
Abundance-incidence-curves

Large plots: vegetation relevés compatible to Braun-Blanquet, e.g. 5 x 5m in open habitat types, 10 x 10m in woody habitat types or transects (at least 20m long) with application of point intercept method;
small plots (e.g. 1x1m): point frame method or simple frame method

Espelta, J. M., Cortés, P., Molowny-Horas, R., Sánchez-Humanes, B., & Retana, J. (2008). Masting mediated by summer drought reduces acron predation in mediterranean oak forests. Ecology, 89(3), 805-817 download;
Petriccione, B. (2005). Short-term changes in key plant communities of Central Apennines (Italy). Acta botanica Gallica, 152(4), 545-561;
Rossi, G., Parolo, G., & Ulian, T. (2009). Human trampling as a threat factor for the conservation of peripheral plant populations. Plant Biosystems, 143(1), 104-113;
Rossi, G., Parolo, G., Zonta, L. A., Crawford, J. A., & Leonardi, A. (2006). Salix herbacea L. fragmented small population in the N-Apennines (Italy): response to human trampling disturbance. Biodiversity and Conservation, 15(12), 3881-3893 download;
Sparks, T. H., Jaroszewicz, B., Krawczyk, M., & Tryjanowski, P. (2009). Advancing phenology in Europe's last lowland primeval forest: non-linear temperature response. Climate Research, 39(3), 221-226 download;
Stanisci, A., Carranza, M., Pelino, G., & Chiarucci, A. (2011). Assessing the diversity pattern of cryophilous plant species in high elevation habitats. Plant Ecology, 212(4), 595-600 download and download;
Stanisci, A., Pelino, G., & Blasi, C. (2005). Vascular plant diversity and climate change in the alpine belt of the central Apennines (Italy). Biodiversity and Conservation, 14(6), 1301-1318 download

Braun-Blanquet, J. (1932). Plant sociology - the study of plant communities (1st ed.): McGraw-Hill book company, inc.;
The GLORIA* Field Manual – Multi-Summit Approach (*Global Observation Research Initiative in Alpine Environments). (2011). In H. Pauli, M. Gottfried, D. Hohenwallner, K. Reiter, R. Casale & G. Grabherr (Eds.) pp. 89. Link to website;
ICP IM Programme Centre Finnish Environment Institute (Helsinki, F. (2003). Manual for Integrated Monitoring - Convention on Long-range Transboundary Air Pollution of the UNECE Link to website;
Morris, W. F., & Doak, D. F. (2002). Quantitative Conservation Biology: Theory and Practice of Population Viability Analysis;
Petchey, O. L., O'Gorman, E., & Flynn, D. F. B. (2009). A functional guide to functional diversity measures. In S. Naeem, D. E. Bunker, A. Hector, M. Loreau & C. Perrings (Eds.), Biodiversity, Ecosystem Functioning, and Human Wellbeing - An Ecological and Economic Perspective (pp. 384);
UNECE (United Nations Economic Commission for Europe). (2010). Manual on methods and criteria for harmonized sampling, assessment, monitoring and analysis of the effects of air pollution on forests, International Co-operative Programme on Assessment and Monitoring of Air Pollution Effects on Forests (ICP Forests) Link to website;
Wikum, D. A., & Shanholtzer, G. F. (1978). Application of the Braun-Blanquet cover-abundance scale for vegetation analysis in land development studies. Environmental Management, 2(4), 323-329 download





4[112]

4 [112]

3 [112]

2 [112]
Terrestrial
Ecosystem Structures
Biotic Diversity

Flora Diversity

The presence and absence of selected species, (functional) groups of species, biotic habitat components or species composition.

bryophyta - species list
plants - bryophyta - species list



mosses



Yearly

Reference to Flora Europea taxonomy;
Vienna-nomenclature code;
Tokyo- Code;
Coverage estimation for vegetation layers (tree, shrub, herb, floor)

Depending on the dynamics of the community (often different seasonal aspects);
More than once a year if necessary

Stratified random sampling;
independent plots representative for the site and/or the habitats within the sites;
at least 10 replicates;
minimum standard sample unit 1x1m

Survey date, location (XY coordinates), plot/area size, frequency of observations, biotope discription, method reference, design of sampling

Species numbers;
percentage cover;
frequency (no. of individuals)

Shannon;
Simpson;
Eveness;
species turn-over;
rarefaction curves;
phylogenetic diversity

Large plots: vegetation relevés compatible to Braun-Blanquet, e.g. 5 x 5m in open habitat types, 10 x 10m in woody habitat types or transects (at least 20m long) with application of point intercept method;
small plots (e.g. 1x1m): point frame method or simple frame method

Espelta, J. M., Cortés, P., Molowny-Horas, R., Sánchez-Humanes, B., & Retana, J. (2008). Masting mediated by summer drought reduces acron predation in mediterranean oak forests. Ecology, 89(3), 805-817 download;
Jucker T., Carboni & Acosta A T. R. (2013). Going beyond taxonomic diversity: deconstructing biodiversity patterns reveals the true cost of iceplant invasion Diversity and Distributions. 19 (12): 1566–1577. DOI: 10.1111/ddi.12124;
Petriccione, B. (2005). Short-term changes in key plant communities of Central Apennines (Italy). Acta botanica Gallica, 152(4), 545-561;
Rossi, G., Parolo, G., & Ulian, T. (2009). Human trampling as a threat factor for the conservation of peripheral plant populations. Plant Biosystems, 143(1), 104-113;
Rossi, G., Parolo, G., Zonta, L. A., Crawford, J. A., & Leonardi, A. (2006). Salix herbacea L. fragmented small population in the N-Apennines (Italy): response to human trampling disturbance. Biodiversity and Conservation, 15(12), 3881-3893 download;
Sparks, T. H., Jaroszewicz, B., Krawczyk, M., & Tryjanowski, P. (2009). Advancing phenology in Europe's last lowland primeval forest: non-linear temperature response. Climate Research, 39(3), 221-226 download;
Stanisci, A., Carranza, M., Pelino, G., & Chiarucci, A. (2011). Assessing the diversity pattern of cryophilous plant species in high elevation habitats. Plant Ecology, 212(4), 595-600 download and download;
Stanisci, A., Pelino, G., & Blasi, C. (2005). Vascular plant diversity and climate change in the alpine belt of the central Apennines (Italy). Biodiversity and Conservation, 14(6), 1301-1318 download

Braun-Blanquet, J. (1932). Plant sociology - the study of plant communities (1st ed.): McGraw-Hill book company, inc.;
The GLORIA* Field Manual – Multi-Summit Approach (*Global Observation Research Initiative in Alpine Environments). (2011). In H. Pauli, M. Gottfried, D. Hohenwallner, K. Reiter, R. Casale & G. Grabherr (Eds.)pp. 89). Link to websiteICP IM Programme Centre Finnish Environment Institute (Helsinki, F. (2003). Manual for Integrated Monitoring - Convention on Long-range Transboundary Air Pollution of the UNECE. Link to websiteMorris, W. F., & Doak, D. F. (2002). Quantitative Conservation Biology: Theory and Practice of Population Viability Analysis;
Petchey, O. L., O'Gorman, E., & Flynn, D. F. B. (2009). A functional guide to functional diversity measures. In S. Naeem, D. E. Bunker, A. Hector, M. Loreau & C. Perrings (Eds.), Biodiversity, Ecosystem Functioning, and Human Wellbeing - An Ecological and Economic Perspective (pp. 384);
UNECE (United Nations Economic Commission for Europe). (2010). Manual on methods and criteria for harmonized sampling, assessment, monitoring and analysis of the effects of air pollution on forests, International Co-operative Programme on Assessment and Monitoring of Air Pollution Effects on Forests (ICP Forests) Link to websiteWikum, D. A., & Shanholtzer, G. F. (1978). Application of the Braun-Blanquet cover-abundance scale for vegetation analysis in land development studies. Environmental Management, 2(4), 323-329 download





3[77]

3 [76]

3 [75]

2 [76]
Terrestrial
Ecosystem Structures
Biotic Diversity

Flora Diversity

The presence and absence of selected species, (functional) groups of species, biotic habitat components or species composition.

bryophyta - species coverage abundance
plants - bryophyta - species coverage abundance



mosses



Yearly

Reference to Flora Europea taxonomy;
Vienna-nomenclature code;
Tokyo- Code;
Coverage estimation for vegetation layers (tree, shrub, herb, floor)

Depending on the dynamics of the community (often different seasonal aspects);
More than once a year if necessary

Stratified random sampling;
independent plots representative for the site and/or the habitats within the sites;
at least 10 replicates;
minimum standard sample unit 1x1m

Survey date, location (XY coordinates), plot/area size, frequency of observations, biotope discription, method reference, design of sampling

Species numbers;
percentage cover;
frequency (no. of individuals)

Shannon;
Simpson;
Eveness;
species turn-over;
rarefaction curves;
phylogenetic diversity

Large plots: vegetation relevés compatible to Braun-Blanquet, e.g. 5 x 5m in open habitat types, 10 x 10m in woody habitat types or transects (at least 20m long) with application of point intercept method;
small plots (e.g. 1x1m): point frame method or simple frame method

Del Vecchio S., Giovi E., Izzi C.F., Abbate G., Acosta A.T.R. (2012). Malcolmia littorea: The isolated Italian population in the European context. Journal for Nature Conservation 20: 357– 363 http://dx.doi.org/10.1016/j.jnc.2012.08.001;
Espelta, J. M., Cortés, P., Molowny-Horas, R., Sánchez-Humanes, B., & Retana, J. (2008). Masting mediated by summer drought reduces acron predation in mediterranean oak forests. Ecology, 89(3), 805-817 download;
Petriccione, B. (2005). Short-term changes in key plant communities of Central Apennines (Italy). Acta botanica Gallica, 152(4), 545-561;
Rossi, G., Parolo, G., & Ulian, T. (2009). Human trampling as a threat factor for the conservation of peripheral plant populations. Plant Biosystems, 143(1), 104-113;
Rossi, G., Parolo, G., Zonta, L. A., Crawford, J. A., & Leonardi, A. (2006). Salix herbacea L. fragmented small population in the N-Apennines (Italy): response to human trampling disturbance. Biodiversity and Conservation, 15(12), 3881-3893 download;
Sparks, T. H., Jaroszewicz, B., Krawczyk, M., & Tryjanowski, P. (2009). Advancing phenology in Europe's last lowland primeval forest: non-linear temperature response. Climate Research, 39(3), 221-226 download;
Stanisci, A., Carranza, M., Pelino, G., & Chiarucci, A. (2011). Assessing the diversity pattern of cryophilous plant species in high elevation habitats. Plant Ecology, 212(4), 595-600 download and download;
Stanisci, A., Pelino, G., & Blasi, C. (2005). Vascular plant diversity and climate change in the alpine belt of the central Apennines (Italy). Biodiversity and Conservation, 14(6), 1301-1318 download

Braun-Blanquet, J. (1932). Plant sociology - the study of plant communities (1st ed.): McGraw-Hill book company, inc.;
The GLORIA* Field Manual – Multi-Summit Approach (*Global Observation Research Initiative in Alpine Environments). (2011). In H. Pauli, M. Gottfried, D. Hohenwallner, K. Reiter, R. Casale & G. Grabherr (Eds.)pp. 89). Link to websiteICP IM Programme Centre Finnish Environment Institute (Helsinki, F. (2003). Manual for Integrated Monitoring - Convention on Long-range Transboundary Air Pollution of the UNECE. Link to websiteMorris, W. F., & Doak, D. F. (2002). Quantitative Conservation Biology: Theory and Practice of Population Viability Analysis;
Petchey, O. L., O'Gorman, E., & Flynn, D. F. B. (2009). A functional guide to functional diversity measures. In S. Naeem, D. E. Bunker, A. Hector, M. Loreau & C. Perrings (Eds.), Biodiversity, Ecosystem Functioning, and Human Wellbeing - An Ecological and Economic Perspective (pp. 384);
UNECE (United Nations Economic Commission for Europe). (2010). Manual on methods and criteria for harmonized sampling, assessment, monitoring and analysis of the effects of air pollution on forests, International Co-operative Programme on Assessment and Monitoring of Air Pollution Effects on Forests (ICP Forests) Link to websiteWikum, D. A., & Shanholtzer, G. F. (1978). Application of the Braun-Blanquet cover-abundance scale for vegetation analysis in land development studies. Environmental Management, 2(4), 323-329 download





3 [78]

3 [77]

3 [75]

2 [75]
Terrestrial
Ecosystem Structures
Biotic Diversity

Flora Diversity

The presence and absence of selected species, (functional) groups of species, biotic habitat components or species composition.

lichenes - species list
plants - lichenes - species list



lichens



Yearly

Reference to Flora Europea taxonomy;
Vienna-nomenclature code;
Tokyo- Code;
Coverage estimation for vegetation layers (tree, shrub, herb, floor)

Depending on the dynamics of the community (often different seasonal aspects);
More than once a year if necessary

Stratified random sampling;
independent plots representative for the site and/or the habitats within the sites;
at least 10 replicates;
minimum standard sample unit 1x1m

Survey date, location (XY coordinates), plot/area size, frequency of observations, biotope discription, method reference, design of sampling

Species numbers;
percentage cover;
frequency (no. of individuals)

Shannon;
Simpson;
Eveness;
species turn-over;
rarefaction curves;
phylogenetic diversity

Large plots: vegetation relevés compatible to Braun-Blanquet, e.g. 5 x 5m in open habitat types, 10 x 10m in woody habitat types or transects (at least 20m long) with application of point intercept method;
small plots (e.g. 1x1m): point frame method or simple frame method

Espelta, J. M., Cortés, P., Molowny-Horas, R., Sánchez-Humanes, B., & Retana, J. (2008). Masting mediated by summer drought reduces acron predation in mediterranean oak forests. Ecology, 89(3), 805-817 download;
Petriccione, B. (2005). Short-term changes in key plant communities of Central Apennines (Italy). Acta botanica Gallica, 152(4), 545-561;
Rossi, G., Parolo, G., & Ulian, T. (2009). Human trampling as a threat factor for the conservation of peripheral plant populations. Plant Biosystems, 143(1), 104-113;
Rossi, G., Parolo, G., Zonta, L. A., Crawford, J. A., & Leonardi, A. (2006). Salix herbacea L. fragmented small population in the N-Apennines (Italy): response to human trampling disturbance. Biodiversity and Conservation, 15(12), 3881-3893 download;
Sparks, T. H., Jaroszewicz, B., Krawczyk, M., & Tryjanowski, P. (2009). Advancing phenology in Europe's last lowland primeval forest: non-linear temperature response. Climate Research, 39(3), 221-226 download;
Stanisci, A., Carranza, M., Pelino, G., & Chiarucci, A. (2011). Assessing the diversity pattern of cryophilous plant species in high elevation habitats. Plant Ecology, 212(4), 595-600 download and download;
Stanisci, A., Pelino, G., & Blasi, C. (2005). Vascular plant diversity and climate change in the alpine belt of the central Apennines (Italy). Biodiversity and Conservation, 14(6), 1301-1318 download

Braun-Blanquet, J. (1932). Plant sociology - the study of plant communities (1st ed.): McGraw-Hill book company, inc.;
The GLORIA* Field Manual – Multi-Summit Approach (*Global Observation Research Initiative in Alpine Environments). (2011). In H. Pauli, M. Gottfried, D. Hohenwallner, K. Reiter, R. Casale & G. Grabherr (Eds.)pp. 89). Link to website;
ICP IM Programme Centre Finnish Environment Institute (Helsinki, F. (2003). Manual for Integrated Monitoring - Convention on Long-range Transboundary Air Pollution of the UNECE Link to website ;
Morris, W. F., & Doak, D. F. (2002). Quantitative Conservation Biology: Theory and Practice of Population Viability Analysis;
Petchey, O. L., O'Gorman, E., & Flynn, D. F. B. (2009). A functional guide to functional diversity measures. In S. Naeem, D. E. Bunker, A. Hector, M. Loreau & C. Perrings (Eds.), Biodiversity, Ecosystem Functioning, and Human Wellbeing - An Ecological and Economic Perspective (pp. 384);
UNECE (United Nations Economic Commission for Europe). (2010). Manual on methods and criteria for harmonized sampling, assessment, monitoring and analysis of the effects of air pollution on forests, International Co-operative Programme on Assessment and Monitoring of Air Pollution Effects on Forests (ICP Forests). Link to website;
Wikum, D. A., & Shanholtzer, G. F. (1978). Application of the Braun-Blanquet cover-abundance scale for vegetation analysis in land development studies. Environmental Management, 2(4), 323-329 download





4 [73]

4 [72]

3 [74]

2 [73]
Content update: Februar 2019