Biodiversity and Climate Change
Climate change has already left its track on a number of plants, animals and ecosystems: species shift their habitats, ecosystems change their productivity, species communities change their composition. Globally climate change is considered to be one of the most important drivers of change in biological diversity, after land use change and before biological invasions.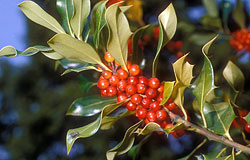 The holly (Ilex aquifolium) spreads out in a northward direction.
Photo: Uwe Lochstampfer
Through international treaties (e.g. CBD, UNFCCC) and European strategies (e.g. Communication of the EU-Commission: Halting the loss of biodiversity by 2010 – and beyond, COM2006/216) there are legal obligations to prevent or reduce the negative impact of climate change on the loss of biological diversity and to enhance adaptation strategies. Current and intended projects of the UFZ deal with questions of both the impact of climate change on habitats, ecosystem functions and services and resilience of the analysed systems. From this knowledge scientists develop recommendations for the implementation of conservation measurements and management concepts at a European and federal level.
Projects & Contact:
ALARM - Assessing large scale risks for biodiversity with tested methods
EU: integrated project with global dimension
MACIS - Biodiversity and climate
EU: policy advise project
Modelling the impact of climate change on plant distribution in Germany
Federal Agency for Nature Conservation
Analyse der Konsequenzen des Klimawandels für die Natura 2000 Gebiete Deutschlands
funded by the Federal Agency for Nature Conservation
EVENT-Experiment on biodiversity responses to extreme climatic events
HABEX: response of species communities in floodplains (vegetation, molluscs and carabids) to extreme events
(flood 2002 and drought 2003)