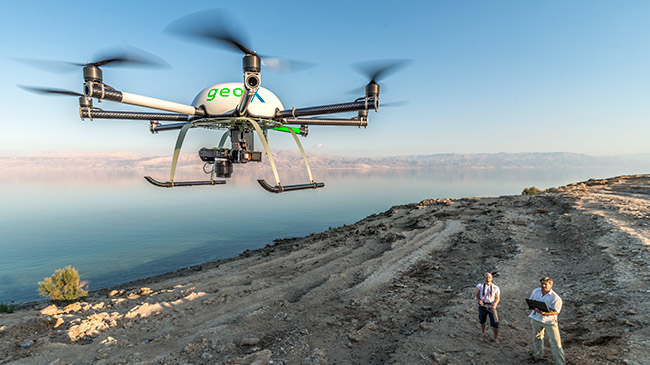 Remote Sensing at UFZ
Remote sensing predominantely focusses on selected products as part of thematic driven research in, e.g. urban remote sensing, biodiversity or hydro(geo)logy.
Apart from traditional satellite data analyses, with the advent of technology one weight is put on the gathering of remotely sensed data obtained from airborne (including e.g. unmanned aerial vehicle - UAV and aircrafts) and ground/ surface-borne platforms (including e.g. wireless ad-hoc/spectral sensor-networks and unmanned surface vehicle - USV). This weight and the applied technology allow for a user-defined application of different sensors, at different temporal and spatial scales and the chance of long-term investigations being most-relevant for numerous environmental aspects.

Obtaining long-term data inevitably lead to the aspect of "Big Data". Through implementing expert knowledge on the design of processing chains, multivariate methods of analysis to obtain reliable products but likewise sensor networks on the ground for validation and large-scale validation-sites, the UFZ tries to bridge the gap between spatial scales including large-scale validation-sites (Sentinel Missions, ACROSS, GCEF) and to find ways approaching "Big Data" in a most efficient manner. In this context, newest developments strengthen the link between modelling vs remote sensing and sensor fusion (Helmholtz Alliance 'Earth System Dynamics') supporting the UFZ's long tradition in ecophysiological modelling with a generation of new remote sensing products.

Thematic driven research within the UFZ remote sensing subdivides in five topics:

To serve the thematic driven research requires different sensors, results in various data, calls for sophisticted methods and ground truth information for calibration and validation purposes: