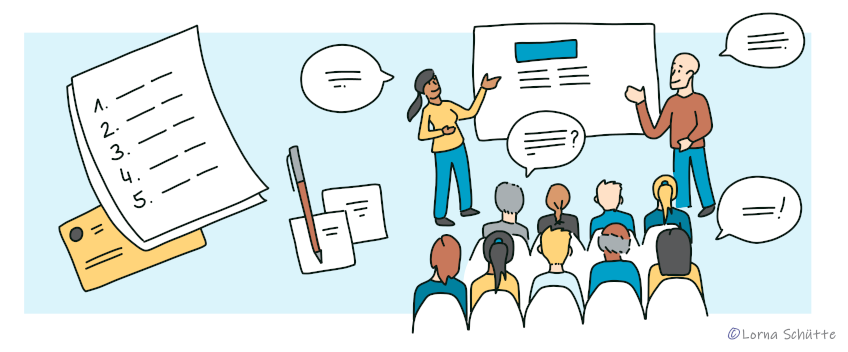 Events
The Career Center organises various events that not only provide information, but also offers many opportunities to exchange ideas and experiences.
Science Management Day - 17 October 2023

Curious about the world of science management and the tasks and roles of science managers? Reserve your spot now for the Science Management Day on October 17!


read more…
Meet experienced professionals already working in science management and ask them anything you want to learn about their jobs, career steps and everyday work. Additionally, gain insights into the prerequisites and requirements for a career in this field through an engaging workshop.


Location: Leipziger KUBUS, hall 1CD
--- Please register until 10 October ---

09:00-09:25
Welcome by the Career Center
09:25-09:40
Talk: What is Science Management?

Dr Markus Lemmens



Dr Markus Lemmens

My profession:
I have experience in science enterprises (company founder of Lemmens GmbH – Education. Research. Technology, Bonn-Berlin and KBHF GmbH – Fusion for Future at KIT Campus North, Karlsruhe) and also in science and research management. I know the non-university institutions as well as universities and colleges of applied sciences. Internationally, I have spent many years in Vienna, London and New York, getting to know different cultures in science, research and technology. Since 2000, I have consistently held teaching positions at universities and technical colleges on science management, research and higher education marketing.


You can ask me about almost any topic in science management: entry and stage gates to this field; individual qualification pathways; strategy development; research business cases; target group management and internationalization. But the most important thing is to find a reliable career path out of the research area without leaving science altogether.


09:40-10:30
Gallery Walk

- Get to know the experts -

Dr André Lindner
Managing Director of the School of Civil and Environmental Engineering
(TU Dresden)

Dr Carina Brunner
Head of the Appointments Office
& Management Tenure Track Program
(European University Viadrina Frankfurt (Oder))

Dr Daniel Kaping
Team Leader Graduate School HIGRADE
(UFZ)




Dr André Lindner

My profession
As a biologist by education I would describe myself as a generalist – I worked on European spider fauna, seed dispersal by bats in Ecuador and forest fragmentation in Brazil before coordinating an academic exchange project on climate change adaptation of small rural communities in the Andes of Bolivia and Peru. Afterwards confronted with the decision to either aim for a DFG-funded project, or dedicate myself in designing and coordinating a further education programme for stakeholders in environmental management in the Global South – I decided for the latter.


Ask me about adaptive management in complex environments – (education for) sustainable development – global responsibility of higher education institutions – cooperation with the Global South – fascination and importance of biodiversity


Dr Daniel Kaping


My profession: Following my active research career, I have continued to actively seek out areas that allow me to merge my background of working in science with administrative management positions.


Ask me about what's it really like working in science support.


10.30-10:45
Coffee Break
10:45-11:45
World Café

- Ask the experts -



11:45-12:30
Lunch break
12:30-16:30
Workshop - Career in Science Management

Dr Markus Lemmens



To do what you can do right

Science management can be a meaningful, equal to research and fulfilling professional career. However, entry, development and advancement can only be planned to a limited extent. But to do what you can do right - that's what the workshop focuses on. In dialogue-oriented discussions we look into the general conditions and the field of science management. Personal requirements and aptitudes as well as qualification steps will be presented and discussed, too. The aim is, that you will be more confident and open to this professional option after the workshop than before.