Dr. Annegret Kindler
Contact
Dr. Annegret Kindler
Senior Scientist

Department Urban & Environmental Sociology
Helmholtz Centre
for Environmental Research – UFZ
Permoserstr. 15
04318 Leipzig, Germany

Phone: ++49 341 235 1737
Fax: ++49 341 235 45 1737
Annegret Kindler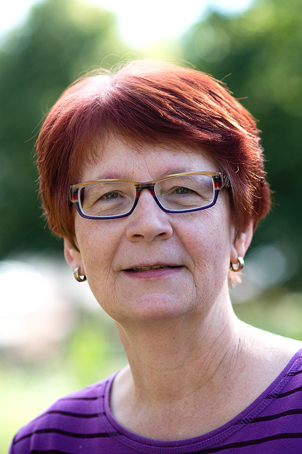 Working groups

Current projects
Urban land-use changes and ecosystem services
Urban vulnerability and resilience to environmental risks
Professional and Academic Career
Equal Opportunity Commissioner of the UFZ

Senior scientist at the Helmholtz Centre for Environmental Research
PhD (Dr.-Ing.) in Cartography, Academy of Sciences of the GDR
Scientist at the Institute for Geography and Geoecology at the Academy of Sciences of the GDR
1975-1980 Studies in Cartography (degree "diploma" – equivalent to M.Sc.), Technische Universität Dresden, Germany
Areas of expertise and research
Investigation of urban development processes under the conditions of growth, shrinkage and demographic change
Monitoring of land-use changes and socio-spatial differentiation processes
Investigation of the environmental quality and quality of life in urban areas
Environmental justice
Methods: quantitative methods, GIS, cartographic modelling

Publications
Banzhaf, E., Kabisch, S., Knapp, S., Rink, D., Wolff, M., Kindler, A. (2017): Integrated research on land-use changes in the face of urban transformations – An analytic framework for further studies. Land Use Policy, 60, 403-407. doi: 10.1016/j.landusepol.2016.11.012
Banzhaf, E., De la Barrera, F., Kindler, A., Reyes-Paecke, S., Schlink, U., Welz, J., Kabisch, S. (2014): A Conceptual Framework for Integrated Analysis of Environmental Quality and Quality of Life. Ecological Indicators 45 (2014) 664-668
Franck, U., Klimeczek, H.-J., Kindler, A. (2014): Social indicators are predictors of airborne outdoor exposures in Berlin. Ecological Indicators 36 (2014) 582-593
Schlink, U., Kindler, A., Großmann, K., Schwarz, N., Franck, U. (2014): The temperature recorded by simulated mobile receptors is an indicator for the thermal exposure of the urban inhabitants. Ecological Indicators 36 (2014) 607-616
Banzhaf, E., Reyes-Paecke, S., Müller, A., Kindler, A. 2013. Do demographic and land-use changes contrast urban and suburban dynamics? A sophisticated reflection on Santiago de Chile. Habitat International 39, 179-191.
Strebel, K., Espinosa, G., Giralt, F., Kindler, A., Rallo, R., Richter, M., Schlink, U. (2013): Modeling airborne benzene in space and time with self-organizing maps and Bayesian techniques. Environmental Modelling & Software 41 (2013) 151-162
Banzhaf, E., Kindler, A., Ebert, A., Metz, K., Reyes-Paecke, S., Weiland, U. (2012). Land-use change, risk and land-use management. In: Heinrichs, D., Krellenberg, K., Hansjürgens, B., Martínez, F. (eds.): Risk Habitat Megacity. Springer, 127-154
Weiland, U.; Kindler, A.; Banzhaf, E.; Ebert, A.; Reyes-Paecke, S. 2011. Indicators for Sustainable Land Use Management in Santiago de Chile. Ecological Indicators 11 (5) 1074-1083
Kindler, A.; Weiland, U., Franck, U. 2011. Sozialräumliche Verteilung der Luftbelastung in Berlin (Socio-spatial distribution of ambient air exposure in Berlin). In: UMID: Umwelt und Mensch - Informationsdienst, Nr. 2/2011, II. Themenheft Umweltgerechtigkeit, S. 29-32. Herausgeber: Bundesamt für Strahlenschutz (BfS), Bundesinstitut für Risikobewertung (BfR), Robert Koch-Institut (RKI), Umweltbundesamt (UBA).
Zehnsdorf, A., Kindler, A., Muñoz Escobar, M. 2011. Neophyten – Potenziale ihrer Nutzung. In: J. Pinnekamp (Hrsg.) 44. Essener Tagung für Wasser- und Abfallwirtschaft "Zukunftsfähige Wasserwirtschaft – kosteneffizient und energiebewusst" 23.-25. März 2011, Aachen, 66/1-66/7 (Gewässerschutz – Wasser - Abwasser (GWA), Band 223, 2011. ISBN 978-3-938996-29-4
Strebel, K., Rolle-Kampczyk, U., Richter, M., Kindler, A., Schlink, U. (2010): A rigorous small area modelling-study for the Helicobacter pylori epidemiology. In: Science of the Total Environment 408 (18) 3931-3942
Kindler, A., Banzhaf, E., Ebert, A., Weiland, U., Reyes, S. 2010. 3.4 Thematic field: Land use management and flood risk prevention. Krellenberg, K., Kopfmüller, J., Barton, J. (eds.) 2010. How sustainable is Santiago de Chile? Current Performance - Future Trends - Potential Measures. Synthesis report of the Risk Habitat Megacity research initiative (2007-2011), 16-18. Synthesis report Megacities eng.pdf (11 MB)
Banzhaf, E., V. Grescho & A. Kindler, 2009. Monitoring urban to peri-urban development with integrated remote sensing and GIS information: a Leipzig, Germany case study. International Journal of Remote Sensing, Vol. 30, Issue. 7, pp. 1675-1696.
A. Kindler, U. Weiland, J. Metto, H. Hartmann, U. Franck, 2009. Untersuchung zur räumlichen Korrelation von Feinstaub(PM10)-Belastungen und Sozialstatus/Dynamik-Index in den Berliner Verkehrszellen. UFZ-Bericht 03/2009. 73 S.
Banzhaf, E., A. Kindler & D. Haase (2007): Monitoring, mapping and modeling urban decline – a multi-scale approach for Leipzig, Germany -. European Association of Remote Sensing Laboratories (EARSeL) Special Interest Group (SIG) Remote Sensing of Land Use & Land Cover EARSeL eProceedings 6, 2/2007, 101-114.