Dr. Sylvie Herrmann
Contact / Address

Dr. Sylvie Herrmann
Senior Scientist

Department of Community Ecology/Department of Soil Ecology
Helmholtz-Center for Environmental Research - UFZ
Theodor-Lieser-Str. 4 | 06120 Halle (Saale)
Germany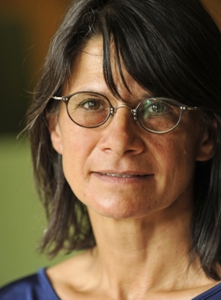 Research interest
Endogenous rhythmic growth
Gene transcription and regulation
Multitrophic interactions
Ectomycorrhizal symbiosis and gene regulation
Ectomycorrhizal symbiosis of different EM strains was tested under controlled conditions in a Petri-dish culture system on micropropagated trees or seedlings. Beech and oak seedlings grown in greenhouses of a forestry seedling nursery in Baden-Württemberg were inoculated with selected ectomycorrhizal (EM) strains of Paxillus involutus and cultivated under different fertilization levels. Mycorrhizal non-fertilized greenhouse plants showed a higher vitality and increased performance after outplanting on disturbed soils.
A model system for ectomycorrhizal symbiosis between micropropagated oaks and EM fungi has been established. Modifications of rhythmic root and shoot development after fungal inoculation have been studied.
In particular, the fungus Piloderma croceum modified markedly the entire plant development already before mycorrhiza formation occurred. Activated charcoal and plant hormone auxin were able to induce a partial reversion of these morphogenetical effects On the established oak model system, the current studies are involved in the regulation of photosynthesis, carbon-transfer and -translocation and differential gene expression before and at the early state of mycorrhizal symbiosis.
Current Projects and Cooperations
TrophinOak - Multitrophic interactions with Oaks

Coordination of the Research Project funded by the Deutsche Forschungsgemeinschaft-DFG: TrophinOak
"Multitrophic interactions in Oaks: A controlled system with oak microcuttings to study gene expression and resource allocation in multitrophic interactions"

Plant functioning depends on beneficial and detrimental biotrophic interactions intermingled with internal processes, e.g. the endogenous rhythmic development with alternating shoot and root growth flushes observed in oak trees. Seven research groups from the Universities of Tübingen with Silvia Schrey, of Marburg with Roland Schädler, of Göttingen with Stefan Scheu, of the Humboldt University of Berlin with Liliane Ruess and the Departments of Soil Ecology and Community Ecology of the Helmholtz Center for Environmental Research - UFZ with Francois Buscot, Sylvie Herrmann, Martin Schädler and Mika Tarkka will compare gene regulation and resource allocation in oaks faced with major biotrophic partners, i.e. ectomycorrhiza, root pathogenic microorganisms, rhizospheric invertebrate consumers, mycorrhization helper bacteria, leaf pathogenic fungi and leaf invertebrate herbivores. A Joined Experimental Platform with clonal mycorrhizal oak microcuttings will serve to analyse the impact of each biotrophic partner under standardized conditions by tracer experiments with 13C and 15N and transcriptomic analyses using NGS technology (454 GSL-FLX, Roche and Illumina's HiSeq 2000) completed by qRT-PCR. In additional experiments the project parts will combine different biotrophic agents, consider the dynamics of the associations, above-belowground interactions or the influence of climatic conditions. The project aims at disentangling regulation mechanisms common or specific of the interactions, initiating controlled multitrophy experiments and identifying specific regulated core genes. A follow-up Research Unit will deepen regulation studies and field analyses on the impact of multitrophy on the plant outcome under different environmental conditions.

INRA France
Francis Martin and Francois Lapeyrie: Unité Mixte de Recherche INRA/UHP 1136 "Interactions Arbres/Microorganismes", Institut National de la Recherche Agronomique, Centre de Recherches de Nancy, F-54280 Champenoux, France
Christophe Plomion and Jeremy Derory: Unite Mixte de Recherche Biodiversité Gènes et Ecosystèmes; F-33612 Cestas cedex. France

Completed Projects
Cooperation between the University of Tübingen and the Forest and Agriculture Office of Baden-Württemberg: " Enhancement of vitality and survival rate of oak and beech seedlings with artificial mycorrhization during out-planting on ravaged forest areas, waste diposal sites and agricultural fields"

DFG Normal Application "Mycorrhizas and Plant Morphogenesis"

DFG focus research program (SPP) 1084 "Molecular Basis of Mycorrhizal Symbiosis" MOLMYK
"Physiological and genetic regulation of the C-translocation in ectomycorrhizal Symbiosis"
Micropropagation of oaks (Quercus robur L.)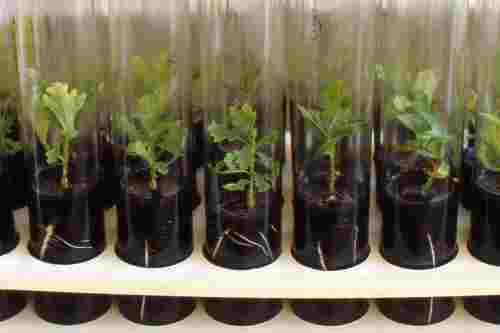 Modelsystem Quercus robur - Piloderma croceum
Current Position
Senior scientist
Department of Community Ecology (BZF)
Department of Soil Ecology (BOOEK)
at the Helmholtz Center for Environmental Research - UFZ
Previous positions
Senior scientist, University of Leipzig (Department of Terrestrial Ecology)
Senior scientist, Friedrich-Schiller University of Jena (Department of Environmental Sciences, Institute of Ecology)

Scientist, Technical University of Braunschweig (Institute of Microbiology) (Germany)
Scientist, Federal Research Center of Agriculture in Braunschweig (Institute of Soil Biology) (Germany)
Scientist, University of Tübingen (Department of Botany/Mycology) (Germany)
Degrees / Formation
Doctoral thesis in plant biology, University Louis Pasteur of Strasbourg (F)
Contribution to the study of morphogenetical potentialities along the inflorescence of Phalaenopsis sp.: elaboration of an in vitro progagation procedure for Phalaenopsis orchids.

Postdoctoral fellowship "Marie Curie" EU , stage at the Department of Plant Chemistry of the University of Tübingen (D)
Characterization of plant regeneration stages from protoplasts for different potato lines (Solanum tuberosum L.) with isoenzymes, DNA methylation, and proteins. Use of RFLP techniques for identification of the regenerated potato lines
Selected publications
Herrmann S., Buscot F. (2008)
Why and how using micropropagated trees rather than germinations for controlled synthesis of ectomycorrhizal associations.
In: Varma A. (ed.): Mycorrhiza, pp 439-466 Springer-Verlag.

Herrmann S., Buscot F. (2007)
Cross talks at the morphogenetic, physiological and gene regulation levels between the mycobiont Piloderma croceum and oak microcuttings (Quercus robur) during formation of ectomycorrhizas.
Phytochemistry 68, 52-67.
Frettinger P., Derory J., Herrmann S., Plomion C., Lapeyrie F., Oelmüller R., Martin F., Buscot F. (2007)
Transcriptional changes in two types of pre-mycorrhizal roots and in ectomycorrhizas of oak microcuttings inoculated with Piloderma croceum.
Planta 225, 331-340.

Frettinger P., Herrmann S., Lapeyrie F., Oelmüller R., Buscot F. (2006)
Differential expression of two class III chitinases in two types of roots of Quercus robur during premycorrhizal interactions with Piloderma croceum.
Mycorrhiza 16, 219-223.
Herrmann S., Oelmüller R., Buscot F. (2004)
Manipulation of the onset of ectomycorrhiza formation by indole-3-acetic acid, activated charcoal or relative humidity in the association between oak microcuttings and Piloderma croceum: influence on plant development and photosynthesis.
Journal of Plant Physiology 161, 509-517.
Krüger A., Peskan T., Frettinger P., Herrmann S., Buscot F. & Oelmüller R. (2004)
Identification of pre-mycorrhiza related plant genes in the association between Quercus robur and Piloderma croceum.
New Phytologist 163, 149-157
Herrmann S., J.-C. Munch & F. Buscot (1998)
A gnotobiotic culture sytem with oak microcuttings to study specific effects of mycobionts on plant morphology before, and in the early stage of, ectomycorrhiza formation by Paxillus involutus and Piloderma croceum.
New Phytologist 138, 203-212.

Buscot F., Herrmann S. (2004)
At the frontier between basidiomycotes and plants: reciprocal interactions between mycorrhiza formation and root development in an in vitro system with oaks and hymenomycetes.
In: R. Agerer, M. Piepenbring & P. Blanz (eds.) Frontiers in Basidiomycote Mycology. IHW-Verlag. Eching, pp. 361-376.

Caloin M., B. Clement & S. Herrmann (1991)
Regrowth kinetics of Dactylis glomerata following root excision.
Annals of Botany 68, 435-440.